paid content
 for

The 5 Natural Ingredients You Need In A Clean Skin Care Ritual
Image by Ohlamour Studio / Stocksy
May 28, 2021
Advertisement
This ad is displayed using third party content and we do not control its accessibility features.
We're a part of nature, too.
In the bustle of traffic and smartphone notifications, we sometimes forget that we are an inseparable part of nature. And as such, we benefit from ingredients that are inspired by and derived from nature. But that's a pretty broad field, which got us wondering: Which ingredients really belong in our skin care routine, and why?
That line of inquiry brought us to Sky Organics, a clean beauty brand that keeps natural ingredients at the very heart of their mission. Sky's Youth Boost skin care line features cruelty-free formulas that meet clean beauty standards while sparking self-love (as any ritual should). There's no need to get lost in the wilderness of natural ingredients—just keep your eyes open for the most important ones: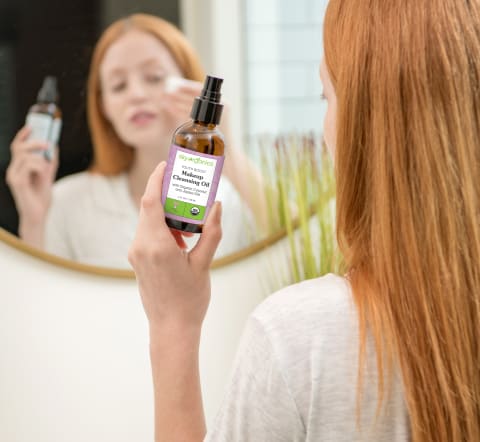 Image by Sky Organics / Contributor
Advertisement
This ad is displayed using third party content and we do not control its accessibility features.
Botanical oils like jojoba and coconut oil.
It may seem counterintuitive (especially for those of us with oily complexions), but our skin actually loves oil. Coconut oil has been proven to deeply moisturize skin without irritation and can improve skin barrier function. Jojoba and coconut oil cleanse the skin of makeup while deeply hydrating. These oils are central in Sky Organics Youth Boost Makeup Cleansing Oil. No need for chemical makeup removers when you can get your skin silky clean with these natural oils.
Shop This Story:
Bakuchiol, a natural alternative to retinol.
As you're exploring the world of skin care ingredients, it won't take long before you run into retinol. Retinol is an over-the-counter vitamin A compound, popular for its collagen-producing and healing properties. Problem is, retinol can be quite harsh on the skin—cue bakuchiol: a natural alternative. This ingredient comes from a flowering Asian plant called babchi and has similar properties to retinol but is much gentler on the skin. It's a main ingredient in the Sky Organics Youth Boost Moisturizing Marula Face Lotion, alongside natural wonders like aloe vera, marula, and cocoa butter.
Bakuchiol is also the star of the Youth Boost Bakuchiol Night Serum, plus soothing ingredients like organic marula, rosehips, and jojoba oils. Skin care 101: It's important to layer on a natural, high-quality night serum before you catch some shut-eye. Why? Because our skin goes into "repair mode" overnight and needs all the help it can get.
Green tea extract 
Nothing shows the power of natural ingredients like green tea—when nourishing our skin, green tea is an all-star player. The Sky Organics Youth Boost Moisturizing Green Tea Face Wash offers a soothing blend of green tea, aloe vera, and antioxidant vitamin E to gently cleanse the skin. And most notable: It cleans without overdrying.
Advertisement
This ad is displayed using third party content and we do not control its accessibility features.
Manuka honey
There's something deeply comforting about the support of nature's most luxurious ingredients. Who knew that manuka honey could help our skin shine its brightest? Sky Organics Youth Boost Revitalizing Face Scrub is made with manuka honey and ground walnut shells to provide the most natural but effective face exfoliation. Just thinking about this formula has us planning our next at-home spa night. (Is tonight too soon?)
Acerola cherry extract
Shop This Story:
Closer to nature 
Nature is rejuvenating in any form—be it a walk in the park or a skin care routine inspired by nature's most potent ingredients. When we decide that our skin deserves only the safest and best ingredients, skin care becomes self-care. The Sky Organics Youth Boost line is not just a self-care ritual for cultivating our most radiant skin; it's a ritual that brings us closer to nature, one ingredient at a time.
Advertisement
This ad is displayed using third party content and we do not control its accessibility features.

Devon Barrow
Brand Strategist
Devon Barrow is a Branded Content Strategist at mindbodygreen. She received her degree from the University of Colorado. When she's away from her desk, Devon is teaching yoga, writing poetry, meditating, and traveling the world. She's based in Boulder, Colorado.
Devon's first book, Earth Women, is coming soon. To learn more, join the mailing list, and receive updates, head to www.devonbarrowwriting.com.