5 Easy Dinners That Start With A Single Sweet Potato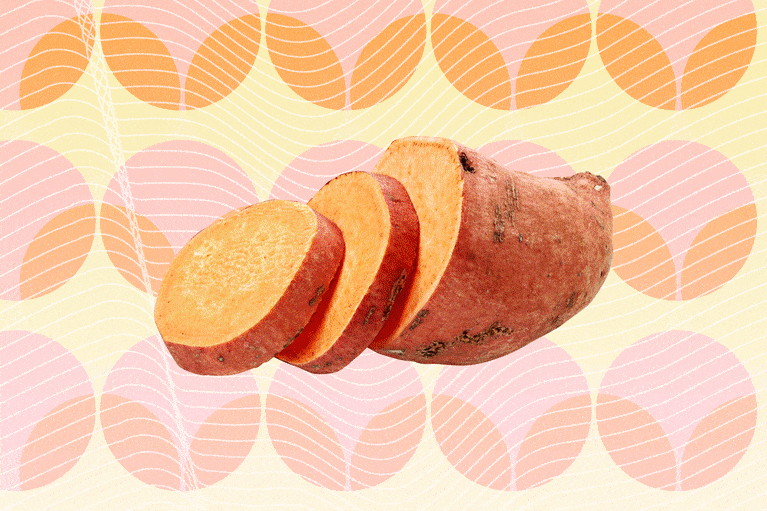 Our editors have independently chosen the products listed on this page. If you purchase something mentioned in this article, we may
earn a small commission
.
Ah, the lowly sweet potato—one of nature's humblest but most nourishing foods. Hidden in the less than beautiful skin is jewel-toned, fluffy, sweet flesh that's packed with nutrients that boost gut health, make your skin glow, and relieve stress. Sweet potatoes are usually found at incredibly reasonable prices, and they keep at room temperature for weeks (just don't store them near any apples or bananas, which release ethanol that speeds up their rotting process). The best part? You can use sweet potatoes to form a base for any number of easy dinners. Here are a few of our favorite ideas:
A take on the classic latke, a sweet potato fritter perfectly straddles that magical sweet/savory line. Just shred your sweet potato, combine it with 1 shredded onion, an egg, and ¼ cup of a flour of your choice. While you can make these in a frying pan, like a traditional latke, you can—fun fact—also bake them. To do so, just preheat your oven to 400 degrees, then spray a parchment-lined baking sheet with avocado oil. Spoon the sweet potato mixture onto the parchment and bake until underside is golden (about 15 minutes), then flip and repeat on the other side. Serve with unsweetened yogurt and chopped chives for a more savory take, or cinnamon applesauce for a sweeter version.
You likely know about avocado toast, but did you know you can slice a sweet potato into planks, pop 'em in the toaster, and use the result as the base for all sorts of toppings of your choice? Slather it with avocado and sprinkle on some red chili flakes. Add some almond butter, cinnamon, and hemp seeds. Fry an egg and place it on top with some olive-oil-tossed arugula. The combinations are as endless as your creativity.
3. Mexican-style baked sweet potatoes
A baked sweet potato is a glorious base for any number of toppings. To make this one, just preheat your oven to 375 degrees. Stab a sweet potato with a fork a few times, then toss it in for about 30 minutes to an hour, depending on the size of your sweet potato, until it's soft when squeezed. Let it cool enough to handle, then top it with salt; drained, rinsed black beans; your favorite salsa; some chopped green onions; and pastured cheese for a fiesta on a plate.
4. Sweet potato chickpea curry
This warm, hearty curry is the perfect recipe to double or even triple so you have leftovers to eat all week. Just chop one yellow onion and cube one sweet potato. Add them both to a large pot with a drizzle of avocado oil and a generous pinch of fine-grain sea salt. Heat over medium-high until onions and sweet potato are both brown, then add one can of coconut milk, one cup of veggie stock, two tablespoons of red curry paste, and a one drained, rinsed can of chickpeas. Cook until sweet potatoes pierce easily with a fork, then salt to taste and serve plain or over rice.
5. Sweet potato carbonara
You'll need a spiralizer for this one, but they're handy kitchen tools for veggie lovers that are affordable and don't take up too much space (we like this model). Bring a large pot of water to boil, then add a small palmful of fine-grain sea salt. Peel then spiralize a sweet potato, then cook it in the water until just done, about one or two minutes. Reserve ¼ cup of cooking water, then drain the sweet potato. Beat together two pastured eggs, a handful of grass-fed Parmesan, and a generous amount of salt and pepper. Return the sweet potato pasta to the pot, then stir in the egg mixture, drizzling in the reserved cooking water as you stir until a silky pasta forms. You can also wilt in spinach at this step for extra nutrients, and add chopped pastured bacon if desired. Top with chopped parsley, and enjoy.
Want to turn your passion for wellbeing into a fulfilling career? Become a Certified Health Coach! Learn more here.