5 Easy Weekday Lunches That Don't Need To Be Refrigerated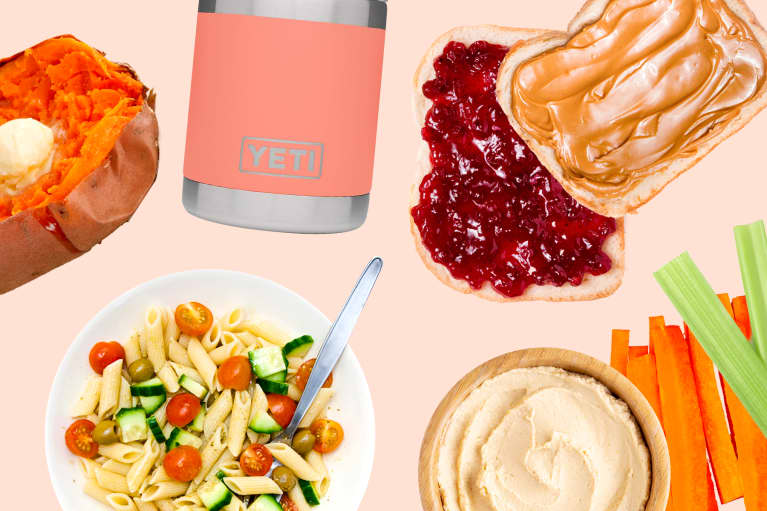 Our editors have independently chosen the products listed on this page. If you purchase something mentioned in this article, we may
earn a small commission
.
While most people in the health world will tell you it's way better to bring your own lunch than to brave the complicated (and expensive!) world of trying to find better-for-you takeout, doing so is harder than it seems. Some offices don't have refrigerators, and some jobs entail running around, with no place to store your lunch except for your personal bag. Never fear—we've created five work lunches that offer tons of nutrients and flavor, with no refrigeration required:
1. Not-boring pasta salad.
Pasta salad is actually better at room temperature, when the fats have more time to relax and the flavors become more prominent as a result. Store it in the fridge until you leave for work, and then you'll have a full three or four hours before it becomes unsafe to eat. Making the salad is all about the mix-ins: Start by cooking the pasta in a generous amount of fine-grain sea salt, then drizzling it with high-quality olive oil (we love Lucini and Brightland). Add in some veggies—we love a mix of raw and roasted, then take it up another level with bonus seeds, nuts, and fermented or pickled items.
This one is a bit of a hack—heat the soup to whatever temperature you'd like, then pour it into a temperature-regulated S'well bottle or Yeti. Come lunchtime, the soup's temperature will be pretty much unchanged, and you can enjoy it! This is a great basic soup recipe to start with, but pretty much anything will work, so toss in veggies from your farmers market haul or whatever you have going bad in the back of your fridge!
3. Good ol' peanut butter and jelly.
Yes, it's a childhood classic, but this version is anything but. The healthiness of this type of sandwich comes down to the ingredients. Use a sprouted or sourdough bread as your base, then top it with some organic almond or peanut butter (we love Maranatha and Justin's). Add on some no-sugar-added jelly (or make your own by heating any frozen fruit in a small pot over low until it turns jammy, then stirring in a spoonful of chia seeds until it becomes gelatinous) and you've got the perfect nostalgic meal.
4. Loaded baked sweet potato.
Roast up a few sweet potatoes, and then store them in the fridge until the morning of your meal—they'll keep fine at room temperature for a few hours. Fill your S'well bottle or Yeti with whatever toppings you want to put on top—we love a mix of chickpeas, olive oil, salt, lemon, parsley, red onion, and chopped garlic. Come lunchtime, you can split open the sweet potato, top it, and dig in!
5. Get fancy with crudités.
Hummus is overlooked as a meal builder, but it's packed with healthy fat, fiber, and protein, the satiating trifecta. Buy some (here are a few of our favorites), or make a batch by processing chickpeas, tahini, salt, olive oil, garlic, and lemon until smooth (this is delicious with white beans as well). Pack up some dippers in a separate reusable bag—we love carrot, cucumber, and celery sticks, Simple Mills or Hu Kitchen crackers, and even grass-fed jerky (CHOMPS & Lorissa's Kitchen make great options). You'll have a delicious meal in seconds—bonus points for how fun it is to eat.