Hill Harper On 4 Things You Can Do Right Now To Fight For Social Justice

mbg Founder & Co-CEO
By Jason Wachob
mbg Founder & Co-CEO
Jason Wachob is the Founder and Co-CEO of mindbodygreen and the author of Wellth.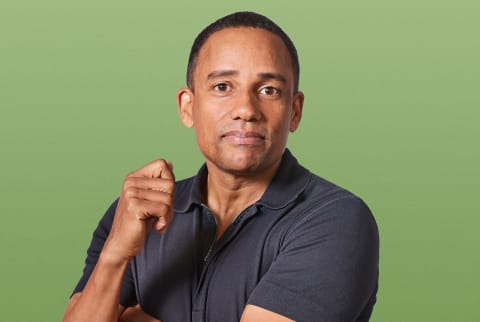 June 5, 2020
Our editors have independently chosen the products listed on this page. If you purchase something mentioned in this article, we may
earn a small commission
.
We truly believe at mbg that actions speak louder than words, and right now, it's the time for action that leads to impact, which is why we consulted humanitarian, award-winning actor, and four-time New York Times bestselling author Hill Harper on what we can do from here to make our country better for the minorities who have suffered for far too long.
Keep in mind, it's not so easy to restructure something so endemic to our country as systemic racism. "A holistic upheaval of institutions is needed or we'll just go back, and it won't change," he tells me on this episode of the mindbodygreen podcast, and it doesn't just happen overnight. It takes constant education, questioning, and thoughtful next steps. Here are four ways Harper suggests we all start:
Advertisement
This ad is displayed using third party content and we do not control its accessibility features.
"No matter who you are, the thing you can't do is nothing," Harper says. Everyone has a part to play in finding justice, so don't think you should stand back on the sidelines. Everyone has a valuable experience to add to the conversation: "As a black man, I'm usually not there when groups of white men say all those covert racist things that can be emboldened by police," he explains. Meaning, white men bear witness to racist actions and can share their expertise just from being in the room. The bottom line: Everyone is worthy to fight this fight, and the worst thing you can do is stay silent.
"It doesn't matter what you choose to do or where you choose to help or serve. Just do something," Harper continues. For instance, joining organizations like the NAACP is a simple act that takes no time at all: "You don't have to be black; just join." It's certainly not the only thing you should do, but it's how you can start.
2.
Admit and understand your privilege, then put it on the line.
For white people, Harper says it's important to admit and understand that you have benefited from an inherently racist system. "People have to be willing to say, 'I have benefited from these systems, and I have to figure out certain ways I may not benefit as much anymore to help other people benefit as well.'"
In other words, put your privilege on the line by making yourself uncomfortable. Have difficult conversations with friends and family members; speak up to your boss if you see something potentially harmful; reach out to your mayor if you feel a certain official should not remain in their role. In other words, risk breaking the status quo.
"If you're not willing to step out and say something people may criticize you for, you're not actually willing to put your privilege on the line to see a difference or make change happen," Harper explains. If you've stayed silent thus far with the promise to listen and learn, make sure your silence is not a subconscious excuse to play into the hands of the status quo.
Advertisement
This ad is displayed using third party content and we do not control its accessibility features.
3.
Find what makes your heart beat.
As Harper mentioned, everyone has a part to play in the fight for social justice. So find what makes your heart pound, and run with it: For many, that's police brutality. So find out who your police chief is: "Were they appointed by the mayor, the county official, or elected into office? What's their relationship with the district attorney?" says Harper. Do your research, and find strategic ways to take action.
You can also apply this thinking to other passions in your life. Let's say you're passionate about the environment: Well, according to Harper, the environment is related to racism, as it's related to economic determinants and opportunity. And socioeconomic status, in turn, is related to education, which is inherently related to incarceration. "None of these things are mutually exclusive," says Harper. "So whatever you care about, you're impacting other things in a positive way if you truly care about uplifting people." In other words, find an avenue that speaks to you, and chances are social justice is at its core.
You've seen it posted all over social media, heard it from the mouths of activists and educators: Vote. While voting is just one ingredient in the "social justice pie" we have to bake, according to Harper, it's crucial for the whole endeavor.
And he's not just talking about national elections. Think locally, too: "Eighty percent of DA's run unopposed," Harper tells me. But think about it—if there were a progressive DA in the running, they could start to charge cops with murder if there was a justifiable use of force. That would certainly make a difference on the ground. Harper agrees: "That will change behavior real quick."
Of course, it's a lot more multifaceted than it sounds. "A lot of it comes down to transparency, data, who's in office, what type of community oversight there is, and being able to get rid of bad actors in all areas," Harper explains. But know that we have the agency to change legislation, even if it starts small. "We the people have to decide we are stronger together, but that means all hands on deck," he adds.
Advertisement
This ad is displayed using third party content and we do not control its accessibility features.
The takeaway.
There's so much work to do, but everyone has a part to play in the actions that follow. While learning and education are at the forefront of change, it's not enough to standby. As Harper says, "Intended, strategic, continuous, action on a daily basis is more important than good intentions."
This list only scratches the surface of Harper's and my conversation. We implore you to listen to our conversation in full, so we all can learn and take necessary action. Additionally, if there are any anti-racism resources you wish we would cover, please let us know at podcast@mindbodygreen.com.
Advertisement
This ad is displayed using third party content and we do not control its accessibility features.