paid content
 for
3 Ways To Simplify Healthy Eating & Make It Stick (For Good)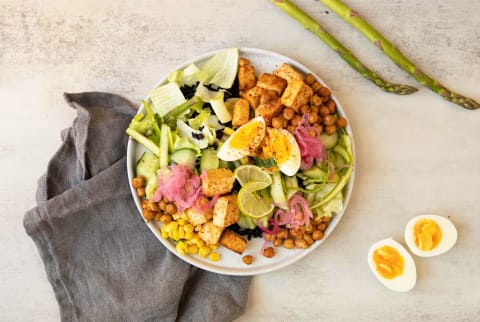 Image by Lifesum / Contributor
August 7, 2023
Even if we're on top of our workouts, taking our supplements, and making time for our morning meditation, without proper nutrition, we've got a shaky foundation. Our human bodies are machines that require fuel to function—and food is that fuel. There's a reason getting enough protein, veggies, and water makes us feel unstoppable. Healthy eating puts us at the top of our game, but no doubt, it can be challenging.
Three ways to stay on track
We set intentions; we grocery shop for home-cooked meals; we resolve to give cruciferous veggies a second chance, but then life happens with its unexpected errands, long workdays, and social media feeds. The truth is, we already know the importance of healthy eating and we try our best. What we need are ways to make healthy eating simple, inspiring, and even intuitive. And lucky for you, we have three of them: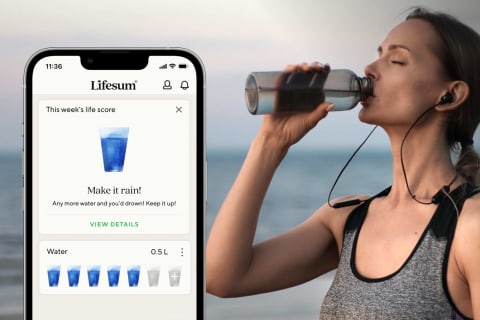 Image by Lifesum / Contributor
1. Make healthy eating simple with the Lifesum app
Healthy eating is an everyday endeavor. But weighing out options every time we're hungry? Who has the time? Healthy eating is most sustainable as a habit, which you can form and keep with Lifesum. As the world's leading nutrition platform, Lifesum is an app that offers personalized nutrition alongside food education and inspiration. Through daily food tracking that feels (refreshingly) positive, the app gives you detailed information about your protein, carb, and fat intake, including sugars, fiber, saturated fats, and more.
With this information right at your fingertips, Lifesum helps you make more conscious decisions surrounding food. But it also supports larger nutrition goals. And that starts from the second you join with their Life Score quiz. Your results (aka, your Life Score) provide fascinating insights into your eating patterns, pointing you toward progress. Whether it's more protein or fresh veggies, you'll get weekly guidance on not only enhancing your dietary choices but also nurturing a healthier relationship with food in the long run.
2. Find your why
No one needs more eat-this-not-that advice. Food is powerful, and you can harness that power by connecting healthy eating to your passions. In other words: Find your why. Ask yourself, why does healthy eating matter? Maybe you want to feel better to show up for your family. Or maybe you want more energy for upcoming travels or a creative project. When you anchor your relationship to food in your why, it's no longer about counting calories and right and wrong. It's about simply doing more of what you love.
3. Embrace your unique lifestyle
There's no singular framework for healthy eating. Instead, it's about embracing our unique lifestyle and nutritional needs—and you can do exactly that with Lifesum. In addition to simple features like one-tap trackers for water, fruits, and veggies or the easy barcode scanner for adding food to your diary, Lifesum offers meal plans and diets that are suited to any lifestyle. Whether you're trying to balance your hormones or keep crushing that keto life—the app offers recipes, shopping lists, and more to keep your motivation full steam ahead.
Change the narrative
It's time to change the narrative. For so long, healthy eating has been associated with tireless effort and compromise. But with Lifesum, nutrition is finally simplified (and delicious). It puts inspiring recipes, positive accountability, and motivating data right in the palm of your hand. It's feeling and looking your best, right within reach. Add a few mindset shifts, and healthy eating won't just be your next best choice but your lifestyle. And one that's here to stay! Click to download the app and try Lifesum for free.
Devon Barrow
Branded Content Editor
Devon Barrow is a Branded Content Editor at mindbodygreen. She received her degree from the University of Colorado. When she's away from her desk, Devon is teaching yoga, writing poetry, meditating, and traveling the world. She's based in Boulder, Colorado.
Devon's first book, Earth Women, is coming soon. To learn more, join the mailing list, and receive updates, head to www.devonbarrowwriting.com.