Close Banner
Advertisement
This ad is displayed using third party content and we do not control its accessibility features.
paid content
 for

3 Strategies For Actually Being Well-Rested This Holiday Season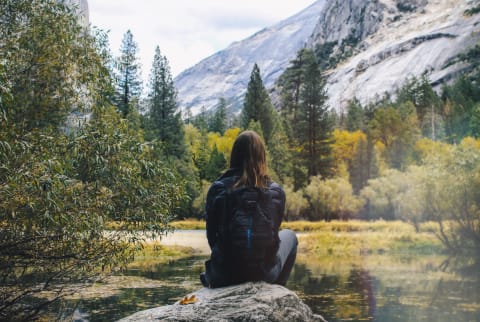 Just like that, party season is fast approaching (again!), and we're not sure if our bodies are entirely ready for the onslaught of celebrations and festive feasts. While fun and delicious, this time of year can also gift us a great deal of stress and chaos as we prep our gatherings and plan our travels.
But all the work you've put in maintaining a balanced way of life throughout the year doesn't have to come undone as we run up to NYE. The good news? You can absolutely get through the busiest time of year well-rested, happy, and healthy with a few simple tweaks to your routine—and a whole lot of self-love. Keep reading for three practical, fool-proof ways to get you through the festive season with plenty of chill.
Yes, it's possible to enjoy the season's festivities while still focusing on your fitness goals. But it's not about "going harder" at the gym. Instead, go for slower, more controlled movements by incorporating an extra Pilates session into your routine. Pilates helps you tap into your mind-body connection and focus on your breath, which can decrease stress, anxiety, and muscle tension.
The workouts also help promote a strong, supported posture, which is often impacted by stress and lack of sleep—which many of us experience this time of year. And it's worth noting that there's a powerful link between your posture and your mood: Sitting upright makes it way easier to have positive, empowering thoughts, as opposed to slouching, which can negatively impact our emotions and energy levels, according to some studies.
2.
Add a CBD oil to your routine
It's not just wellness circles recommending the everyday stress-managing properties of CBD extract—the beneficial cannabinoid derived from hemp is steadily becoming a tried-and-true part of many people's routines. Around the holidays, CBD extracts including oil, (which, to be clear, is completely non-intoxicating, unlike marijuana which contains THC) can help support a sense of calm and promote a healthy sleep cycle.
But because there are a ton of brands claiming they contain CBD, it's important to know that hemp seed oil and whole-plant hemp extract oil are not one and the same. Though hemp seed oil is rich in omega fatty acids, it's made from the seed and actually contains low levels of CBD, if any at all. On the other hand, hemp extract—like the products in the Charlotte's Web line—is made from the whole plant. Charlotte's Web CBD extracts, including oils, capsules and topicals, are made from non-GMO hemp grown outdoors with responsible farming methods right in Colorado, Kentucky, and Oregon, so you can rest assured you're getting a high-quality product. These farms don't use pesticides, herbicides or fungicides—Charlotte's Web tends over 250,000 hemp plants by hand.
To start incorporating CBD extract into your day to day, start low and slow. It may take up to four weeks to see the benefits, so don't get discouraged. It's different for everybody, but if you start now, you may feel a little relief from the stress of gift-giving and end of year deadlines that always add a little extra pressure.
We're sure this isn't the first time you're hearing this, and it won't be the last. It's no secret healthy gut microbiome influences the way the body responds to stress, so if clarity and a well-rested mindset is what you're after this season, now's a great time to consider giving your second brain some TLC.
For anyone who struggles with poor sleep and generally feels wiped out more often than not, it's worth tweaking your diet to include a variety of in-season produce, nixing processed foods where possible, and becoming best friends with your water bottle. Especially as we enter the holiday season and things begin to get a little more indulgent than usual, balance is key. Combine a healthy diet with a CBD capsule like one from Charlotte's Web and regular exercise that heroes the mind-body connection, and you'll glide into holiday season with ease. Enjoy being the most zen-like, well-rested, happiest you possible!
More On This Topic
more Movement
Advertisement
This ad is displayed using third party content and we do not control its accessibility features.
Advertisement
This ad is displayed using third party content and we do not control its accessibility features.