paid content
 for

Stuck In A Workout Rut? Use These 3 Simple Tricks To Spice Things Up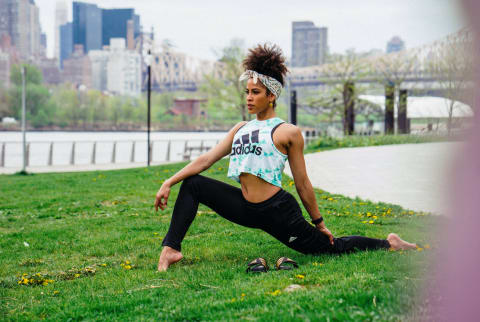 May 17, 2018
I'm one to fall into a rut easily, and training during wintertime makes it challenging to mix it up. Springtime brings in an energy that can inspire a new routine—plus, a new season always invites new wardrobe essentials to keep you inspired and in check to move every day. I rely on a number of products to maintain a balanced lifestyle and keep my workout routine fresh for spring. Kohl's is my favorite one-stop destination for all things new and affordable in wellness, from their great selection of activewear to their on-the-go fitness accessories, there's an outfit and gadget to fit all my needs — whether it's maintaining a balanced lifestyle or keeping my workout routine fresh for spring.
With new workout gear in place, I feel empowered to branch outside of my comfort zone, knowing that I'm equipped to go with the flow and feel good. Sometimes, small adjustments to your daily workout routine make all the difference when it comes to staying motivated and feeling good. Here are three simple ways you can jumpstart a fresh spring workout routine.
1. Take more walks!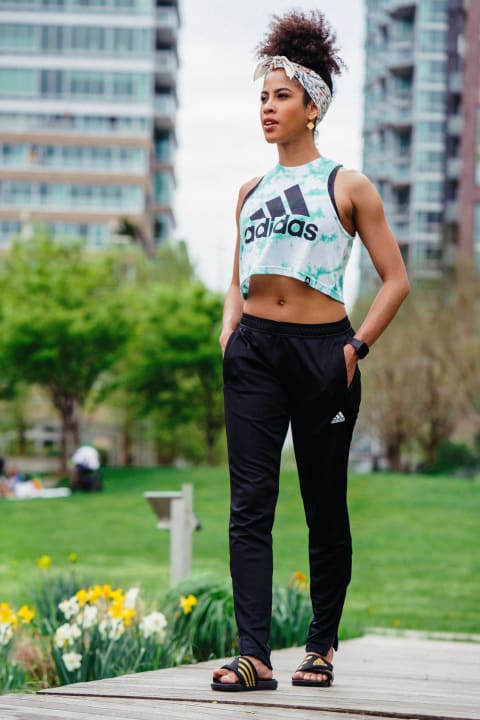 Gone are the days of flash blizzards! Warmer days make for easier travel, plus, walking to your destination is a great way to improve your fitness. The best part about walking is that once you start, you typically find yourself 30 minutes in to a low-impact workout with all added health benefits. In addition to the leisurely spring stroll, I love to stock up on seasonal gear that'll keep me light and moving through all my favorite workouts, sweat or shine. A device like the Fitbit Versa can elevate your activity and motivations tenfold. From counting your steps to tracking your heart rate and storing your favorite tunes, the Fitbit Versa takes care of all the work while you focus on being in the moment. Not to mention, it's lightweight and practical enough to incorporate into virtually any type of exercise. If you're ever in search of a little push, the Fitbit Versa also comes equipped with a ton of guided coaching sessions to keep you in the zone and on track.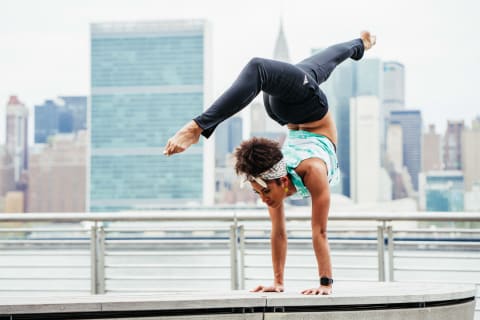 2. Train Mobility Outside
Stretching might not be on your list of "fun things to do", but when done under the sun it can do your body some good! The extra warmth can make your muscles more pliable and yield a more comfortable experience. Stretching in gear that moves with you is crucial. I'm currently loving this Adidas crop top and training pants, since they provide great comfort and give for a seamless stretch session. New York City is known for our parks, equipped with benches and space to do all your necessary stretching, and I take advantage any chance I get when the weather starts getting warmer. Taking a moment to stretch before and after your workout is so important for your recovery practices and can ensure injury prevention.
3. Hit The Jungle Gym!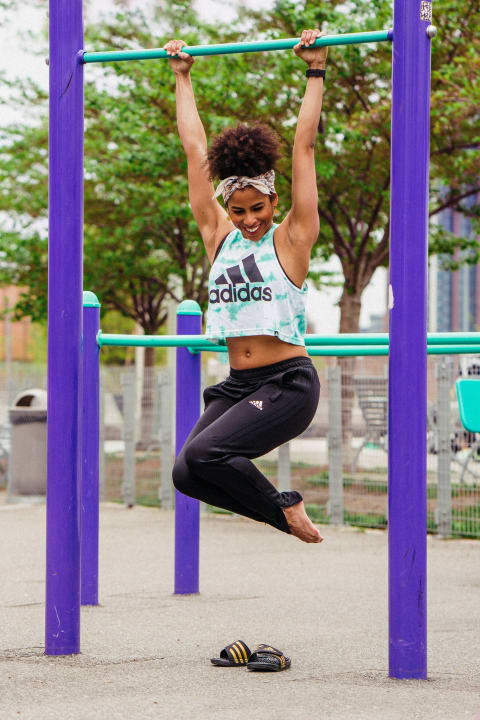 Monkey bars aren't just for kids! Find out where your local parks are located and start swinging! Break out of indoor gym life, and spend sometime outside building your pull-up strength. I like to practice my pull ups on the monkey bars at my local park, which is great for building upper body strength and enhancing my overall mobility. I love to check out the schedules of my favorite fitness instructors to see if they offer special outdoor classes or events. Plus, grab a friend while you're at it - working out with others enhances your overall well-being, especially when done outdoors. During my outdoor time, these Adidas sandals are my go-to shoes that keep my feet happy and comfortable after a post-sweat session. Kohl's extensive collection of fitness brands makes it a breeze to choose pieces that take you from park to social in a flash.
Getting a new start ahead of a new season with new routine changes is sometimes the best course of action when you're in a rut. Instead of adding a million things to your agenda, start with one goal and take it from there. Once you feel inspired to try new things one step at a time, your whole world opens up for freedom and exploration.

Alicia Archer
Fitness Instructor & Flexibility Expert
Alicia obtained her BFA in dance from Fordham University/The Ailey School and continues to pursue a career in fitness. Although a dance major, Alicia was still very new to the world of exercise. She started taking group classes several times a week and developed a passion for fitness and instruction. Certified by AFAA, she now teaches several signature formats focusing on helping students realize their full potential joyfully, through musicality and rhythm. Through working in the industry, Alicia found herself influenced by circus arts. Always intrigued by aerial work and acrobatics, she looked for lessons in NYC and began training regularly in aerial, contortion, and hand-balancing. Now well-versed in the workings of flexibility, she combines her specialty in body-weight training with the knowledge of mobility and stretching techniques. Alicia believes discipline lies within and that tremendous results are possible for anybody willing to put in the work.