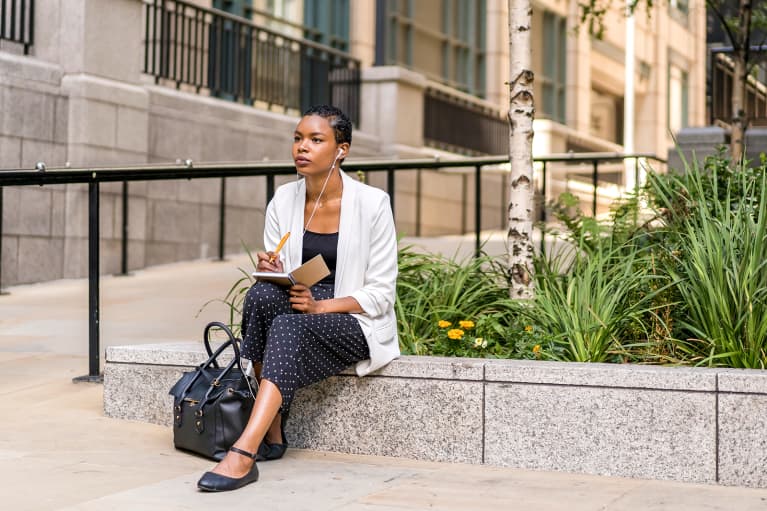 If you're seeking an extra dose of motivation to kick-start your New Year, might we make a suggestion? An audiobook is one of the easiest ways to find inspiration and learn something new. Break out your headphones, and check out three solid selections below!
There's a reason Ryan Holiday, the bestselling author of Trust Me, I'm Lying: Confessions of a Media Manipulator, The Obstacle Is the Way, and Ego Is the Enemy, has been dubbed the "next Malcolm Gladwell." He's known for making ancient wisdom strike a chord with the next generation of leaders in tech, media, and more. Narrating his new book, Stillness Is the Key, Holiday brings the inspiration (here's a snippet: "There will always be risk because we can't always know the outcome. It's unavoidable, but what is avoidable is being perpetually haunted by all the things that could have been if you had only dared") and shares a game-changing secret: that in order to move forward, we must learn to be still.
The Bullet Journal Method
Now's the perfect time to see what all the bullet journaling hype is all about. Written and narrated by the founder of the immensely popular system, Ryder Carroll, The Bullet Journal Method: Track the Past, Order the Present, Design the Future will guide you through a whole different (and TBH, fun!) approach to intentional living. If you constantly find yourself distracted or unsure of how to focus and pursue what's truly meaningful in your life, get your pens ready—and your headphones, too. Listen to a sample of the audiobook below!
Got room in your library for an NYT, Amazon, and USA Today bestseller? Charles Duhigg's instant classic The Power of Habit was also longlisted for the Financial Times and McKinsey Business Book of the Year Award in 2012, and it may very well be the book of psychological theories that launched an entire rethinking of the impacts of our habits in the self-help space. You'll learn why habits exist and how it's possible to change our lives by simply changing our habits. To anyone seeking to make new moves this upcoming year: If you haven't read this yet, listening to this book is your first bit of required reading of 2020.