Close Banner
Advertisement
This ad is displayed using third party content and we do not control its accessibility features.
paid content
 for

3 Super Simple Ways To Get Your Kids To Hug More Trees
Image by Erin Drago / Stocksy
Ah, the great indoors. These days, our kids are growing up expert navigators of touchscreens, smartphones, and technology—all between four walls. But the reality is that they'll be inheriting a planet that (still) needs all the love it can get.
While this is a far cry from the carefree younger years that many of us enjoyed—you know, playing in the front yard with the neighborhood kids until we had to go back inside for dinner and homework—the good news is that science is on our childhoods' side. For starters, playing in the dirt is great for kids' immune systems, and there's lots of evidence showing that children who run and play for over an hour a day develop better cognitive skills than those who don't. The even better news is that there's no right or wrong way to add a bigger dose of nature to your lives.
But in honor of National Love A Tree day, we can think of one place that provides all the magic and fun you need to help your kids get active and learn about the environment—our forests. With more than 190 million acres accessible from both the 'burbs and urban sprawls, forests are amazing playgrounds for kids to discover their natural world—and grow to become good stewards of the Earth.
Ready for some fun among the trees? Read on for three of our favorite ways to make childhood an adventure again:
1. Don't call it a hike!
Immersing your kids in nature starts with just getting out of the house—but instead of saying, "Let's go on a hike," which can sound like a lot of work, just say, "Let's find somewhere fun to explore."
We get that walking a flat road is kinda…boring. Find a local forest for a micro adventure: Winding trails are interesting, there are endless trees to hug, and it's even better if there are lakes or streams close by to throw rocks into. Your kids can roam, get dirty, climb real rocks, and feed their hungry minds while they're at it.
Teach your tykes how to identify trees, plants, and flowers—especially the ones that grow in your neighborhood, so you can both spot them while walking around back home. Keep the adventure fairly unstructured, and allow them to be captivated by their surroundings, even if it's with a few moments of silent awe. (And go ahead and OK the use of screens for playing nature photographer.)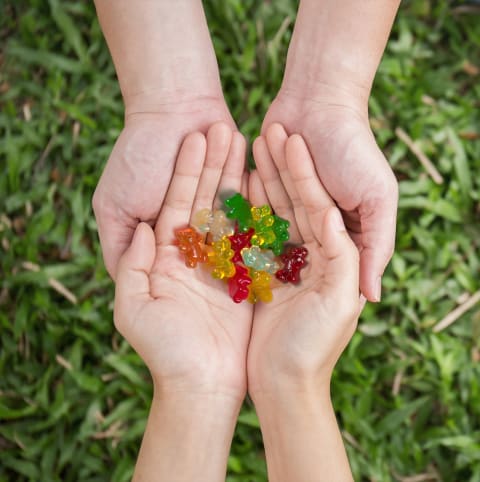 Image by Black Forest Gummies / Contributor
One word of advice, though: A hungry kid is a grumpy kid, and packing the right food with you will make all the difference. Gluten-free and fat-free Black Forest Classic Gummy Bears contain thoughtful ingredients (aka real fruit juice) for thoughtful, flavorful snacking that both you and your crew will be thankful for out on the trail and back at home.
2. Read books about forest animals and ecosystems.
Fire up their imaginations with stories that put the spotlight on our planet and its unique ecosystems like our forests: They'll feel engaged learning about its fascinating science, funny animals, and real-life environmental themes. A crop of beautiful new children's books focus on the sensory worlds and critters of our forests—check out this New York Times book list and this Good Reads book list for recs.
Bonus points for taking story time outdoors whether it's on a picnic blanket at your local park or on the table of your backyard deck. (While you're at it, consider taking all other indoor activities outside! From homework to snack time to game night, now's your chance to turn the outdoors into their favorite "room of the house.")
3. Start a nature club with other families.
Sharing the woodsy adventures with friends helps enrich your child's experiences and builds memories that feature nature as the backdrop. It doesn't have to be a huge lift, either: Plan a monthly outing to check out a nearby trail and pack a picnic, or design a scavenger hunt for the kids to collect "nature finds." Pick items that will foster educational conversations, and don't forget a little prize for discovering each one.
Case in point: National Love a Tree Day is May 16, and Black Forest is getting in on the National Forest Foundation's mission to restore habitats for our wildlife by planting trees in areas affected by wildfire. Teaming up with the NFF, the company set an amazing goal: to plant 100,000 trees in 2020. Black Forest is donating $50,000 to plant 50,000 trees with NFF, and will donate an additional $1 (up to another $50,000) for every comment "🐻❤️🌲" and friend tagged on Black Forest's Love A Tree Day Instagram post between now and the end of May.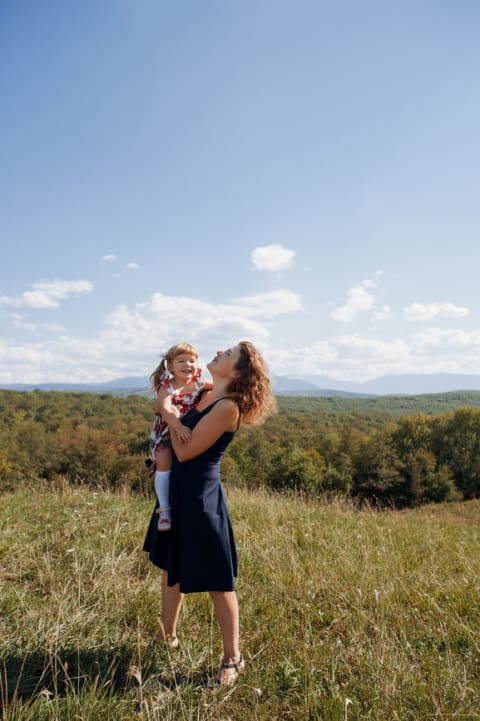 Image by Sveta SH / Stocksy
At the end of the day, you're your kids' most important teacher. The more you show a love for our planet—by spending intentional time outdoors (and having fun doing it!), practicing kinder daily habits for the environment, and nurturing your own interest in nature—the more they will follow in your footprints. And as the beloved outdoorsman saying goes, leave nothing but that.
More On This Topic
more Movement
Advertisement
This ad is displayed using third party content and we do not control its accessibility features.
Advertisement
This ad is displayed using third party content and we do not control its accessibility features.