paid content
 for

These 3 Crazy-Simple Breakfasts Will Help Kick-Start A Healthier New Year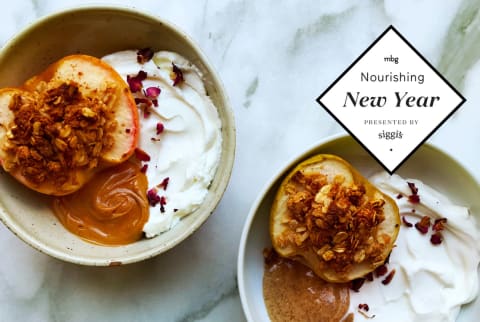 Photo by Alexandra Aldeborgh
January 8, 2018
Don't you push yourself enough? This January, nurture yourself with Nourishing New Year. Instead of focusing on flaws to fix, this January we're nurturing ourselves back to balance with simple, grounding steps. For the next two weeks, mindbodygreen will share with you a story a day inspiring you with simple ways to nourish yourself, your community, and our world through eating, moving, giving, creating, and loving. Follow these common-sense principles along with us for the next two weeks and start the new year with a calm mind, connected spirit, and balanced body. Check out the full plan here!
With the new year and the end of the holiday season, many of us are motivated to make lifestyle changes to better our health. While many of us are running to the gym to jump-start fitness or weight-loss goals, the kitchen is actually the perfect place to start when transitioning to a healthier lifestyle.
Recently, a vast body of research has shown the negative effects of excess sugar consumption on our bodies. A majority of healthcare providers now recommend limiting added sugar intake as much as possible, but this can be tricky, with added sugar coming under tons of different names. Breakfast is an especially important meal to make sure you consume simple ingredients and little sugar, since it sets the tone (and your eating habits!) for the rest of the day. If you eat a ton of sugar at breakfast, you're far more likely to succumb to that 3 p.m. cookie.
These are three of my favorite healthy, low-sugar, high-protein, high-fiber breakfasts. They're all super-simple and easy to integrate into anyone's new year's routine.
Baked Apple Breakfast Bowl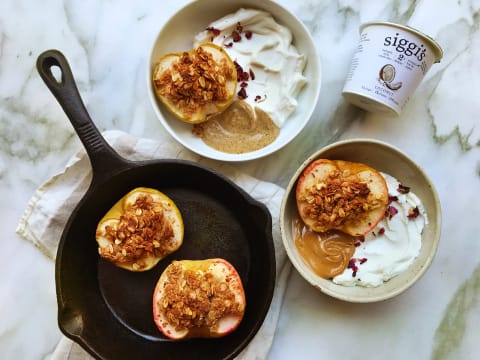 Photo: Alexandra Aldeborgh
Baking fruits takes the flavors and sweetness to the next level. This pretty much tastes like apple pie, but it's baked with no added sugar! I like using siggi's yogurt as is made with simple ingredients and doesn't have much sugar.
2 apples, cut in half and cored
½ cup old fashioned oats
1 tablespoon almond flour
1 ½ tablespoons maple syrup or honey
2 tablespoons natural almond butter
1 teaspoons pumpkin pie spice
Dash of salt
4 servings of coconut siggi's dairy yogurt
2 teaspoons coconut oil
Preheat oven to 350 degrees. Melt coconut oil in a cast iron skillet or baking dish.
Mix together filling: oats, almond flour, maple syrup, almond butter, pumpkin pie spice and salt.
Sprinkle apple slices with pumpkin pie spice and a teaspoon coconut oil.
Fill each apple half with ¼ of the filling.
Place apples in the skillet/baking dish with the cut side up and bake for 25-35 minutes until apples are soft.
Scoop siggi's coconut yogurt into bowls and top each bowl with an apple half. Add a scoop of nut butter and a dash of cinnamon (optional).
Super Simple Breakfast Tacos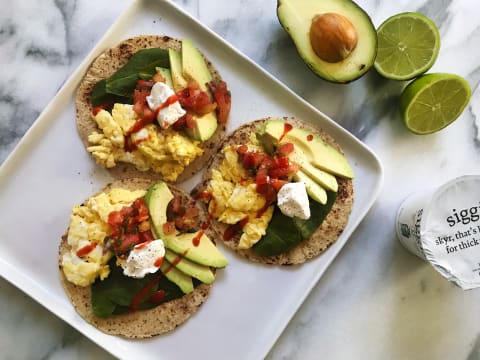 Photo: Alexandra Aldeborgh
Every day can be Taco Tuesday with this simple recipe. Plain yogurt is an excellent, healthier alternative to sour cream—you can't even tell the difference, and you add some protein!
2 corn tortillas
2 teaspoons avocado oil or olive oil
2 eggs
Handful of baby spinach
Pre-prepared pico de gallo
½ avocado, sliced
Juice of 1 lime
Salt and pepper to taste
Heat oil on medium heat in a skillet.
Whisk eggs in a small bowl with pinch of salt and pepper. Pour into skillet and and scramble, about 2-3 minutes.
In a separate skillet, heat tortillas for 30-60 seconds over medium heat, before flipping and heat the other side.
Top each tortilla with a handful of spinach, half of scrambled eggs, pico de gallo, avocado slices, a squeeze of lime juice and a dollop of siggi's plain yogurt.
Enjoy immediately!
Cinnamon Maple Tahini Overnight Oatmeal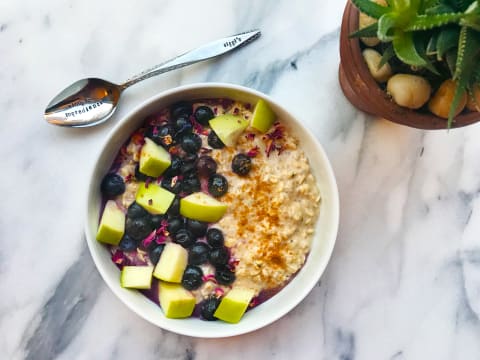 Photo: Alexandra Aldeborgh
Overnight oatmeal is my life-saving breakfast hack for busy mornings. It's so foolproof, that it almost doesn't qualify to be called a recipe! This is a recent favorite flavor combination and will keep you full for hours.
½ cup old fashioned rolled oats
½ banana, mashed
⅔ cup almond milk or milk of choice
½ tablespoon chia seeds
½ tablespoon hulled hemp hearts
1 teaspoon cinnamon
2 teaspoon pure maple syrup
1 tablespoon tahini
2 tablespoons siggi's 4% vanilla yogurt
Berries or other fruit for topping (optional)
Combine oats, banana, almond milk, chia seeds, hemp hearts, cinnamon, and maple syrup in a jar. Close lid and shake vigorously for a few seconds.
Open jar and stir in tahini and siggi's yogurt.
Close jar and place in refrigerator overnight. Add berries or fruit toppings if desired. Grab and go for a busy morning, or heat up and enjoy warm!

Alexandra Aldeborgh
Alex is a private practice registered dietitian, recipe developer, and food and nutrition blogger in Boston, MA. She uses her blog and Instagram Daisybeet to share easy, inexpensive meal inspiration and nutrition and lifestyle information. In her spare time, Alex can be found getting creative in the kitchen, pursuing fitness goals, or exploring the city.