paid content
 for

mbg Has A Bold Take On New Year's Resolutions. Join Our Movement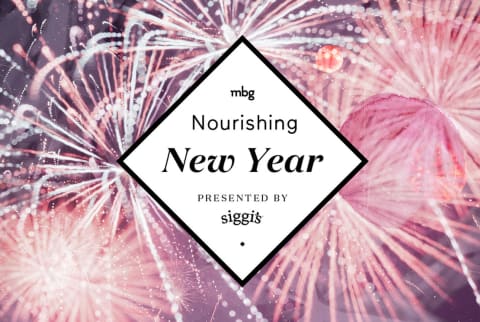 January 1, 2018
Let's talk about December depletion: that sense of exhaustion you feel after a marathon month spent hustling to holiday parties and hurrying through airports, thinking up thoughtful gifts and cramming into close quarters with family. What we really need on January 1 isn't another demand. We don't need to sign up for a boot camp or commit to a cleanse. What we need in January is to nurture ourselves: mind, body, soul, and planet.
Don't push yourself enough? This January, nourish yourself. mindbodygreen, in partnership with siggi's yogurt, is excited to announce Nourishing New Year. Instead of focusing on flaws to fix, this January we're nurturing ourselves back to balance with simple, grounding steps. We consulted with the most innovative, inspiring minds in wellness to give you the swaps, strategies, and recipes to start this new year replenished and ready to take on the world.
For the next two weeks, mindbodygreen and best-in-class wellness experts (plant-based chef Candice Kumai! Holistic skin care expert Britta Plug! Yoga luminary Elena Brower! Acupuncturist Paige Bourassa! And so many more!) will share with you a story a day inspiring you with simple ways to nourish yourself, your community, and our world through eating, moving, giving, creating, and loving. Get ready for satisfying, low-sugar recipes developed full of wholesome, natural ingredients, free from those that slow you down. Look out for gentle movement routines set to the rhythm of winter that will heal your body instead of strain it. And look forward to simple methods for restoring your skin's bounce and vibrancy despite winter's wrath. We're rounding up the inspiration you need to recalibrate your connection to yourself and your world.
Ready to get on board? Our simple plan is not about punishment; it's about replenishment. Follow these basic principles for the next two weeks and start the new year with a calm mind, connected spirit, and balanced body. We'll be sharing inspiration on how to bring them to life every day. Here's how to join us, step by step.
Eat sustaining, nutrient-rich foods. Turn down the processed foods.
Move with care. Winter isn't the time for outdoor sprints; it's for restorative movement that protects your body.
Comfort yourself with coziness. Hygge-out your home with natural fabrics and candlelight.
Listen to your inner voice. The focus on others around the holidays, while joyful, can disconnect you from yourself. Take this time to get back in touch with your deepest thoughts and feelings.
Connect with the people important to you. Create moments with your partner, children, friends, parents, neighbors, community, and world.
Breathe in nature. You don't have to wait for warm weather to plant your feet on the earth and take in a deep, fresh breath of air.
Accept. Take a break from pushing and switch to replenishing. Be kind and accepting of yourself and those around you.