3 Calming Breathing Techniques That Will Help You Stay Positive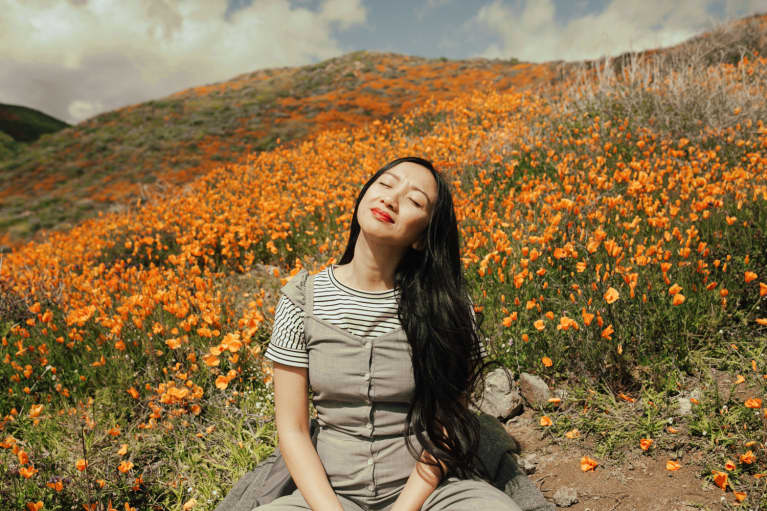 I, like so many people, am finding it challenging to remain positive these days. Though I'm fortunate enough to be able to stay inside, cabin fever is setting in, my family is getting on each other's nerves, and there's a steady stream of adrenaline-producing news in the background.
Begin by sitting in a comfortable position with your feet planted solidly on the ground. Close your eyes and bring your awareness to your breath.
As you inhale, feel your belly and lungs expand. As you exhale, feel your feet grounded on the Earth, steadying you in uncertain times.
On the next inhale, visualize moving any negativity that you've been experiencing all the way up from your grounded feet, through your body, into your head.
On the exhale, imagine pushing all of that negativity out through your ears as gray smoke. See and feel it leaving your body completely.
Repeat this breath and visualization as often as you like. I recommend using it multiple times a day.
"Bubble of safety" breath:
Find yourself in a comfortable position, sitting or lying down, and close your eyes.
Start by bringing your attention to the rise and fall of your breath. Right here, right now, all you need to focus on is your breath.
Next, become aware of your body: What sensations do you notice as you are sitting or lying in stillness?
Now, expand your awareness to include the space around your body. That space may extend several inches or several feet, depending on what feels comfortable for you.
As you take note of this space, imagine that it's your bubble of safety, enveloping you in a peaceful, impenetrable cocoon. Know that this bubble of safety is always with you, regardless of what's happening around you.
Begin by getting comfortable, either sitting or lying down, and then close your eyes.
Start to pay attention to your breath, consciously deepening your inhale and slowing your exhale.
Now, put your hands on your heart and bring to mind something, or someone, that you're grateful for. Choose an easy one: a person, place, situation, pet, etc., that really fills your heart with appreciation.
As you continue to deeply inhale and slowly exhale, let the feeling of gratitude wash over your entire body. Hold this feeling for one to five minutes, or longer if you like.
Feel free to come back to this exercise multiple times, adding more reasons to be grateful to your list.