paid content
 for

11 Healthy Summer Essentials Every Family Needs For More Fun Under The Sun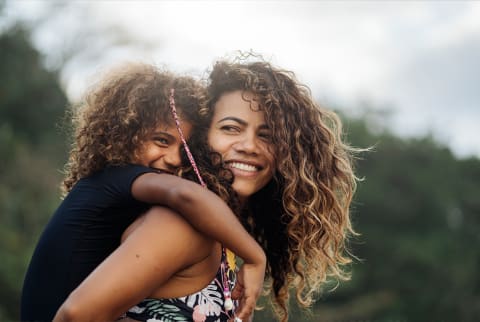 Image by Santi Nuñez / Stocksy
June 10, 2022
As the school year ends, the summer begins—which means kids get to spend more time outside and less time behind a computer screen. And while we could all use a little more fresh air, it's important to keep the whole family nourished and protected so that nothing can stand in the way of a summer full of fun under the sun.
To help you get ready for a season of outdoor adventures, we've put together a list of healthy summertime essentials. Whether heading to a beach weekend or an afternoon playdate, these better-for-you products will help to prepare for anything the season throws your family's way. From clean-ingredient sunscreen, like Bare Republic, to our favorite kid-friendly snacks, let this serve as a checklist for all of your summer outings.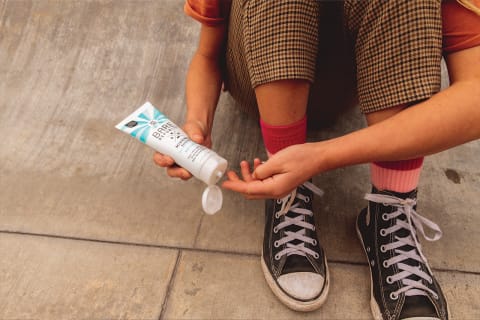 Image by Bare Republic / Contributor
Protect.
First things first: Sun protection is an absolute must. Lathering the whole family up with a solid layer of sunscreen is priority No. 1. We love Bare Republic's worry-free, adventure-proof sunscreen because they exclude a strict list of 1,400-plus questionable ingredients, which means they're safe for parents, kids, and the planet. Bare Republic is also dermatology-tested, sustainably sourced, and created using high aesthetic standards—aka no greasiness!
Next up is a nontoxic bug repellent for buggy nights in the backyard and weekend hikes through the woods. Wondercide's family-friendly, DEET-free insect repellent uses plant-based ingredients in place of stinky, harsh chemicals. Powered by natural essential oils, their formulas are proven to kill and repel 98 to 100% of mosquitoes.
Hydrate.
The summer heat can lead to a lot of dehydration if you're not careful. Just as regularly applying Bare Republic sunscreen is important, keeping a water bottle nearby to serve as a reminder to hydrate throughout the day is also critical. Our little ones depend on us to keep them in check as well—but it helps to have their own "big-kid" water bottle to sip from. Hydro Flask's Kids Wide Mouth bottle keeps beverages cold for up to 24 hours and includes an easy-to-clean straw cap and graspable boot for little hands.
And because water isn't always enough when it comes to proper hydration, we also recommend stocking up on electrolytes. Kinderlyte's Natural Electrolyte Powder is our go-to because it hydrates 3x faster than water alone, without the use of artificial sweeteners, colors, flavors, or preservatives. All of their flavors are kid-approved—but we're partial to the Lemonade.
Nourish.
With all the activity summer has to offer, nourishing our bodies with nutritious foods is key to maintaining proper energy levels. And in the case of our kiddos, a healthy snack can help to fend off those dreaded blood sugar meltdowns—because we all know how that can ruin a day. Sweet Nothings Squeezable Smoothies are an absolute game-changer. They're made from fruits and veggies only, squeezable and ready-to-eat, and refreshingly delicious in the heat of summer.
But for a boost of protein, grab a CHOMPS meat stick. CHOMPS uses the highest-quality sustainably sourced protein with no added sugar or harmful ingredients. We're also big fans of a good DIY trail mix. Throw in some Hu Kitchen chocolate-covered Almonds + Sea Salt Hunks to an otherwise salty blend of nuts and seeds to take your trail mix to the next level. Paleo, vegan, and sweetened with coconut sugar, these organic bites are simple and delicious.
Organize.
To keep all of our summer essentials organized on the go, we love Dagne Dover's eco-friendly Vida Cotton Tote Bag. It's made from 100% organic cotton canvas and lined with a wipeable interior. Not only does it hold your repertoire of Bare Republic sun protection, but the multiple interior and exterior pockets make it easy to store everything you need.
For snacks, keep a variety of Stasher Bags on hand. Made from premium reusable silicone with a leak-free seal, Stasher Bags replace single-use, toxic plastic and keep food fresh and neatly organized. For to-go meals, we also love PlanetBox's Rover Stainless Steel Lunchbox. With multiple compartments, it's the perfect box for grazing and small portion sizing—plus it keeps foods separated for picky eaters! Just throw it into one of PackIt's foldable, freezable bags to keep food chilled for hours. With a variety of fun designs and sizes, PackIt makes the perfect camp lunch box.
@Summer, we're ready for you.
There you have it: all you need to get the whole family prepped and ready for a healthy and active summer, full of sunshine and good ole fashioned fun. Just don't forget rule No. 1: sunscreen, sunscreen, sunscreen. From nongreasiness to total transparency and lightweight, sheer coverage, Bare Republic has it all. With their vast lineup of products, there's something for everyone—and absolutely no reason not to stay lathered and protected all season long. Summer, here we come!

Ryan Brady
Ryan Brady is a Freelance Writer at mindbodygreen. She received her B.A. in Visual Arts from Yale University and her M.A. in Clinical Psychology with concentration in Spirituality and Mind-Body Practice, from Columbia University.
Ryan is passionate about holistic health, fitness, and spiritually-centered living. She loves using her knowledge and personal experience to help others improve their well-being. She brings this passion to her writing, as well as to her work at the wellness centers she owns in Atlanta, GA. When she's not working, Ryan can be found traveling, spoiling her dog, or experimenting with gluten free, dairy free baking.