paid content
 for

10 Manuka Honey Hacks That Help You Reap All Its Sweet Benefits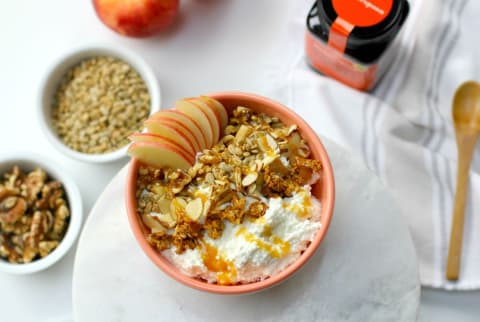 October 3, 2018
Chances are you've heard the wellness community buzzing about honey's golden child, manuka. Perhaps you've even purchased a jar or two for yourself, intent on taking full advantage of its nourishing benefits (and there are lotsof them). Sweet—you're in the right place.
A quick refresher: Manuka honey is sourced primarily from New Zealand, to the point that New Zealand's Ministry for Primary Industries (MPI) released a strict definition this year as to what can be classified as manuka honey. Top brands like Wedderspoon make it a priority to always abide by those rules—and, as a result, their KFactor 16 manuka honey is guaranteed to meet or exceed the Monofloral Manuka Standard from the New Zealand Government.
At the heart of these rules is the fact that manuka is simply healthier than other honeys. That's because its nectar has more healthful properties than other nectars—and the extra immune boosting, anti-oxidant, anti-inflammatory, and antibacterial dose means it can help you get over a cold faster, help heal your wounds faster, and may even help clear your skin.
Bottom line? Manuka honey is not only delicious, it's also the OG cure-all to beat all cure-alls—which is a great reason to incorporate it into your routine when you can. These nine manuka honey hacks will help you do just that.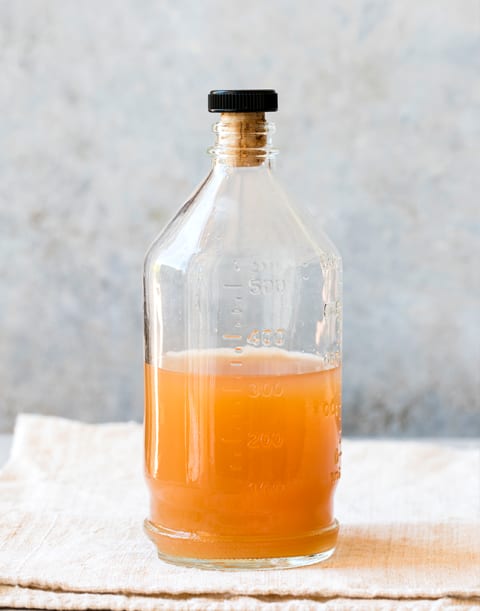 1. Make a daily morning elixir with manuka.
We're big fans of tonics made with potent ingredients as a morning ritual. For a gut-healthy elixir that eases digestion and soothes a sore throat, try an apple cider vinegar and honey tonic. Mix 1 cup of water with 1 tablespoon of ACV, then stir in the honey to taste (you can also add a squeeze of lemon and a dash of cayenne pepper if you like). For immune-boosting, antiviral benefits, be sure to go for raw honey, like Wedderspoon Raw Monofloral Manuka Honey. Raw honey is packed with Vitamins B, C, and live enzymes, whereas regular honey loses those nutrients in processing, when the high heat basically kills them off. So stick with room-temperature tonics to really reap the benefits!
2. Make a manuka honey face mask to calm breakouts.
There are so many DIY manuka honey face masks online, one quick search and you might even be overwhelmed. Keep it simple, and mix manuka with rosewater—that's it. Wet your face, apply the mask, and leave it on for 20 minutes, removing it with warm water. Thanks to manuka's antibacterial properties, your skin may look and feel less red and inflamed—not to mention incredibly moisturized, too.
3. Or simply wash your face with manuka once a week.
Manuka masks may be having a moment, but you don't even need to keep the stuff on your skin for an extended period of time to benefit from its healing effects. Just take a teaspoon of manuka honey, spread it around your face, and then wash it off with warm water right away. Studies1 have found that doing so may keep the bacteria that causes acne at bay.
4. You can also use manuka as an overnight treatment.
It seems a little weird to put honey on your skin and leave it there all night long, but manuka honey can be used as a simple spot treatment. Place a dab of manuka on any scars or acne you have may help reduce the dark spots from the scarring, and the inflammation from the acne.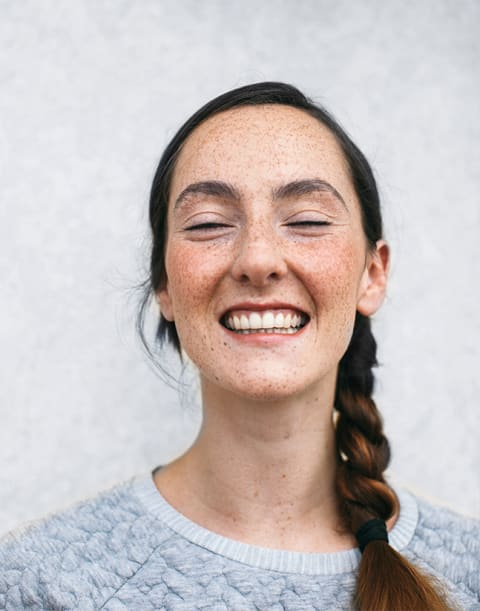 5. Mix up some manuka mouthwash to keep your teeth healthy.
6. Or mix it into your oil pulling.
Yes, manuka oil pulling is totally a thing. You might have heard that the ancient Ayurvedic practice of oil pulling with coconut oil or sesame oil can be good for your teeth and gums already—it can lower inflammation and detoxify—adding manuka to the mix can kick the health benefits up a notch. That's because the manuka may potentially kill off even more bacteria than the oil alone. Just call it that manuka magic.
While it may sound like an odd combo, manuka in guacamole is actually super delicious, as honey gives the green dip just a hint of sweetness that you probably won't be able to quit after you try it. And good news: Manuka is lower on the glycemic index3 than other natural sweeteners and gives your guac a superfood boost thanks its anti-inflammatory and antioxidant properties4. To get the taste just right, add one tablespoon of manuka honey for every two avocados, and then mix in all of your favorite staples, like a squeeze of lime, salt, cilantro, onion, and whatever else you like. Happy dunking!
8. Take a manuka honey bath to hydrate your skin.
Drawing a calming bath is one of the best ways to unwind. If you've never thought to put honey in your bath, try it out with manuka. Just mix two tablespoons of raw honey into one cup of hot water until the honey dissolves—then pour that water into your warm bath. It'll leave your skin feeling super soft, and may reduce any inflammation you have, too.
9. Use manuka honey as a hair conditioner or mask.
Because manuka has so many antiseptic qualities, it's actually an incredible hair conditioner that can leave your hair and scalp looking and feeling healthier. Mix about a quarter of a cup of manuka honey with just enough water to turn it into a hair-conditioner-like consistency. Then, after you've washed your hair, apply it just like you would a conditioner—but let it sit for 30 minutes. Rinse out with warm water after that, and your hair will feel extra luxurious.
You are now a pro at using manuka in all of the cool and surprising ways, but don't forget about that ultimate basic tip: Just eat it! Aside from all of the beauty-boosting benefits we talked about above, manuka honey has a host of other health benefits that you can experience from just using it as a yummy ingredient. It can help improve your digestion, for starters, and if you have a cold, it can help soothe a sore throat—check out even more health benefits here. Try putting it in your tea, spreading it on your toast, mixing it in with your granola, and more. Or, perhaps eat it straight out of the jar with a spoon. It's just that good—and good for you, too.