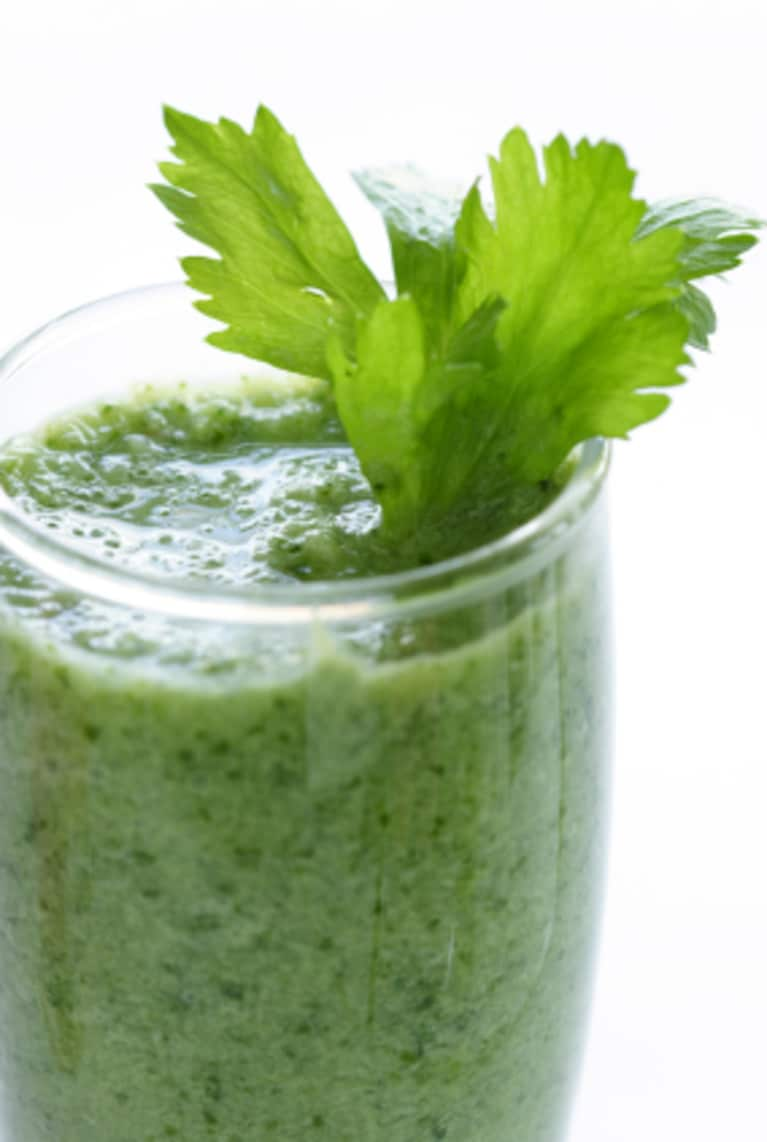 As a plant-based foods educator and holistic health coach, I work with many people who fear green smoothies. Maybe they tried a shot of wheatgrass way before it was trendy or were burned by a glass of green goo passing as the infamous "green smoothie." The bottom line is that many people equate green liquids with punishment. But I have a secret to share with you: green smoothies don't have to taste awful, and in fact; when made correctly, they taste pretty amazing.
I'm sure you've heard all the hype about green smoothies by now. You know that they are a quick, easy, and (supposedly) delicious way to get more greens into your diet. You know they're full of fiber, antioxidants, enzymes, and chlorophyll. And you know that green smoothies are the best way to digest and absorb nutrients from the greens because the blender helps to break down the cell walls, allowing your body to easily absorb those nutrients.
Regardless of the benefits, if you think green smoothies are going to taste like liquid barnyard, I'm sure you're not psyched to get blending. Today I'm here to dispel the gross green smoothie myth and show you how to make a delicious smoothie that won't traumatize you for life.
1. Ratio
It's important to start with the proper ratio of fruit to greens. When you are a green smoothie newbie, feel free to start slow. Most modern diets are void of dark, leafy greens like kale, chard, collards, and spinach so it is perfectly acceptable to incorporate these items slowly and increase the amount with time as your body and tastebuds adjust. There is no use in overloading your smoothie with greens and then miserably sucking it down! I recommend a 3:1 ratio of fruit to greens for beginners.
2. Texture
The key to making a delicious green smoothie is to blend, blend, blend! Contrary to what most people think, you don't have to have a high-speed blender to make a decent green smoothie. (Although it is definitely easier!) Start with 2 cups of your favorite liquid and 1 cup of greens. If you don't have a high-speed blender with a powerful motor, begin by blending your greens and liquid before adding any fruit or supplements. This will ensure that your greens are completely liquefied because no one likes chunks in their green smoothies.
Another key to creating a proper texture is to use frozen fruit and no ice. Most blenders can't blend ice completely so you end up with icy chunks in your smoothie. Instead, frozen fruit blends to create a creamy texture and natural sweetness without the chunks.
Frozen bananas in particular are a great way to bulk up a smoothie. Simply peel ripe bananas, chop them up, and freeze them overnight. I always keep a batch of these in my freezer for smoothies!
3. Supplements
Lastly, if you've made it this far, you can start thinking about supplements. Most people don't need extra protein, but green smoothies are a great way to supplement protein into your diet if needed. I love adding pumpkin seeds, raw nuts, chia seeds, hemp seeds, or spirulina into my smoothies for extra protein. You can also use a protein powder if needed.
To make a green smoothie a complete meal, be sure to add a good fat source. Fat will also help you to absorb all the nutrients from the greens. I love using ¼ of an avocado, a tablespoon of flax oil, or a tablespoon of nut butter to make the smoothie more filling.
Green smoothies are almost impossible to mess up so don't be afraid to experiment! Try using different greens, liquids, and fruits, and see which ones taste the best to you. In the beginning, keep it simple and don't worry about adding extra goodies if it feels overwhelming. As your green smoothie confidence increases with time, you can always adjust and add supplements later. Happy blending!
Basic Green Smoothie Recipe
Ingredients:
1 cup of raw greens (kale, chard, collards, spinach, etc)
2 cups liquid (non-dairy milk, fresh juice, coconut water, green tea, or water)
1 frozen banana (remove the peel, cut into 1-inch slices, and freeze overnight)
1 cup of frozen berries (strawberries, blueberries, raspberries, and/or blackberries)
Directions:
Remove any tough stems from the greens. Blend greens and liquid for 15 seconds - 1 minute (depending on your blender) on high. Add fruits (and any supplements) and blend for 15 - 30 seconds, or longer as needed to achieve a creamy consistency. Drink up!