7 Things This Doctor Does Daily For Gut Health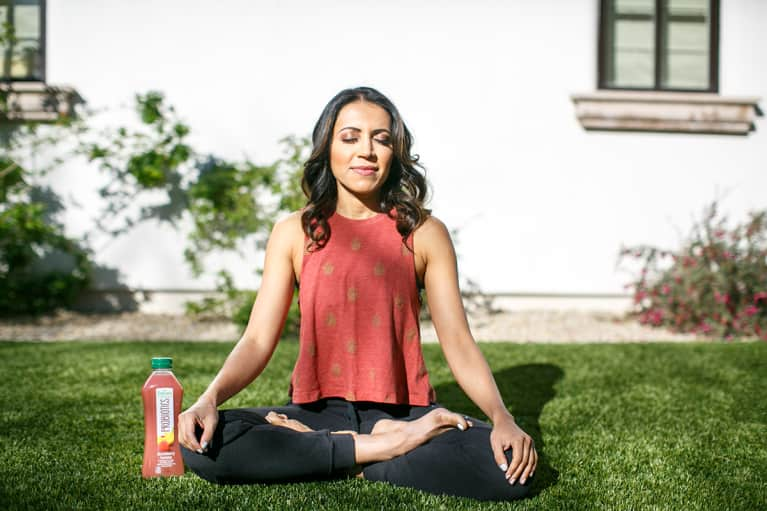 I believe my daily routine is key in keeping my gut health balanced. I try to follow the same diet that I asked my patients to follow for gut health.
1. I start the day off with water and drink two liters throughout the day.
Drinking water, especially warm water on an empty stomach, is one of the core tenets of Ayurveda (an ancient Eastern mind-body medical system). I like to incorporate the science of ancient medicine into my busy day when I can.
Warm water is preferable especially in the cooler weather and with my body type, according to Ayurveda. It's thought to stimulate digestion and aid digested food through the digestive tract. I often add 2 tablespoons of organic unfiltered apple cider in the morning, since the fermented vinegar is a probiotic.
Throughout the day, I sip on a large bottle of water in a metal container.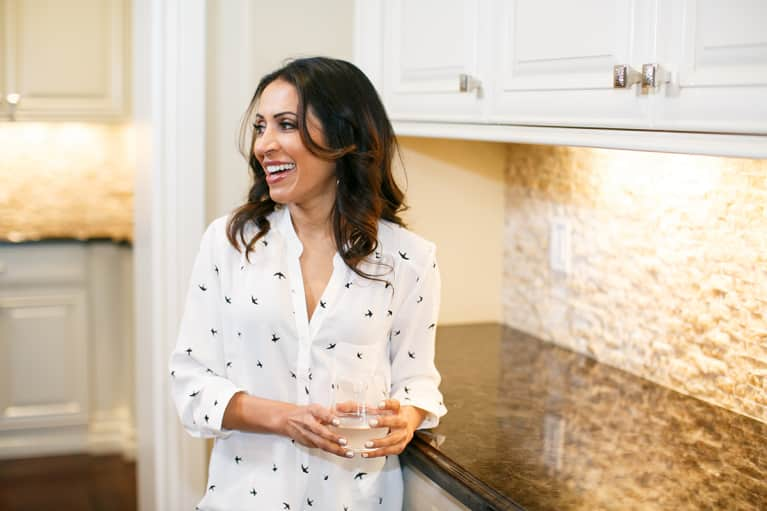 2. I spend the day sipping on nondairy chai.
To make my favorite chai, I combine 1 cup of water, 1 heaping tablespoon of black or green tea (loose chai tea is available in Asian stores or online), and ½ teaspoon each of cinnamon, cardamom, ginger, nutmeg in a pot. I bring it to a gentle boil, then grate some fresh ginger into it, add 2 to 3 cardamom cloves. I add up to 1 cup of coconut or almond milk at the end before straining it. I sip on this throughout the morning, between patients.
If I am very hungry in the morning, I add 1 tablespoon of coconut oil to my tea or coffee. The fat in the coffee will help my body feel full.
3. For lunch, I like to have a broth-based soup and a smoothie or bar.
Not only is broth mentally soothing, it soothes my gut. Adding veggies, sea veggies, or miso gives it an extra health punch and makes for a filling, warming meal.
I usually drink a probiotic smoothie with my lunch or in a pinch, a low sugar bar. In the smoothie I like to add spinach, avocado, and a little fruit like strawberries.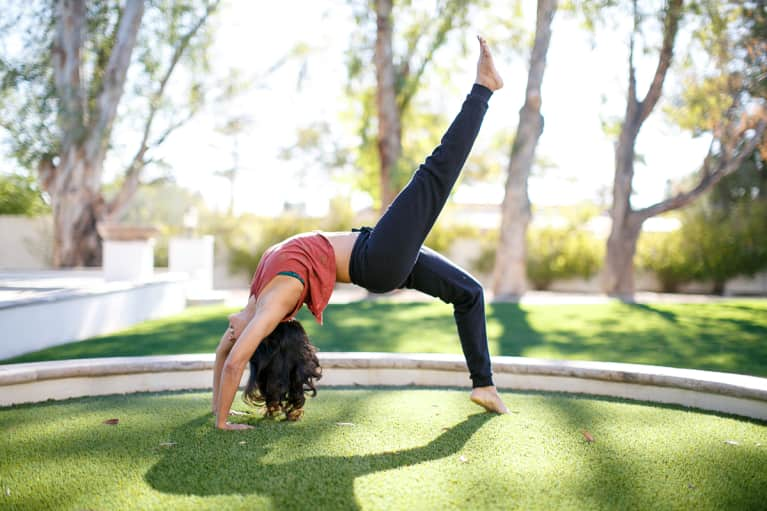 My favorite way to sweat is a heated Vinyasa flow for 90 minutes. I need it not only to treat and prevent things like bloating but also to balance my mind. I don't do well with sitting meditation until I have worked out my body. Just the act of concentrating on my breath for the full 90 minutes is really helpful for me to calm my nervous system and jump-start my digestion.
5. I add probiotic food to meals.
A little can go a long way. Adding a tablespoon of kimchee, sauerkraut, or some pickles to most of my meals is an easy way to work gut-friendly bacteria into the diet.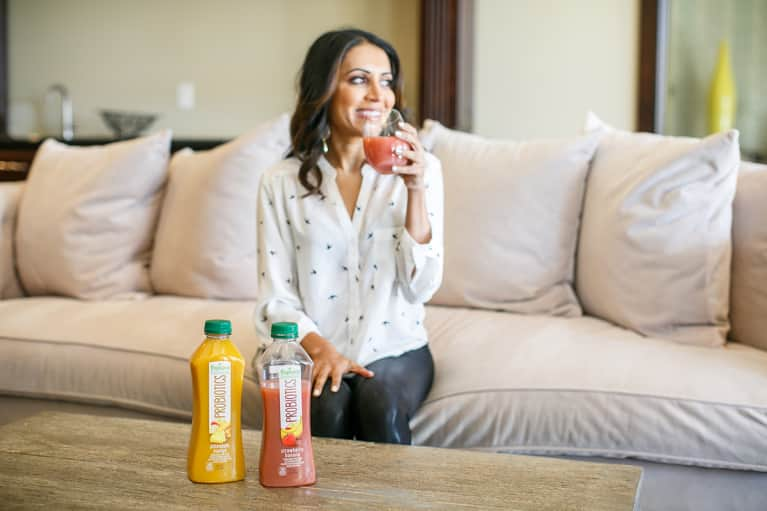 6. For dinner, I eat a meal that includes prebiotics.
Prebiotics are high in fiber that good bacteria feed on. The best sources of prebiotics are raw leek, sunchokes, asparagus, dandelion greens, onions, garlic, apples, and green bananas. Lately I've been drinking Tropicana Probiotics with dinner (my favorite flavor is Pineapple Mango). It's 100 percent juice with 1 billion live probiotics and no added sugar or artificial flavors and, when paired with a prebiotic dinner, perfectly balances my gut.
Important note: If you are someone who suffers from very severe constipation, gas, or stomach pains, you may not be ready to add copious amounts of prebiotics to your diet, especially things like raw garlic or onions. Start off low and slow and work your way up from there.
Getting adequate sleep (at least eight hours) helps my overall physical and neurological health and has a significant impact on stress levels and my digestion.
That's it! That is a full day of eating and lifestyle measures that I take to keep my gut in optimal condition.