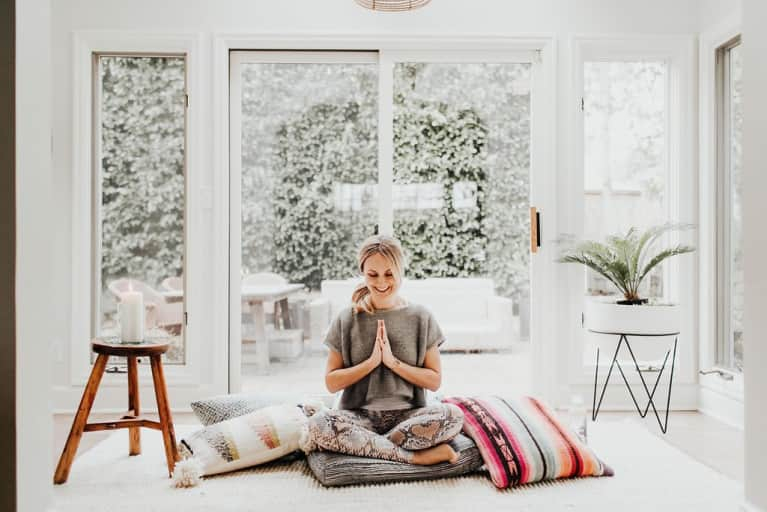 Most years, my family and I manage to avoid any major winter colds and flus. It sounds unbelievable especially with kids, right? But it's totally doable—it's not about treating symptoms or using some sort of magic pill.
It's all about prevention.
Over the years, I've learned that staying healthy during cold and flu season is easier when I follow some simple, holistic health hacks focused on boosting everyone's energy and keeping stress and germs at bay—especially when traveling, which I often need to do for work. (And sometimes, yes, the whole fam comes along.)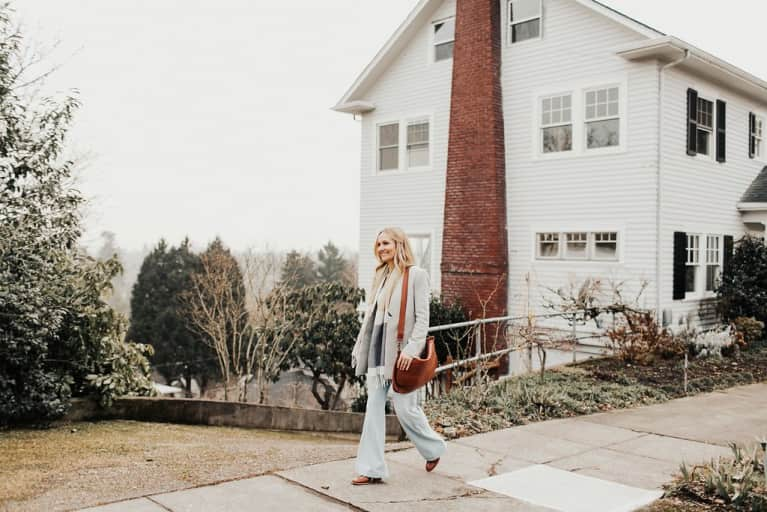 The healthy travel hacks I swear by:
Whether I'm traveling solo or with the fam, it's so important for a mama bird to stay healthy. Lots of hydration, vitamin C, and sleep are the main ways to stay solid when your travel schedule is chaotic. In fact, the No. 1 thing I recommend is getting regular sleep and sticking to normal sleep patterns as much as possible. Sometimes that means making small changes that can help in a big way. For instance, if I'm staying at a hotel, I'll request a hotel room that's quiet and not near an elevator door or ice machine. I make sure to close the blackout curtains tight and wear earplugs.
I also bring a light scarf on planes to wrap around my face. It adds an extra layer of protection against germs, and I'll spritz it with lavender essential oils before I leave the house.
Additionally, this sounds so simple and basic, but it really does work: Wash your hands regularly! If you want step it up further, invest in a natural hand sanitizer spray.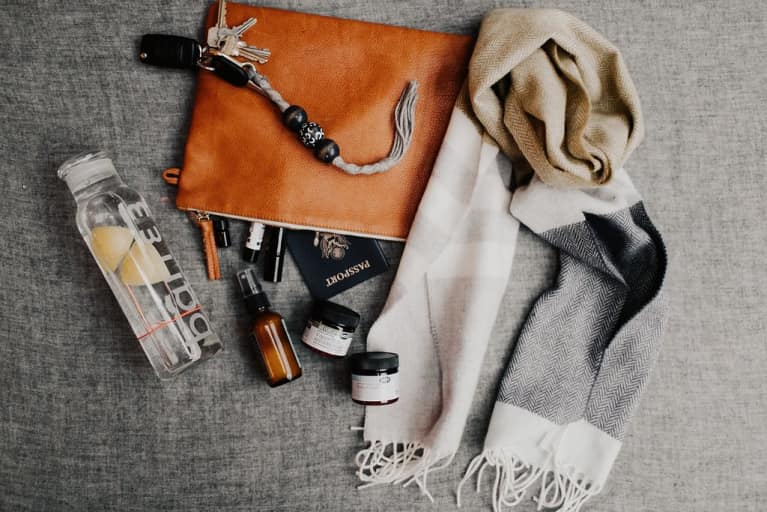 Pack an airport-friendly bag with sickness essentials.
I like to travel prepared, especially when the fam is tow, by making sure we have some of our favorite, healthy, and natural products on hand. Maty's All Natural Vapor Rub is a must-have in my carry-on. Weighing in at 1.5 oz. (meaning it's TSA friendly), it's perfect to keep the airborne sniffles at bay, offering comfort if anyone does start feeling under the weather. Bonus: It smells great, too! Maty's makes their products using whole food ingredients that boost your immune system, which is totally aligned with my whole foods philosophy.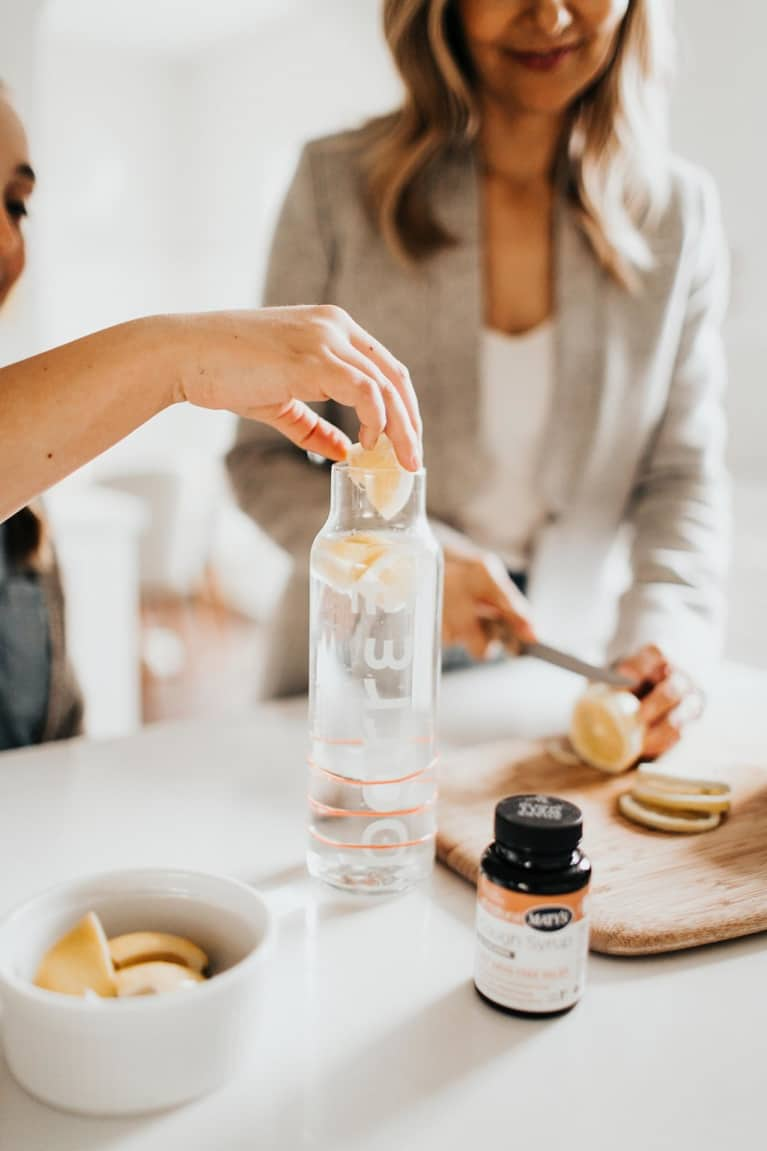 I always carry vitamin C packets when we travel that easily dissolve into drinks, because they're so easy to keep on hand! I put them in our water bottles so everyone has a nourishing way to hydrate during a long flight.
Speaking of water, hydrate, hydrate, hydrate! My whole family is competitive, so this tip works really well for us: Everybody wins. We wrap four rubber bands around our water bottles, and each time we fill it up, we take a band off. Bragging rights if all bands are off by the end of the day! And again, don't miss an opportunity for more vitamin C! Fresh lemon or citrus squeezed into our water is great, too.
Try my go-to routine the moment you feel sick.
If the preventive stuff fails to work and one of us feels a bug coming on, I try to keep all of my remedies organic and all natural, avoiding heavy meds and those with strange and unpronounceable ingredients; if you don't know what it is, don't take it!
1. When I start feeling symptoms, I think it's super important to really slow down and get as much sleep as humanly possible. I'm so OK with chill time and just saying no to extra activities when I know my body needs to heal. This is true if you're traveling alone, but especially if you're traveling with the whole family—mom has to keep her energy!
2. If we need to step it up, I'm a big fan of Maty's All-Natural Cough Syrup. It's good for both kids and parents, and it's made with things like buckwheat honey, which has tons of antioxidants. I'm a huge fan of honey, so I love to keep Maty's on hand.
3. A steam, sauna, or really hot bath is great for colds—it breaks up any mucus and helps clear the head.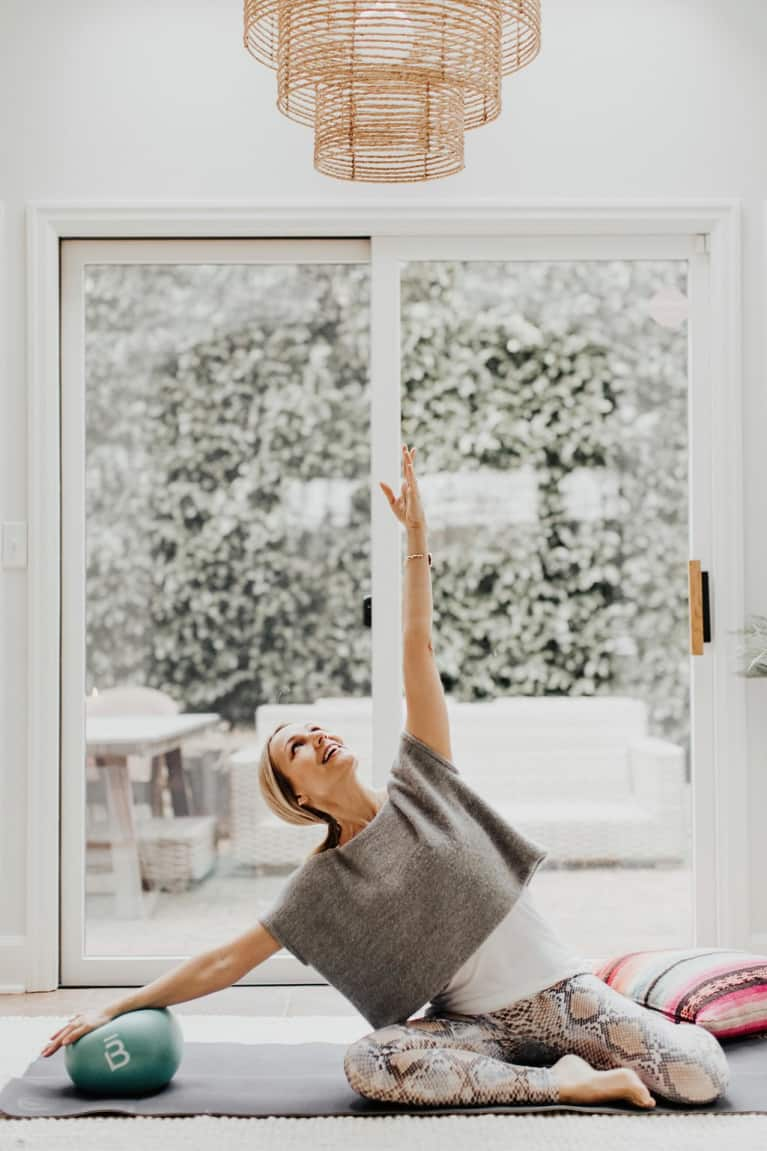 4. Sometimes I add Maty's Organic Cough Syrup into our morning smoothies to awaken everyone's immune systems and keep them in tiptop shape all day long. Don't knock it till you try it!
5. Even if I'm sick, I still try to do a gentle 10-minute online workout on Barre3.com. All of our workouts are really easy to dial up or down according to my energy levels—and really, it's just for a mood lift. Because being sick is no fun.