These Are The Best Essential Oils For A Nontoxic DIY Deodorant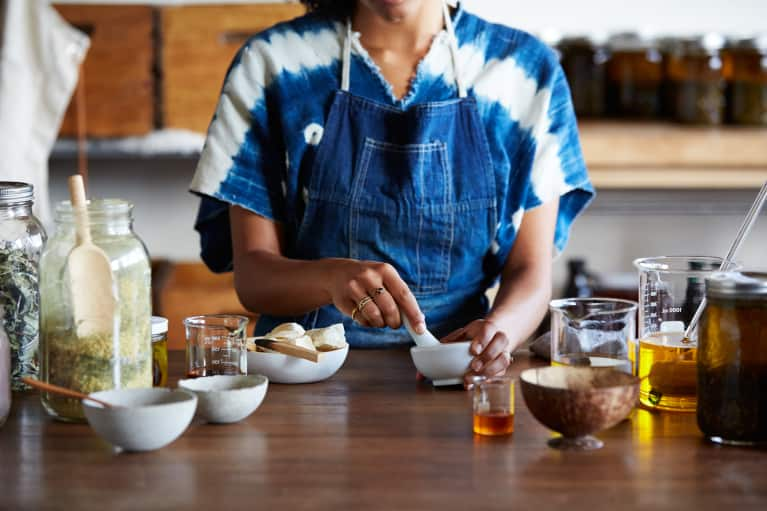 Body odor is natural, but that doesn't mean it has to cause you problems. Making your own botanical deodorant with essential oils can give you peace of mind knowing that the ingredients are healthy and sustainably farmed. DIY deodorant recipes are aplenty, so educating yourself about the right ingredients is essential for therapeutic benefit and aroma preference. And, the average human spends about three days and eight hours of their lifetime applying deodorant (sheesh!), so why not create a custom aromatic formulation?
Over the past years, there have been large shifts in health consciousness. But sometimes neglected is what we put on our bodies. Perhaps we should give this more thought as skin absorbs 70 percent of what is put on it. One study published in the Journal of Applied Toxicology demonstrated that aluminum, a common ingredient in commercial deodorant, is not only absorbed by the body but also deposited in breast tissue. And if that's not enough to convince you to make your own, consumers are often unaware that 95 percent of the synthetic fragrances in self-care products are derived from petroleum by-products, and companies are not required to provide their chemical fragrance concoctions since they're protected by law as "trade secret."
Parabens and phthalates? The jury is out, but you can take control and make your own deodorant containing natural aromas that are gentle enough for daily use.
Essential Oils for Deodorant
Synthetic fragrances pepper the beauty industry, but essential oils are natural alternatives that will keep you smelling fresh all day long. Armpit body odor stems from bacterial breakdown of sweat produced by the apocrine glands. Fortunately, there are gentle, deodorizing essential oils. But some, like oregano, cinnamon, and clove, are not suitable for frequent topical use. Here are suggestions for potent, yet nonirritating oils to include in your recipe:
While you may not have heard of this citrus, it's a hybrid of bitter orange and lemon that grows well in southern Italy. Distilled from the peel, it has a sharp, masculine citrusy aroma that not only uplifts but also acts as an effective antibacterial, antifungal, and natural deodorizer. It blends well with geranium, clary sage, and other citrus oils.
While it seems to have fallen into disuse over the years, clary sage deserves some attention. Its arid, nutty aroma acts as a natural deodorant, and it is particularly beneficial for balancing hormones.
In Latin, cypress partly translates to "evergreen." A superior astringent, it has a piney, woody scent, which is appealing to men and women, as well as a natural antiperspirant, antiseptic, and deodorizing abilities that blend well with geranium, lavender, and clary sage. It's a must-include for those who sweat profusely since it's known to prevent perspiration.
Ginger is distilled from the rhizome, and it has been used as medicine since ancient times. Its spicy, warming scent blends well with cardamom and clary sage. It is an amazing antibacterial, antioxidant, and anti-inflammatory oil.
As one of my favorite scents, it cannot go without a special mention. While I am a fan of having at least three essential oils in a blend to maximize therapeutic benefit through synergy, I will sometimes break my rule and make just a grapefruit deodorant. The fresh, sweet scent will have you feeling crisp and energized. A well-known antibacterial, detoxifier, and disinfectant, grapefruit keeps body odor at bay. It blends well with other citrus oils and cypress, too.
Though lavender is known for being an all-around healer, many forget that it is a balancing oil with powerful antibacterial properties. It is one of the gentlest essential oils with an herbaceous, floral scent. Plus, it blends well with many other oils.
Like lavender, tea tree is gentle enough to use on the skin neat, which makes it a great addition to a daily deodorant blend. It has an earthy, balsamic aroma that pairs well with citrus oils. Tea tree is a proven antibacterial and antiviral that calms inflammation and stimulates the immune system.
My go-to recipe includes bergamot (15 drops), tea tree (8 drops), and clary sage (6 drops). The recipe below will make a little over 1.5 ounces of vegan, unisex, baking soda-free deodorant, which is enough to last you a few months.
Ingredients
½ tablespoon candelilla wax
0.6 oz. coconut oil
0.6 oz. Shea butter
1 tablespoon jojoba
½ tablespoon arrowroot powder
1 tablespoon bentonite clay (or clay of choice for your skin-type)
½ tablespoon magnesium hydroxide
25 to 30 drops of essential oils
*Feel free to experiment with the ratio of butters, oils, and candelilla to find a consistency that you like. Also, many clays contain naturally occurring aluminum; however, the aluminum in bentonite clay is in oxide form in a clay particle and cannot be absorbed by the human body.
How-To
1. Heat the candelilla wax, coconut oil, shea butter, and jojoba in a double boiler until melted. Combine well.
2. Pour this mixture into a glass bowl, adding the arrowroot powder, bentonite clay, and magnesium. Whisk thoroughly.
3. Prepare your synergy of 25-30 drops of essential oils and add them to your deodorant jar or stick.
4. Pour the bowl mixture into your deodorant container (that already contains your essential oils). Stir quickly so the essential oils blend well.
5. Cap and place it in the refrigerator until solidified.
Ingredient Info
Candelilla wax
A plant-based alternative to beeswax, which is suitable for vegans. It's grown in the southwestern United States and northern Mexico, and has twice the stiffening effect of beeswax, which I like since it holds better for a deodorant roll-up stick.
Magnesium hydroxide
A popular DIY deodorant ingredient. It acts as a buffering agent that balances pH to inhibit bacteria growth.
Arrowroot powder
Named for pulling out poison. It provides excellent moisture control.
Bentonite clay
An odorless, nonstaining healing clay that carries a strong negative charge, which binds to positively charged toxins to provide a detoxifying effect.