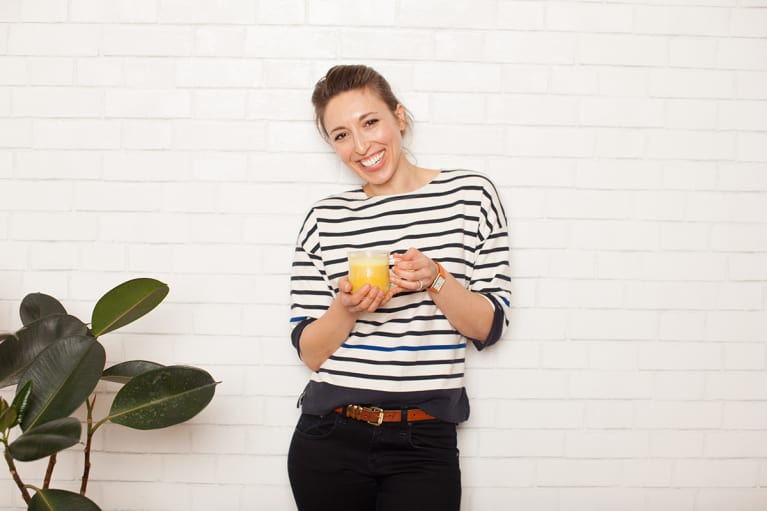 Long before I became a registered dietitian and immersed myself in health and wellness, some of my "go-to" beverages were diet soda, diet iced tea, sports drinks, and artificial sweetener-laced coffees.
Back then, I was young, slightly calorie obsessed, and not so concerned with what I was putting into my body. That diet soda-drinking me seems like a different person, but transitioning from a reliance on sweetened, sugary beverages to cleaner and simpler "good for you" drinks takes time, knowledge, and some experimentation.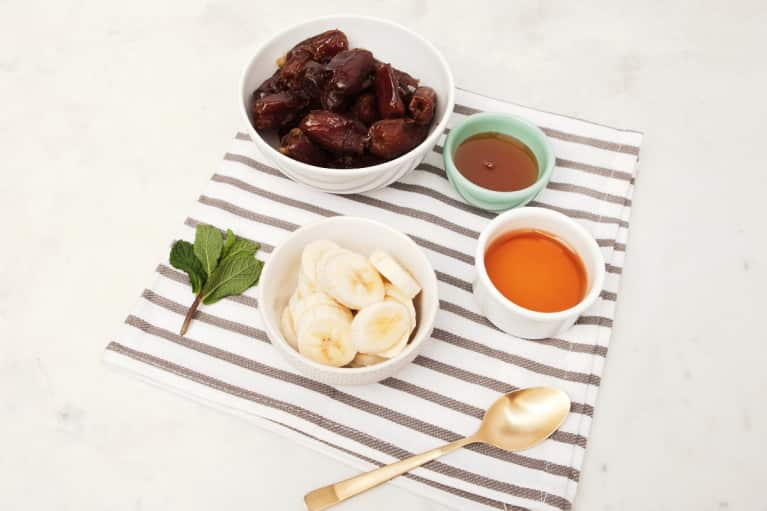 Simple swaps to sweeten drinks, naturally.
The first step in transitioning away from sugary (and artificially sugary) drinks is to become cognizant of ingredients. Do you wake up in the morning and dump packets of sugar or sugar-free sweeteners into your coffee, sip on a soda for a little midday pick-me-up, or end the evening with a hot chocolate or a sweetened chai latte? These are all places where sugar, artificial or not, is lurking. Once you've taken a look at your beverage consumption, see where you can make some tweaks and transition away from sugar-heavy beverages.
When I do want to add a kick of sweetness to things, I always rely on natural sweeteners like maple syrup, raw honey, dates, and bananas. Despite being natural and in their whole food form, these foods are still sources of sugar and should be used in moderation.
Nowadays, water, water, water—sparkling, flat, or with a kick of citrus, cucumber, or mint—will always be my primary drink of choice. But when you need something other than water, here are some simple swaps for typically sugar-heavy drinks: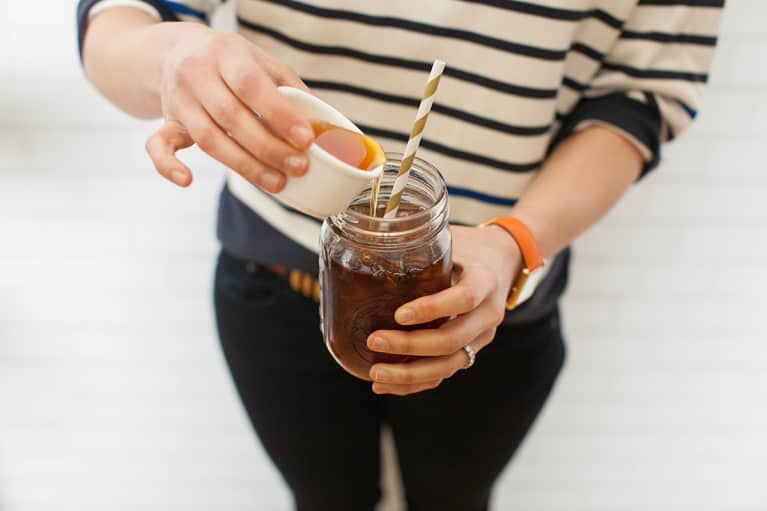 1. In the morning, instead of sugar for added sweetness in your coffee or tea, try a little maple syrup, or even a splash of coconut milk in your iced coffee.
2. Around 3 p.m. when you start to crash, consider a mini smoothie with fiber from some greens and sweetness from fresh or frozen berries.
3. In the evening when you are craving a warm and sweet beverage, consider a mug of health-supportive and delicious Golden Milk to calm and soothe you into relaxation mode.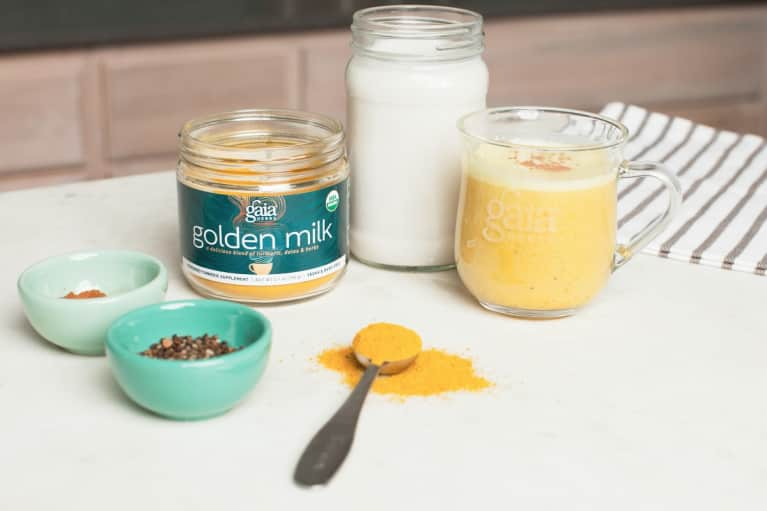 My new favorite nourishing, warming drink.
Not only is golden milk a simple way to curb your sweetened beverage cravings, it is a way to include antioxidant-rich turmeric into your daily regimen. Gaia Herbs Golden Milk formula is a delicious blend of turmeric, ashwagandha, dates, and other herbs, (plus a pinch of black pepper), and it is based on the traditional Ayurvedic recipe that has been consumed for centuries to support the body and the mind.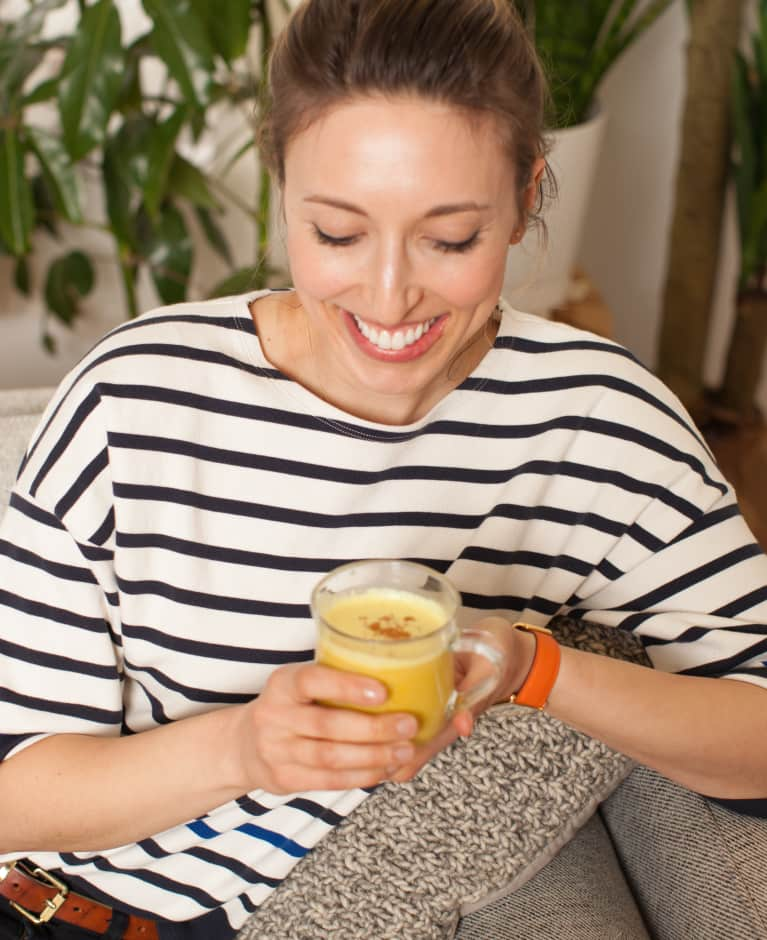 Turmeric is a powerful spice that can support joint and brain health. Black pepper not only assists with digestion but enhances the body's absorption of turmeric. Dates and vanilla are used to sweeten the golden milk naturally, and cardamom offers a warming taste. Gaia Herbs Golden Milk also contains ashwagandha root, an Ayurvedic herb with adaptogenic properties that tonifies the entire body.
After a busy and hectic day or even a slightly indulgent meal, I love to end my evening with a warm and comforting mug of Gaia Herbs Golden Milk. I heat up a cup of my favorite nut milk, whisk in a teaspoon of Gaia Herbs Golden Milk, and, within seconds, I am comforted by a warm and soothing drink. No need to take out multiple spices or utensils—Gaia Herbs does all the hard work for you, so you can simply sit back and enjoy your health-supportive and tasty Golden Milk.