mbg's New COO Tessa Gould Talks Wellness Celebs, Pickled Vegetables & Green Smoothies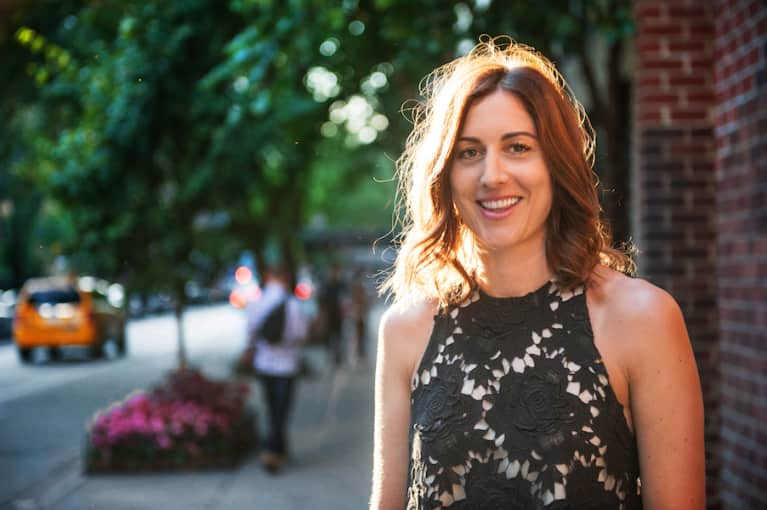 February 2, 2017 — 10:00 AM
mbg is thrilled to welcome Tessa Gould to the team as our new chief operating officer. The former head of commerce at BuzzFeed and director of native advertising at the Huffington Post, her breadth of knowledge is truly kaleidoscopic and we know she's about to make your daily mbg browse an even more awesome experience. We sat down with New Zealand native-turned-Brooklyner to get the scoop on her favorite healthy habits, wellness celebs, and, of course, green smoothie recipes.
How has being from New Zealand influenced your view on wellness?
Well for one, I think the baseline of food quality there is higher. As a country, New Zealand is blessed with an abundance of really fresh, high-quality, locally grown produce, so it's really easy to eat clean and avoid processed food. What's more, unlike in the United States, almost all of our livestock is pasture-raised.
Finally, I think NZers, or Kiwis, as they are affectionately known, are generally really good at not sweating the small stuff. We take regular vacations, don't beat ourselves up about taking them, and spend an abundance of time outside. It also helps that the country features some of the most incredible scenery in the world; I still pinch myself every time I go home.
This struck me as an amazing opportunity to put my professional expertise to use in an industry that was personally of interest to me and at a company that I felt has a really important mission: encouraging people to live their best lives and providing them with the tools and resources needed to do that. Plus, Jason can be pretty convincing when he wants to be!
How did Rich Roll's podcast come into play?
My husband and I are Rich Roll fans and regularly listen to his podcasts together. One weekend late last year, we were driving back to NYC from the recently renovated Scribner's Catskill Lodge and found ourselves listening to Rich interview a recovering equities trader who had just released the aptly named memoir, Wellth. Fast-forward three days and I receive an email from a venture capitalist forwarding along a note from the aforementioned equities trader requesting an intro to me. Naturally, I was intrigued!
It's all about loving and taking care of ourselves, one another, and the planet.
What does mindbodygreen mean to you?
At its most basic level, it's all about loving and taking care of ourselves, one another, and the planet. It's about taking a balanced approach, which for me means being aware of what I'm putting in my body but not beating myself up if I eat an RJs Chocolate Licorice Log every once in a while. It's about getting a good night's sleep, finding time to stretch my limbs, spending quality time with my boos, avoiding toxic relationships, and being not just environmentally aware but responsible.
What are some of your favorite healthy spots to eat in Brooklyn?
My husband, daughter, and I recently moved right around the corner from the Jungle Cafe in Greenpoint, so we've been hitting that up a ton. I'm also pretty obsessed with everything on the menu at the Shanti Shack—a little vegetarian cantina located inside the Kula Yoga studio in Williamsburg. The founder, Brownie, might be my favorite human ever, and her gluten-free muffins are beyond words.
What's the deal with that green sludge you drink in the morning?
That green sludge would be Kimberly Snyder's glowing green smoothie! At first a way for me to counteract the indulgences of big-city living and assure my mum that yes, I was, in fact, getting my greens, it quickly became a staple of my morning routine and has stayed one for five years now. In fact, it's a family affair: My husband; our 19-month old daughter, Harriet; and her nanny, Ayanna; also willingly knock back the green goop each morning.
Love it. Speaking of greens, what's your favorite vegetable?
Right now I'm a little obsessed with pickled cucumber. In fact, I'm yet to meet a pickled fruit or vegetable I don't like.
And what about your favorite way to break a sweat?
I always love getting out of the house and going for a run, taking my dog for a big walk, going to SoulCycle, or taking a Vinyasa class at Kula. When that isn't possible, quick workouts like Kayla Itsines guides and the DailyOM are my jam.
Any mbg experts you look forward to meeting?
Kimberly Snyder and Rich Roll, duh! Seriously, though, I'm pumped to meet them all.