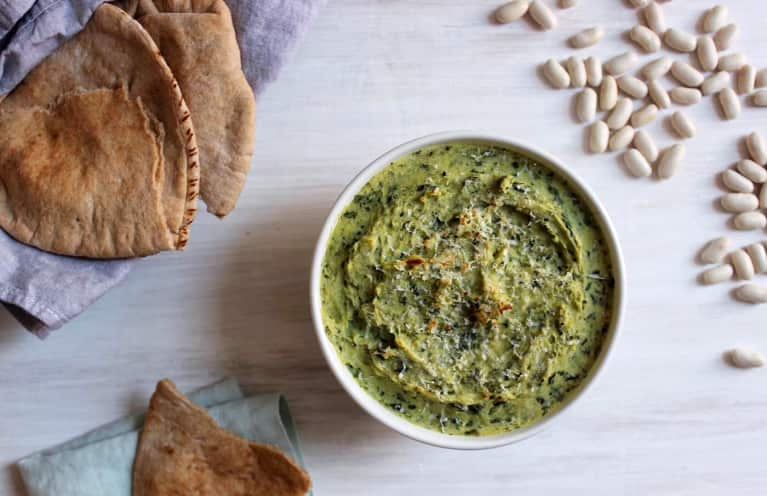 Looking for some inspiration in the kitchen? As part of the International Year of Pulses, mbg and USA Pulses are teaming up to motivate you to take the Pulse Pledge and eat pulses once a week for 10 weeks. We'll make it easy for you by sharing delicious ways to cook with pulses that you won't be able to resist.
With party season approaching, we're always on the lookout for more nourishing versions of our favorite snacks. We love a warm and indulgent baked dip topped with bubbling cheese, but often these dips aren't made with much else besides, well...bubbling cheese.
Secret Ingredient? Pulses
Enter white beans—navy beans, great northern, baby limas—you pick! You can find canned white beans in most grocery stores, but when you cook them at home you can add your own flavors with vegetable broths, herbs, and spices. And when pureed, they take on a creamy texture that makes the perfect base for a dip.
White beans are a part of the pulse family (along with lentils, dry peas, chickpeas, and other beans) and have some serious nutritional cred. Beyond being a gold-star source of plant-based protein (just half a cup packs 9 grams of protein!), pulses are rich in fiber, iron, and folate (or vitamin B9).
Iron and folate are often lacking in many people's diets, contributing to fatigue, poor digestion, weakened immunity, and anemia. Including pulses in a meal or snack adds a tasty, filling, and nutritious boost that helps provide you with these vital nutrients.
White beans are the base for this addictive Parmesan and spinach dip, but you can easily swap the beans for other pulses as well—like chickpeas or red lentils. Whichever you choose, the result is a warm and comforting snack perfect for spreading on sourdough toast, crackers, pita bread, baked sweet potato rounds, or crudités. Plus, there's only 3.5 grams of fat per serving—compare that to your favorite cheese dip!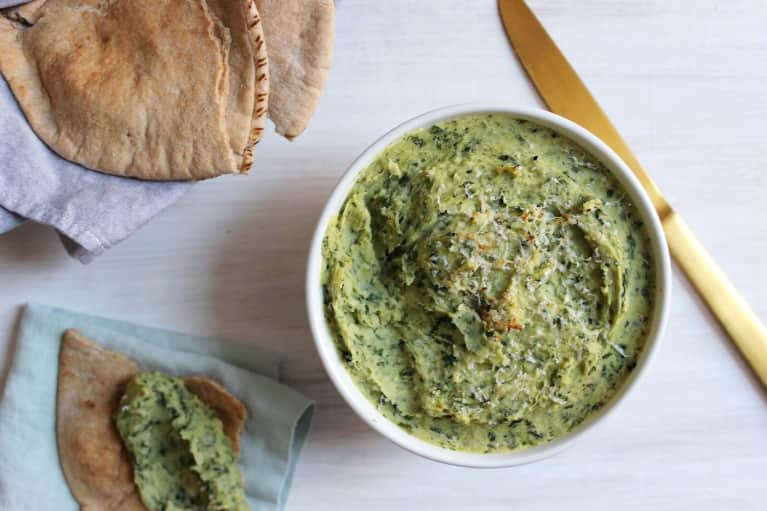 1 cup dried white beans, soaked in water overnight (or for 8 hours)
2 sprigs rosemary
3 sprigs thyme
1 teaspoon salt, plus more for cooking liquid
1 tablespoon olive oil
3 garlic cloves, minced
1 medium leek, white and light-green parts only, cleaned and thinly sliced
1 big handful of spinach or kale, de-stemmed and roughly chopped
2 to 3 tablespoons grated Parmesan
Black pepper
To cook beans, drain and rinse soaked beans and place in a medium saucepan and cover with water. Toss in the rosemary and thyme sprigs and bring to a boil over medium-high heat. Once boiling, reduce to a simmer. Cook covered for about 25 to 30 minutes, until tender, then add salt.
Meanwhile, heat olive oil in a large pan over medium heat. Add garlic and cook for 30 seconds. Add leeks, and cook, stirring occasionally for about 10 to 15 minutes, until leeks are softened and beginning to turn golden. Add a little splash of water at any point if the pan if getting dry.
Stir in kale until it wilts, about 2 or 3 minutes. Once the beans are finished cooking, remove rosemary and thyme sprigs. Drain the beans, but reserve some of the cooking liquid.
Place white beans and leek and kale mixture in a food processor or blender and puree until fairly smooth, adding very small splashes of the white bean cooking liquid if the mixture is too thick.
Heat the oven broiler. Place the mixture in a small to medium-size baking dish and sprinkle with remaining Parmesan. Place under the broiler for 3 to 4 minutes, checking after 2 minutes, until the top turns slightly golden. Remove and serve warm.
Note: Steps 1 to 4 can be done in advance, and step 5 can be done just before serving.