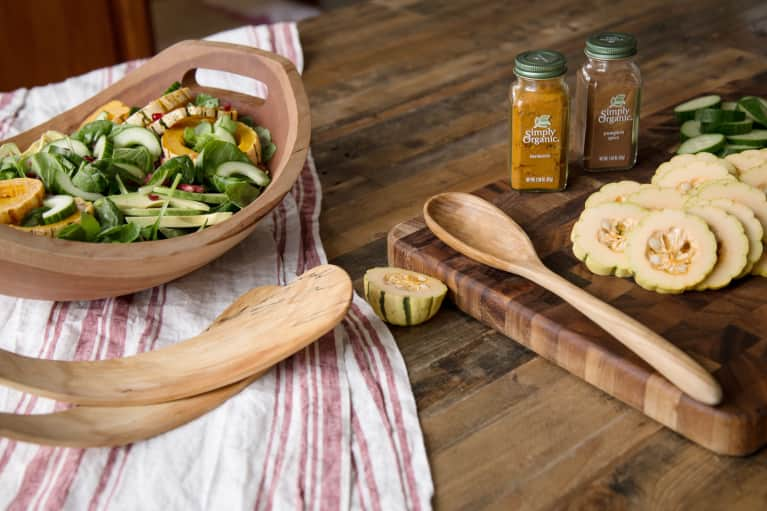 Move over, Friday—it's time to celebrate #TGIT. Simply Organic® and mbg are teaming up to encourage readers to put down their phones, step away from their desks, and celebrate going into the weekend a little early by hosting a get-together with friends and loved ones this Thursday night. Gather your closest friends and family to create your own low-stress #ThursdayMoments dinner party over easy, delicious, and organic food.
We all know the holidays can get hectic—and unhealthy. From parties with free booze and cookie exchanges, to extra office doughnuts and the temptation to pick up takeout on the way home from the mall, it's hard to eat clean during the holiday season.
Unfortunately, the side effects of these excessive sweets and poor food choices can include decreased energy, poor sleep, weight gain, food anxiety, and increased cravings. It is an unhealthy, high-speed train and the only foreseeable stop is New Year's Day. But after three months of off-the-rails eating, New Year's will probably usher in some outrageously strict, sure-to-be-broken resolution and a whole lot of guilt. (Unless of course you make a few planned stops along the way?)
Host a healthy holiday potluck
What if this holiday season, you hosted a healthy potluck and encouraged people to make clean, homemade meals, thereby helping your coworkers, friends, and family find balance? Come New Year's Eve, you would probably feel empowered, balanced, and calm!
Potlucks are easy and delicious—and healthy potlucks are even better. Simply ask your friends, family, or neighbors to bring their favorite winter salad or side dish; maybe it's cranberry quinoa, butternut squash and bacon, or roasted beets and walnuts with apple, fennel, and arugula. I love adding spices like turmeric or pumpkin pie spice to winter veggies to give them a warming kick!
Spice things up (literally)
Another idea is to host a nonprocessed, refined-sugar-free Friendsgiving! This requires your friends to get creative in the kitchen with cauliflower mash, pumpkin coconut cream parfaits, or big carnival-style turkey legs seasoned with garlic powder, onion powder, and dried rosemary. The key to making healthy food delicious is by adding high-quality, flavorful spices that turn basic veggies into mouthwatering dishes. But don't fret; you can all celebrate with glutinous pie and buttery potatoes on the real day, because life is all about balance.
Join the #ThursdayMoments movement by adding a few stops along your track throughout this holiday season to recalibrate midweek. Next Thursday, take a moment to reconnect, shift the focus back to nourishing your body with fibrous greens, wild proteins, and healthy fats, and gather your loved ones together. And remember: Celebrating isn't about the food on the table but the laughter around it.
So join me in celebrating the season in a clean way; you just need to be the catalyst to spark the change! Below is my favorite Autumn Arugula Salad with roasted squash, pomegranates, and avocado that's perfect for your next healthy holiday potluck. Top it with Ginger Orange Salmon for a healthy and complete meal!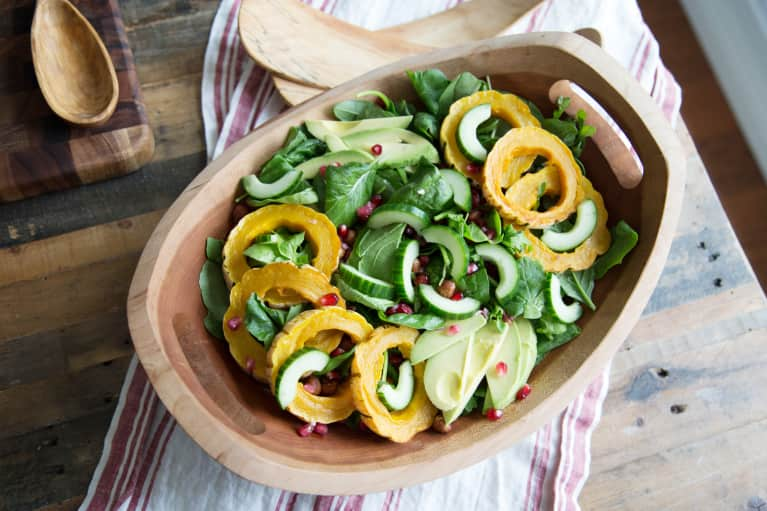 2 tablespoons high-heat oil (algae, coconut, or avocado)
1 kabocha or delicata squash, sliced in 1⁄2-inch-thick rounds and seeds removed
¼ teaspoon salt
1⁄2 teaspoon turmeric
⅛ teaspoon cinnamon
⅛ teaspoon ginger powder
⅛ teaspoon nutmeg
⅛ teaspoon cloves
½ teaspoon coconut sugar
½ cup whole hazelnuts
6 cups baby kale, spinach, and arugula
1 avocado, sliced
½ cup pomegranate, arils removed
1 seedless cucumber, sliced
Preheat the oven to 400°F Line a baking sheet with silicon baking liner or parchment paper. De-seed and cut the squash into slices about ¼ inch thick.
Combine all the dry ingredients. Toss the squash slices in this until coated thoroughly. Spread the slices in a single layer on the baking sheet, and drizzle them with the oil. Bake in the preheated oven for 15 minutes, then turn over, drizzle with more oil, and sprinkle more of the leftover seasoning, and bake for an additional 10 to 15 minutes.
Place the hazelnuts in a single layer in an oven-safe pan. Toast in a 400°F oven for about 10 minutes or until the nuts become fragrant, their skins darken, and some skins begin to split a bit. Remove from the oven and place skillet over medium-high heat on the stovetop. Add 1 tablespoon grass-fed butter and a pinch of salt; stir to coat nuts.
Add the arugula, kale, and spinach to a large bowl with the avocado, pomegranate arils, hazelnuts, and squash pieces. Cover in the orange-ginger dressing.
Orange-Ginger Vinaigrette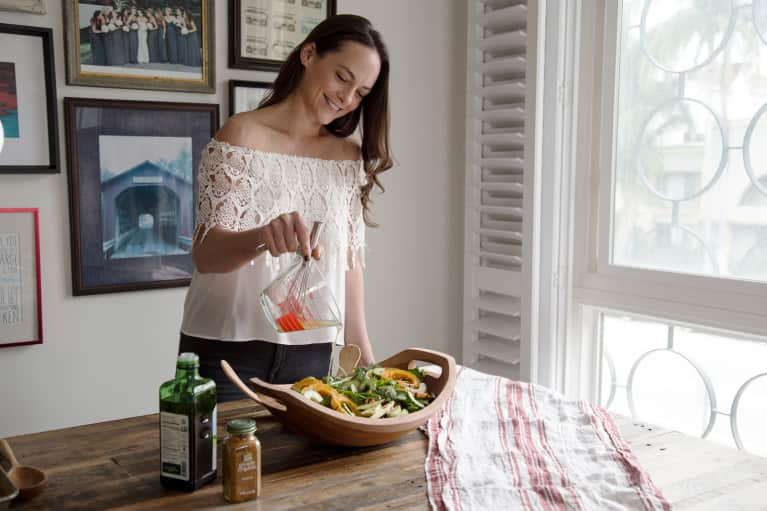 ¼ cup apple cider vinegar
⅓ cup avocado oil
2 tablespoon fresh orange juice
1 tablespoon honey
1 tablespoon minced ginger
¼ teaspoon ginger powder
½ teaspoon turmeric
¼ teaspoon salt
Combine orange juice, vinegar, ginger, honey, turmeric, and salt in a large bowl and whisk together. Stream in the avocado oil while constantly whisking the dressing until it emulsifies, and then drizzle on salad.