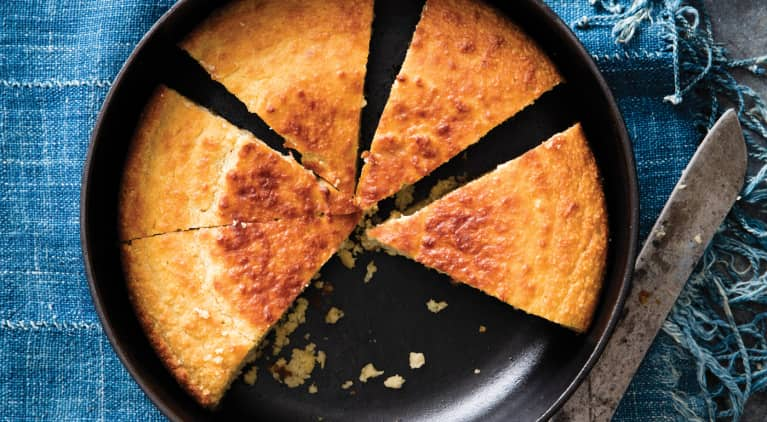 When people adopt a new diet for health or personal reasons, they worry most about the parties, holidays, and events with strong food traditions, fearing their fond memories will be lost along with the newly eliminated food groups. For years I suffered with a debilitating autoimmune disease, but by transforming my cherished family traditions into gluten-free, grain-free, and Paleo recipes I revived my joy for cooking for holidays and special occasions.
My goal is to create recipes that you can feel confident serving, whether you're hosting a guest with food allergies or cooking for a crowd of regular grain eaters. The below skillet "corn" bread recipe is one of my favorites.
Warm cornbread with butter and raw, creamy honey was always one of my favorite treats to eat during summer barbecues, or during the colder months with a bowl of chili. After realizing that corn caused me extreme bloating and discomfort, I came up with this recipe to replace the old version I used to love.
Serves 8 to 10
Ingredients
¼ cup palm shortening or ghee
¾ cup almond milk
¼ cup light-colored raw honey
1 teaspoon apple cider vinegar
5 eggs
2¼ cups blanched almond flour
¼ cup coconut flour
1 teaspoon grain-free baking powder
½ teaspoon baking soda
½ teaspoon fine sea salt
Preheat the oven to 350°F. Heat the palm shortening in a 10-inch cast-iron skillet over medium-high heat until melted. Swirl it around to coat the bottom and sides of the skillet, then pour the melted shortening into the bowl of a stand mixer fitted with the beater attachment, or use an electric handheld mixer. Place the cast-iron skillet back on the stovetop and keep on low heat.
Add the almond milk, honey, and vinegar to the mixing bowl and mix on medium speed for 30 seconds. Add the eggs, one at a time, beating in after each addition. Add the almond flour, coconut flour, baking powder, baking soda, and salt and mix until combined. Pour the batter into the hot cast-iron skillet.
Bake for 30 minutes, or until the bread is golden and a toothpick inserted into the center comes out clean when. Cool for 30 minutes on a wire rack and serve warm.
Once the bread has cooled completely, tightly wrap it in the pan and store it in the refrigerator for up to 1 week. Serve it chilled, or reheat it in the pan in a 300°F oven for 15 minutes.