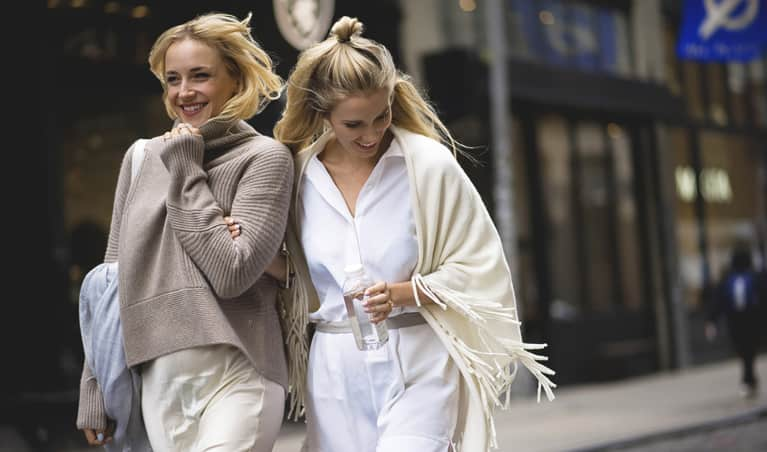 Contrary to popular belief, being wellness entrepreneurs doesn't mean we get to hang out and do yoga all day (though we do love yoga!). Owning a business is tough, no matter what industry you're in. Luckily for us, being in wellness gives us access to more tools to help us live our lives with a little more ease and balance.
We've gotten pretty good at saving time and energy during the day—meals from Sakara Life, our organic meal delivery business, help free our minds from having to think about food and instead allow us to focus on the things that really need our time and attention—like leading a team of 80 employees and making sure our thousands of clients nationwide get their healthy food on time.
So when it comes to our day-to-day styles, we're looking for the same in our clothing: high-quality basics that save us time and energy. We live and work in Manhattan, so looking great no matter where we're going is definitely a priority. Kit and Ace is one of our favorite brands for NYC's wellness scene—the clothes can take us to our favorite fitness classes, but are modern and fashionable enough to wear to work in the morning or to a quick dinner with friends post-workout. They allow us to feel comfortable and sexy at the same time, and anyone who knows us knows we're all about balance.
7:00 a.m.
Whitney: I like to reserve a little time in the morning—before email—for either stretching/light yoga or for meditation. Ally Bogard just recorded several great meditations for a new month-long program we put together for Sakara that's all about the power of creating rituals for wellness and balance. I find that having rituals help me stay in balance and also recognize when I might be on my way to burnout. Today's mantra is, "I have what it takes to handle anything that comes my way."
Danielle: I hardly need an alarm anymore—my three-month-old miniature Australian shepherd, Zen, makes sure I'm up! I just started an Instagram account for her, @zenbowie.
9:30 a.m.
Danielle: 9:30 a.m. is usually when I take my first morning meeting. Before then, I try to catch up on any emails and cross a few items off my to-do list before the craziness of the day begins. I grab a breakfast of Classic Superfood Granola out of the Sakara pantry (work perks!) and get ready to roll.
Whitney: I add a spoonful of ghee and some almond milk to my morning coffee and perhaps a spoonful of Moon Juice's Brain Dust, which has functional, neuroprotective ingredients like lion's mane, maca, rhodiola and astragalus, if I feel like I need an extra boost.
12:00 p.m.
Whitney + Danielle: Time for a quick makeup touch-up because we're shooting a Facebook Live segment at Sakara HQ! This is such a fun way to engage with our clients no matter where they are, and answer common questions about our meal delivery program.
We'll open up our lunches (yes, they're Sakara, we honestly eat our food every day!) and dig in. Since it's cooling down in the city, we throw on a Kit and Ace Blanket Wrap (made with a dreamy mix of wool and cashmere). Warm and cozy is the best way to eat lunch!
4:00 p.m.
Whitney + Danielle: Our kitchen team comes to HQ so we can taste-test a few new meals currently in the research and development phase. We've been collaborating with top plant-based chef Matthew Kenney to create new meals for the menu and the result has been incredible—we have a Peruvian-style ceviche with coconut, hearts of palm, lime, guacamole and homemade plantain chips that are out of this world.
5:00 p.m.
Danielle: Time for a quick sweat in our Higher Dose infrared sauna. Yes, we have a sauna in our office. This is such a good way to get the creative juices flowing and reenergize before the evening. Plus, my skin is glowing when I get out. I follow with a bottle of Sakara Beauty Water to rehydrate and get a little extra glow.
6:00 p.m.
Whitney: Tonight, we're hosting The Class with the amazing Taryn Toomey at Bandier Studio B, as part of the aforementioned 4-Week Transformation program.
Danielle: We love The Class, both in NYC and LA! We're also big fans of The Rope with Amanda Kloots (she's a longtime Sakara client!) and classes at Kula Yoga. If we're not at one of those, you'll probably find us at Physique57, lifting and lowering.
8:30 p.m.
Whitney + Danielle: Post-workout, we meet a group of girlfriends for dinner at Il Buco Alimentari for some branzino, sautéed zucchini and a glass of Italian white wine from Umbria, because it's all about the balance.
10:00 p.m.
Danielle: My husband and I are starting a band for fun, so in the evenings we'll play a little music together. It's a nice way to reconnect after a long day.
Whitney: I am ritualistic about my bedtime skincare routine—you won't find me going to sleep with makeup on. I love products from Tata Harper and trust her products to be good for me and give me the results I'm looking for. I check my phone one last time—even though I know I shouldn't—and drift off to sleep. Ready to start it all over again tomorrow.
Thanks for following along with our day-in-the-life. From work, to working out and everything in between, Kit & Ace helps us move seamlessly throughout our day. No matter what the day may bring, know that you have what it takes to handle anything that comes your way.