The Ancient Oils You Need For Shiny, Beautiful Hair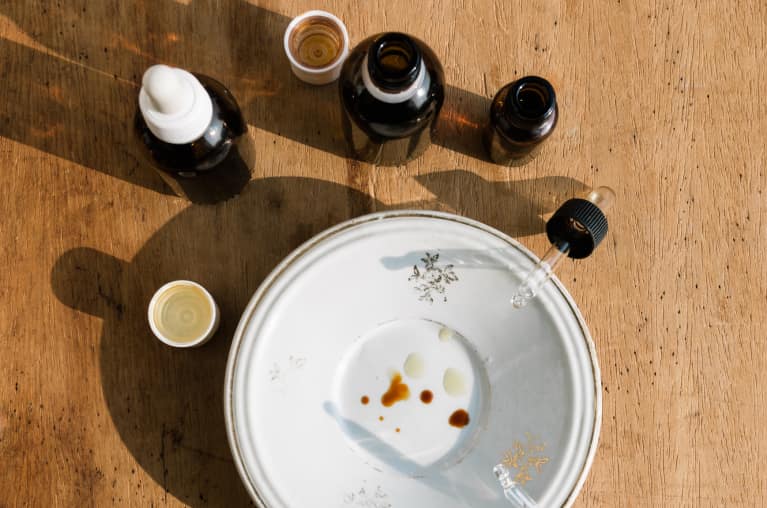 Our editors have independently chosen the products listed on this page. If you purchase something mentioned in this article, we may
earn a small commission
.
I've been experimenting a lot with oils lately for my hair and scalp. I already use many of these aromatic blends to cleanse my face and body each day because essential oils don't just smell wonderful, they also have amazing beauty and health benefits. Blending them with highly moisturizing and regenerating kitchen staples like almond and coconut oil increase their potency and work wonders on your hair and scalp.
The addition of these aromatic oils help more unctuous oil consistencies (coconut, cacao, and Kukui nut) penetrate deeply into the hair shaft and follicles to actually help produce healthy, shiny hair. The combinations here regulate the sebaceous glands, increase healthy hair growth, strengthen strands, help alleviate dandruff, and soothe irritated scalps.
Coconut, Kukui Nut & Almond Oils
Because it is comprised mainly of smaller medium-chain fatty acids, the oil of the coconut penetrates hair more deeply and faster than other conditioners while almond oil is a mild, hypoallergenic oil that can be safely used even on baby skin. To enhance absorption, warm the oil to body temperature before application. Almond oil is naturally endowed with the highly potent antioxidant vitamin E. Regular application of the oil can protect your skin from oxidative stress and UV radiation damage, keeping it soft and supple.
Kukui nut oil, a traditional and ancient Polynesian favorite, contains vitamins A and E and is another hydrating masterpiece that can be massaged onto dry ends to moisturize instantly. It's also such a thin oil that it quickly absorbs into skin and scalp so there's no greasy residues.
Kukui Leave-in Conditioning Oil
2 ounces aloe vera juice
2 tablespoons Kukui nut oil
2 drops ylang-ylang essential oil
Mix all the ingredients in a 3- to 4-ounce PET hard plastic mister, shake well, and coat scalp for intense hydration.
Cocoa Butter Repair Blend
Mix together scalp-stimulating rosemary and sebum-balancing ylang-ylang into a generous tablespoon of cocoa butter. After washing hair, coat ends while hair is damp to condition, and wait until it dries to massage liberally into scalp.
Mix uplifting and grounding cedarwood with skin-nourishing lavender into the coconut and rosehip oils and massage firmly into scalp for an invigorating boost any time of the day. Store in glass container or PET hard plastic jar and refrigerate.
Related reads: