Don't Toss Those Leftover Herbs! 4 Ways To Use The Entire Bunch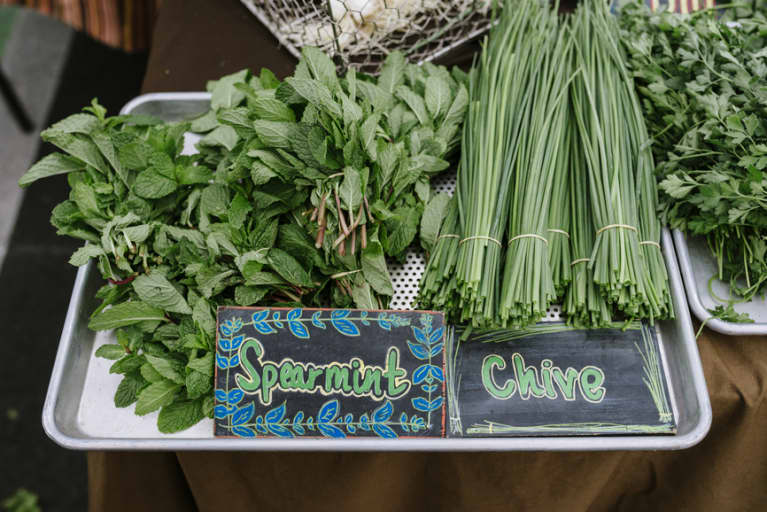 Summer is a great time for fresh herbs, but so often we end up with more than we need. We've all been at the grocery store or farmers market eyeing a beautiful bunch of basil, but we pass it up because we know we won't use all of it.
Well, I'm here to tell you to buy that basil! Buy that mint! And enjoy it to its fullest with these fun and easy ways to incorporate herbs into your daily meals.
Adding more herbs to your diet is a great way to keep your food colorful and interesting. They also can help you create new flavor profiles with dishes you already feel comfortable making and bump up the nutrient density of your food at the same time! Herbs are anti-inflammatory, antibacterial, antifungal, and contain loads of antioxidants, plus they taste darn good.
The best way to get the most out of your herbs is to store them properly and use them liberally.
Did you know that fresh herbs can last for weeks in the fridge when stored properly? When you have more time to use them, it's easy and fun to incorporate them into all sorts of dishes like salads, drinks, pestos, and frittatas.
And, if you still aren't quite sure what to do with your herbs after reading this article, bring 'em to your neighbor. Sharing food is a great way to connect with people and build relationships. I'd say that's a pretty good use of leftovers!
Salads are one of the easiest places to use leftover herbs. An herb's brightness can completely transform a routine weekday lunch into something fresh and exciting. I love mint leaves in kale salad, or basil and cilantro with mixed greens. The herbs really give your salad an extra glow. If you're a parsley lover, try a Quinoa Tabbouleh Salad.
Just mix cooked quinoa, parsley, mint, cucumber, tomato, lemon, and olive oil. Or add leftover herbs, lemon juice, and olive oil to a pot full of lentils with some chopped peppers and cucumbers for a heartier salad.
I love to improvise, but if you'd rather not, you can also check out this Chickpea, Cucumber + Avocado Salad with basil or this Tomato Salad with Basil + Cilantro.
Water is great. I love it. But some people like a little extra shot of flavor with their beverages. Look no further than herbs! Watermelon, strawberries, or cucumber mixed with mint or basil are all delicious combinations. All you have to do is chop up some fruit, pick the leaves off the herbs, and mix them into your water. It's refreshing, gorgeous, and quite classy if you're looking to impress. If you want a stronger flavor, add more fruit and herbs and blend into a delicious smoothie.
You can also amp up your beverages with beautiful ice cubes. Just place 1 or 2 fresh leaves of basil or mint in each square of your ice cube tray before freezing. The result will be an elegant ice cube that will give new life to your water or adult beverages like Cilantro Sangria!
When most people think of pesto, they think of a traditional pesto with basil, pine nuts, garlic, Parmesan, and olive oil.
Well, I'm here to break all the rules! Pestos are actually great with any kind of herb, and you can substitute the cheese for miso, avocado, or nutritional yeast and the pine nuts for toasted walnuts, pistachios, cashews, hemp seeds, or almonds.
The combinations really are endless. My favorite is a mix of mint, toasted pistachio, miso, garlic, and olive oil. I always advise my friends and clients to experiment and see which combos they like best. Just throw the ingredients in a food processor and add olive oil until it reaches the desired consistency. Taste, and adjust.
And, if you'd like some recipes to help you get more comfortable before improving, you can try this Sun-Dried Tomato Pesto with basil, parsley, and cashews, or this one with hemp seeds, basil, and walnuts. If you're ready for a little improv, try replacing half the basil with cilantro, parsley, or mint and see how you like it!
Frittatas are a classic Italian egg dish. It's a mix of eggs, vegetables, meats, cheese, and herbs baked together into a beautiful dish that can be served for breakfast, lunch, or dinner.
It's also incredibly forgiving and works perfectly with improv. I like to call it an "everything but the kitchen sink" kind of dish. And, it can be made vegetarian, Paleo, gluten-free, Whole 30-style, and even vegan!
My go-to frittata includes mushrooms, sun-dried tomatoes, leeks, fresh thyme, and fresh oregano. Just sauté the veggies (make sure they're well-seasoned) and combine with enough whisked eggs to fill an oven-safe skillet (usually 6 to 8 eggs).
Cook on the stove top for a few minutes, then place in the oven at 350°F and cook until set, about 20 minutes. If you're up for the improv, use whatever veggies and herbs you have in the fridge. If you'd like to follow a recipe, you can try this Spinach Frittata or this Tomato Basil Frittata.
Happy Cooking!