A Zucchini Noodle Bowl That's All About The Peanut Sauce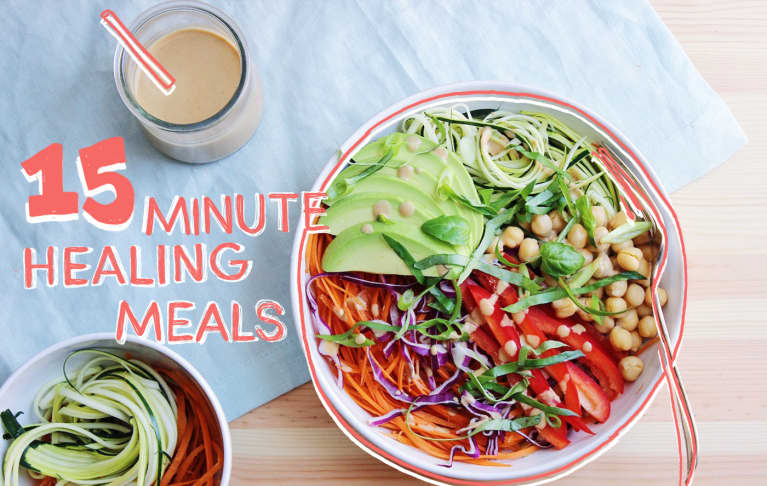 My perfect weeknight meal is packed with vegetables and whole foods, fills me up, and tastes delicious—all while being easy enough to put together quickly.
15-Minute Healing Meals are about feeding yourself well with minimal effort. These recipes are designed to inspire you to cook something wholesome without interfering with everything else you've got going on.
Note: While some meals may take a little longer to cook, we try to make sure that all hands-on time is kept to 15 minutes, to make your mealtimes as relaxing, restorative, and nourishing as possible.
Zucchini noodles, like cauliflower rice, have a twofold advantage: They're quick to cook and are an easy way of sneaking extra vegetables onto your plate.
Even better, you don't actually have to cook zucchini noodles at all. If you're feeling overheated or just over-hungry, you can completely skip step 3 of this recipe and go straight to serving this noodle dish with a lashing of sauce. (Just don't forget to season your zucchini and carrot noodles with a pinch of salt first to make their natural flavor pop.)
Garlic and ginger are great additions to this peanut sauce for their anti-inflammatory and antimicrobial qualities while hydrating zucchini gives your plate a good dose of antioxidants and vitamin C.
If you're not feeling the peanut butter, you can swap it with almond butter for a mellower nut flavor. Feel free to garnish this dish with whatever you'd like. I love it with fresh herbs, avocado, and even a soft-boiled egg.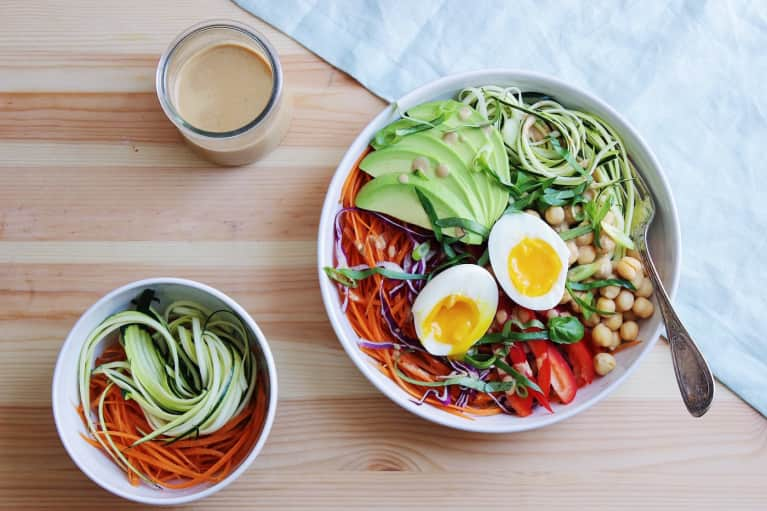 Zucchini Noodles With Peanut Sauce
Serves 2
Ingredients for dressing
1-inch piece of ginger, grated
1 garlic clove, finely chopped
1 tablespoon tamari
3 tablespoons peanut or almond butter
2 tablespoons warm water, plus more
1 teaspoon apple cider vinegar or rice vinegar
2 medium zucchini, spiralized or peeled with a julienne or vegetable peeler into noodle-like strips
1 medium carrot, spiralized or peeled with a julienne or vegetable peeler into noodle-like strips
1 small red bell pepper, cut into thin strips
1 cup red cabbage, thinly sliced
1 cup cooked chickpeas
Garnishes (optional, but encouraged)
Avocado
Scallions
Basil
Soft-boiled or fried egg
Preparation
1. First, prepare all of your vegetables. Spiralize or peel your zucchini and carrot into noodle shapes. Finely slice red pepper and cabbage.
2. Combine all dressing ingredients in a jar with a lid and shake to combine, adding small amounts of warm water to thin the dressing to desired consistency. (I like mine thin enough so it can easily be poured.) Whisk a little with a fork if you need to break up any lumps.
3. Heat a large pan with high sides over medium-high heat. Add zucchini and carrot noodles and red bell pepper to the pan to heat through, about 3 minutes. Stir cabbage through. Toss with 2 or 3 spoonfuls of sauce.
4. Serve zucchini noodle mixture in bowls. Top with chickpeas, desired garnishes, and another drizzle of sauce.