3 Mental Tricks That Helped During My 150-Pound Weight-Loss Journey
mbg Contributor
By Naomi Teeter
mbg Contributor
Naomi Teeter is a nutritionist and health and wellness coach practicing in Spokane, Washington. She has a bachelor's in psychology from Gonzaga University.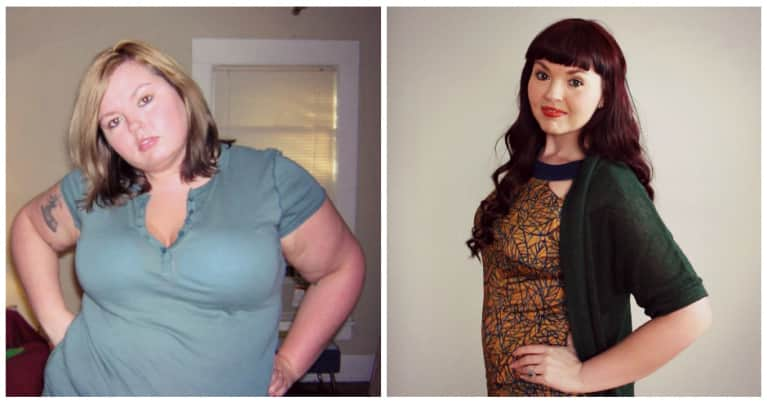 As a health coach and certified nutritionist, one of the top complaints I hear about weight loss is that it requires a lot of effort and energy to do everything you're supposed to do. I get it. Really, I do.
I didn't go from eating stuffed-crust pizza one day to eating organic, non-GMO salads the next day.
Going on yet another diet can feel exciting at first. We feel motivated to really change our lives. We start making grocery shopping lists with all of our meals planned out for a solid month in advance. We've color-coded the Tupperware containers in the fridge to tell us what meal is what. We renew our gym membership and immediately start signing up for 5 a.m. group fitness classes and personal training sessions in the afternoon. We're really doing this!
It only takes a few weeks before you feel overwhelmed. Here are three ways I focused on keeping my sanity:
Just because it's a lifestyle change doesn't mean we need to change everything in our life all at once. When we're working toward building healthier habits, it requires physical and mental effort. That's why I focused on building one habit at a time.
Instead of going on a diet immediately, I started a food journal and tracked what I was already eating. I allowed myself time to get used to the app software for food logging. I paid attention to the calories and macronutrients of the foods I normally ate. After a couple of weeks of successfully tracking my food, I shifted my food choices. This was a very gradual process. I didn't go from eating stuffed-crust pizza one day to eating organic, non-GMO salads the next day. It was a progression.
Trying to lose weight to look good for a special event means you're rushing the process.
I approached my fitness routine the same way. When I started, I just walked my dog around my neighborhood. I made it a priority to do that every day. After a month of consistency on my walking routine, I joined a gym near my home. I transferred my walking habit to the new gym environment and started walking on the treadmill there. That led to using other machines, lifting weights, and developing a strong workout routine for myself.
2. I set boundaries around the health information I would consume.
The Internet is a wonderful place, full of free advice at our fingertips. Unfortunately, for many of us, it can also be a poison that creates a paralysis (if we're not careful). Reading wellness-related articles, watching YouTube videos from our favorite fitness celeb, and looking at fancy food pics on Instagram can take up our entire day.
I set boundaries for myself when it came to information gathering. The only time I allowed myself to be a gatherer of information was through listening to podcasts while walking to work every morning and reading health books from the library. That's it.
No health-related television shows, very few food documentaries, no Internet articles at all, and no newsletter sign-ups. Boundaries are necessary for most of us to feel safe and confident in what we already know so that we can take action.
3. I did it for me — not for an event.
When I ask my health coaching clients to give me reasons why they want to lose weight (or just improve their health), half of the time, it's for a special event. There's always a family reunion, milestone birthday, special vacation, or wedding.
Trying to lose weight to look good for a special event means you're rushing the process. Deadlines are important to have for most goals, but the anxiety of a looming deadline can overwhelm us because we're not making the kind of progress we wanted to make. By setting such a rigid (and often unrealistic) end date on our weight-loss progress, we can start to feel desperate.
Because I started my weight-loss journey for no other reason than for myself, I didn't need to drop weight rapidly for a particular date. I didn't feel pressured to try dangerous fad diets and quick-fix scams because I wasn't desperate for fast results.
More importantly, any time we try to lose weight to gain attention from someone, it's always going to backfire.
In what ways has weight loss felt stressful to you? Did you find a way around it?