This soup is so simple to make and packed with flavor — making it one of my favorite comfort food dishes in these winter months. The secret is roasting the vegetables, which gives the soup a rich, savory quality.
The ingredients themselves are powerful. Cauliflower has the anti-inflammatory vitamin K, while fennel is packed with fiber, potassium, and vitamin C, and of course, we should all be eating more garlic to boost our immune systems at this time of year.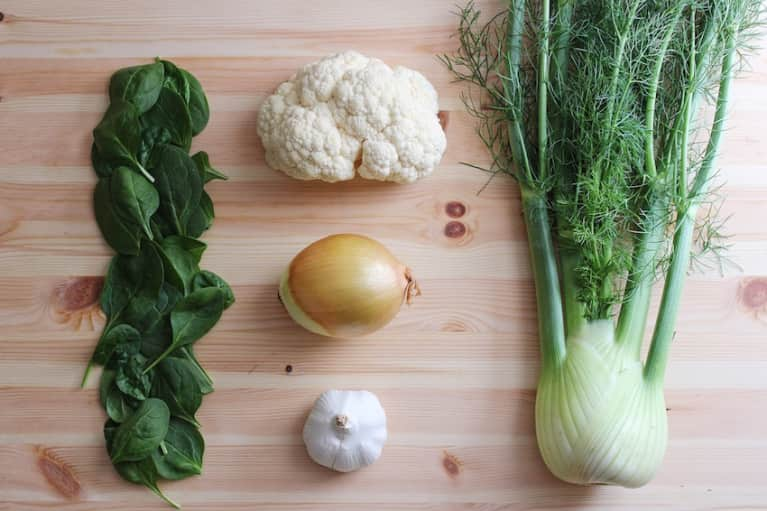 Don't be intimidated by funny-looking fennel, this recipe uses the fronds (the dill-like wispy leaves) as a garnish. You can use the fronds on salads, grains, and other soups as you would any fresh herb. I discard the long green stalks (the thicker pieces closer to the white bulb are okay) as they tend to be fibrous and chewy.
Roasted Winter Vegetable Green Soup
1 medium-sized fennel bulb, sliced into ½-inch-thick rounds, fronds set aside and stalks discarded
1 small- to medium-size head of cauliflower, cut into florets
1 medium-size head of garlic, with the woody base cut off (exposing the cloves, while keeping everything in place)
olive oil
1 medium yellow onion, finely chopped
4 cups vegetable broth or water
2 cups raw baby spinach
fennel fronds, as desired
½ cup cooked grains (I used sorghum) per serving
Preparation
1. Heat oven to 415°F. Toss sliced fennel with olive oil and a sprinkle of salt, and spread out on a baking sheet. Do the same to the cauliflower florets and spread out on a separate baking sheet.
2. Take a piece of foil and drizzle it with olive oil. Place the head of garlic (exposed-clove-side down) on the olive oil. Wrap the foil securely around the head of garlic.
3. Roast the fennel for about 20 to 25 minutes. Roast the cauliflower for 30 to 35 minutes. Roast the head of garlic for 30 minutes in its little foil pouch.
4. While the vegetables are roasting, heat a glug of olive oil (or oil of your choice) in a large pot or Dutch oven, over a medium-high heat. Add chopped onion and a pinch of salt and cook, stirring, for about 5 minutes until translucent. Add vegetable broth or water and bring to a boil. Remove from heat if vegetables aren't done roasting yet.
5. Once vegetables are roasted, add to the simmering vegetable stock and onion mixture. Wait for garlic to cool a bit, then squeeze the cloves out of the skins (they should be soft and caramel in color) directly into the soup.
Note: Yes, you'll be using the whole head of garlic (or as much as you can get out of the skins), but roasted garlic is much mellower than raw.
6. Simmer for 5 minutes and remove from heat. Stir in spinach and allow to cool for 5 to 10 minutes. Puree with a stick blender or in a regular blender in batches. Serve with cooked grains and fennel fronds.