The 1-Day Juice Cleanse That Changed My Life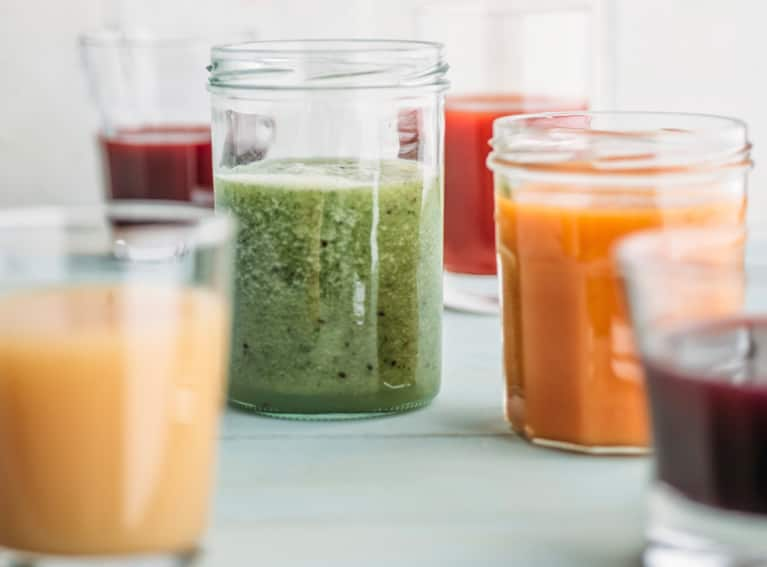 Our editors have independently chosen the products listed on this page. If you purchase something mentioned in this article, we may
earn a small commission
.
For a scarily long period of my life, I was a high-powered financier living and working in London. I was important and busy, constantly working and not sleeping, to the point where I eventually broke down, exhausted.
My body was crying out for help. I saw countless doctors, specialists, and nutritionists, until one day I took matters into my own hands and started changing my diet.
I would wake up with a breakfast spinach juice and then re-energize at lunch with a lemongrass de-stresser. Dinner would be supplemented by some sweet potato juice, and before I knew it, I was a juicing convert.
Now I run Root & Bulb, London's first vegetable and organic juice bar, where I help other people recharge their bodies through the powers of juice.
Here are two things I've learned that are key to successful juicing:
What's the secret to juicing in a way that doesn't leave you feeling faint and weak, deserting it after half a day, or bingeing after a week of deprivation? Like all things in life, it's about balance.
Eating a balanced diet is difficult, but doing so is key to being healthy and happy, especially when it comes to juicing. Juice diets that last for 5, 7, or 21 days are too extreme for our bodies and only wreak havoc on our systems.
You might lose weight temporarily, but that weight comes creeping back after you've left your body so undernourished and your mental state unhappy, exhausted, and filled with cravings.
Another key to my transformation is focusing on raw foods. It's amazing how much is lost when you cook produce. Raw foods contain enzymes that act as catalysts for detoxification and absorption of nutrients. In plain speak, that means processing foods takes away most of the pure goodness of your produce.
I know it feels natural to cook and eat, but try increasing the amount of raw foods in your diet, and feel the difference.
So how can you incorporate these mantras in a practical day-to-day way? You may have heard of the whole juice cleansing craze that's taken over the world. You may also be wary of that craze— and rightfully so — for the above-mentioned reasons. That's why I developed this gentle juice plan that's both easy and effective when it comes to nourishing any tired, overprocessed, nutrition-craving body.
Here's the juice plan:
1. Breakfast: 2¼ cups Green Wake-Up (see recipe below) and one handful of nuts
2. Midmorning: about 1 cup almond milk
3. Lunch: 2¼ cups Kale Foundation (see recipe below) and one handful of nuts
4. Midafternoon: about 1 cup almond milk
5. Late Afternoon: 2¼ cups Kale Foundation and one handful of nuts
6. Evening: 2¼ cups Green Wake-Up and one handful of nuts
7. Later: 2¼ cups Kale Foundation
Now, you may be thinking that this doesn't look like your traditional juice cleanse. That's because it's not. It's a gentler rebooting that's only meant to be a one- to two-day break from your normal way of eating, a break that will refresh your body and revitalize your spirit.
It's also been carefully designed to deliver concentrated nutrients, along with some pretty necessary fiber, fat, and protein, that'll make sure your body is balanced and that you don't crash and burn.
The juice recipes I rely on always have a naturally low fructose content, and the almond milk provides protein, which helps stabilize blood glucose levels (again, we're really trying not to crash and burn here).
The nuts are there for crunch, protein, and fiber, so that your energy levels stay high and also so you don't have to deal with that relentless hunger that comes with most juice cleanses.
Also, as I mentioned before, this is a juice plan made for real people. Maybe some of us can keep up with a strict, 12-day juice cleanse and not absolutely perish from the stress and deprivation, but the rest of us need some variety in our lives and most definitely in our food.
You don't need a crazy, masochistic juice cleanse to become a healthier person. All you need is to take it one day at a time, starting with a little juice.
3 medium-size cucumbers, unpeeled
a handful of spinach (stalks removed)
1 green apple, unpeeled
a handful of parsley
1 lemon (squeezed or juiced, according to taste)
Preparation
1. Always juice the most liquid vegetables first. Start by adding in half your cucumbers, then add your spinach, the rest of your cucumbers, your apple, your parsley, and finally your lemon.
2. Drink immediately or pour into an airtight container and keep in the refrigerator for up to 12 hours.
1 medium-size cucumber, unpeeled
2 handfuls of kale (stalks removed)
1 apple, unpeeled
a small handful of mint
1 lemon (squeezed or juiced, according to taste)
Preparation
1. Start by juicing the cucumber and the kale together and then add your apple, mint, and lemon. It's important to always stir your juice while you are making it and before you drink it.
2. Drink immediately or pour into an airtight container and keep in the refrigerator for up to 12 hours.
Tip: Grate a little lemon zest on top of your glass to finish.
Check out my book Pure Juice for more tips and juice recipes to help you juice cleanse the right way.
Cover Photo Credit: Stocksy