I'm Going To Spend Next Year Living Alone On An Arctic Iceberg. Here's Why.
In 2016, Italian explorer Alex Bellini will set out on the ultimate adventure. Eager to document the effects of climate change in the Arctic, he's flying to Greenland in search of an iceberg drifting south into warmer waters. Once he finds one of suitable size, he's hoping on — and he isn't getting off until it melts. Bellini's going to spend up to a year living in a one-man pod atop the ice, collecting data on its life cycle and expedited warming. We asked the eco-daredevil what inspired him to take on such an unconventional feat, and what he hopes to achieve along the way. Here's what he told us:
In 1928, Italian pilot Umberto Nobile attempted to fly over the North Pole when bad weather downed his plane around Greenland. Nobile and his fellow survivors managed to stay alive on an Arctic ice patch for 40 days, until an international rescue operation eventually saved them.
Since first hearing this story, I've always wondered how the crew coped with their complete lack of control over such an incredible situation.
I've always been fascinated by the idea of going on a journey that forces me to deal with a sense of complete and total abandonment.
I've felt pretty vulnerable in nature on some of my previous adventures — I've completed an ultramarathon through the Sahara desert, attempted to row across the Pacific Ocean, and I ran from LA to New York in 70 days back in 2011. But I've always been fascinated by the idea of going on a journey that forces me to deal with a sense of complete and total abandonment.
In general, people do their very best to control situations, and they hate to be controlled by their surroundings. However, I believe that we owe it to ourselves to learn the art of acceptance — and I'm going to learn it the hard way!
For the most part, I strongly believe that human beings grow stronger when exposed to stress, volatility, fear and disorder.
I'm approaching the trip with three distinct focuses: the planet, people and my own wellbeing. Climate change has bumped up temperatures in the Arctic, causing glacial ice to drift and melt at record speeds. I'm going to place sensors on the iceberg and use them to collect real-time data about the ice's structure and its dynamic evolution during the drift. This data will hopefully present a new perspective on climate chance to a wide audience, and give scientists a more complete understand of climate processes in the Arctic.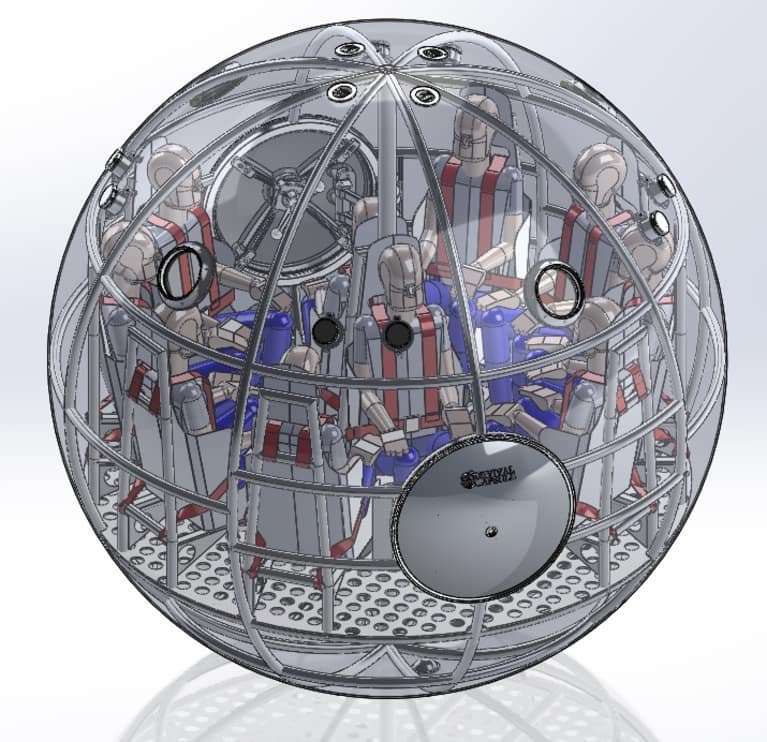 I'm going to be living alone in a 3-meter metallic survival capsule engineered by an American company based in Seattle. It's extremely strong and has been tested to withstand even the most severe weather conditions. But I haven't planned out all the logistics of my journey quite yet. One of the big challenges I still have to tackle is the question of basic survival supplies. I'd love to have my entire food supply with me on day one, but I also want to be as light as I possible so I don't alter the balance and stability of the iceberg.
More than anything, I think this is going to be a test of mental strength, and boredom will be one of the greatest challenges I'll face. I'm bringing plenty of reading material on psychology and the environment, and I'm hoping to launch an online education program for schools while I'm there to help combat the long days of solitude.
I'm hoping that this extraordinary experience will be the perfect environment to learn new skills that I can back to my everyday challenges, and use to make my life even more fulfilling. But there's still a lot to do. It's an enormous team effort and, at the moment, I'm just focusing on the next steps.
I've been working on this project for a couple of years now, and I can't wait to finally turn it into reality.
As told to Emma Loewe.
Photo courtesy of Youtube/ Alex Bellini