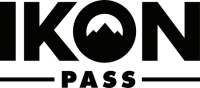 The Ikon Pass
The Ikon Pass is a community of lifelong mountain worshipers and iconic destinations, standing together to set the new standard in what a season pass can deliver.
We believe in the freedom to explore new terrain and the versatility to create our own great adventure. We celebrate authenticity over homogeneity and refuse to sacrifice the unique spirit of our destinations. We champion new experiences because that's where the greatest times and most enduring memories come from.
We love the feel of fresh tracks, whether it's on powder or corduroy. We live for new lines and laughs with our friends and family. We believe in giving back to the mountain communities where we live, work and play.
As Ikon Pass holders, the magic of life up high is a part of us. It brings us together with an unspoken bond. From East Coast glades to West Coast peaks, from the bunny hill to the backcountry, we don't just love the mountains. We are the mountains.
Connect With The Ikon Pass
Brought To You By The Ikon Pass
Connect