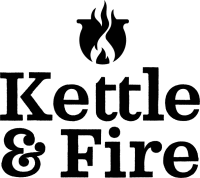 Kettle & Fire
Kettle & Fire's purpose is to make the world a better place by making better health convenient and delicious. We live our purpose by creating healthy, amazing, convenient products that improve people's health and wellness. This is bone broth for better living.
Why? Nutrition is one of the highest-impact ways to improve one's experience of the world.And the cause of most health problems comes down to eating shitty food. Food that trades convenience in exchange for health. "Food" pumped full of addictive sugars and artificial ingredients. Meals and snacks with zero nutritional value, built for profit and not for the long-term health of the individual.
People deserve better. That's why Kettle & Fire exists: To help reverse this trend of negative physical health and make living healthy easier, better and more convenient.
Connect With Kettle & Fire
Brought To You By Kettle & Fire