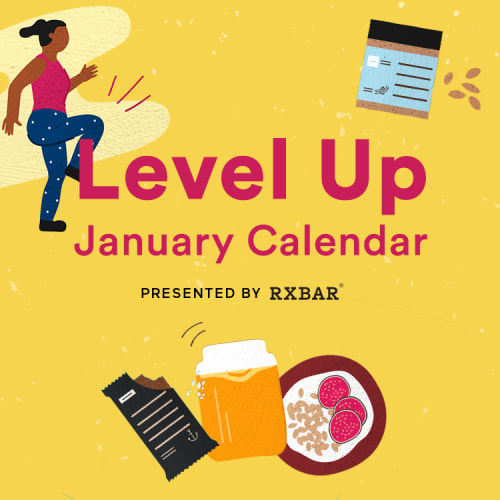 31 Days, 31 Challenges That Will Help You Level Up Your Routines
We're going to go ahead and guess we're not the only ones who are welcoming 2021 with open arms. In 2020 we learned a lot about ourselves. Most importantly, we learned that our well-being — mental and physical — truly is the most valuable thing we've got, and it's worth investing our time and effort into it. After all, well-being is about so much more than the self. By prioritizing our own well-being, we're able to show up for ourselves, our families, our communities, and the planet.
We know by now that big, lofty resolutions only lead to overwhelm (the opposite of mental balance), so this year we've partnered with RXBAR to bring you a different kind of new year level up, one that celebrates the little daily actions that add up to something big and impactful. From good nutrition that's never restrictive, to bursts of movement that don't lead to boredom, from mindful moments that boost confidence and ease stress to little level ups that make life more fun, this calendar is full to the brim of ways to level up your month and start your new year off right.
Ready to level up? We'll be updating the calendar with new challenges on Sunday each week in January. Click on today's date below to discover your challenge, and don't forget to bookmark this page to keep the momentum going all month long!
Your browser does not support the video tag.

January 01, 2021

Goal Setting

Happy New Year! Write down three words that describe how you want to level up in your life this year.

January 02, 2021

MINDFUL MOMENT

Phone a friend! Skip the text, and get that warm and fuzzy feeling that comes from a good long chat.

Your browser does not support the video tag.

January 03, 2021

FITNESS CHALLENGE

Plank it out this am and pm with the 4 plank power move:
1 min plank
1 min side plank, left
1 min side plank, right
1 min elbow plank

January 04, 2021

LEVEL UP

by focusing on getting protein into every meal — snacks and sweets included. We love the Banana Chocolate Walnut RXBAR, it tastes like banana bread and packs 12g of protein in!

SHOP RXBAR

January 05, 2021

Shake It Up

The second half of the week is where nutrition goals slip, let's shake it up with a mid-week food prep session. Roast a new veg, cook up a different grain and get excited for your meals

Head over to RXBAR's recipe hub for more food inspiration

Get recipe

January 06, 2021

MINI MANTRA

When I Feel Fear, I Feed Trust.

Feed your 3pm sweet tooth with a RXBAR Mini in Peanut Butter Chocolate

SHOP RXBAR

Your browser does not support the video tag.

January 07, 2021

FITNESS CHALLENGE

Fit fitness in with 10 jumping jacks on the hour, every hour from 9am - 5pm

Share your #RXercise Sweaty Selfie on social using #RXBAR and tagging @RXBAR

January 08, 2021

Shake It Up

Fit one probiotic rich food into your day. We love kimchi, miso, kombucha, and yogurt.

Try this yogurt bowl on RXBAR's recipe hub

GET RECIPE

January 09, 2021

LEVEL UP

your workout with some new tunes! RXBAR just launched a playlist on Spotify full of motivating beats.

CHECK IT OUT

January 10, 2021

FITNESS CHALLENGE

Fire Up Your Weekend!

10 High Knee Runs

5 Burpees

10 lunge split jumps

5 burpees

Repeat 3x

Check out RXBAR's IGTV channel for more fitness and meditation content.

GO TO IGTV

January 11, 2021

MINDFUL MOMENT

Meditate for 10 minutes before bed without judging your practice

January 12, 2021

Shake It Up

Change up your breakfast with New RX A.M. Oats Packets — the most convenient way to pack some real-food nutrition into your morning.

Shop RX A.M. Oats Packets now!

Get recipe

January 13, 2021

MINDFUL MOMENT

It's Clean Your Desk Day! Tidy up your working space, even if it's just your dining room table — a clear space makes for a focused mind.

January 14, 2021

Shake It Up

RX Brand Ambassador and RD, Mia Zarlengois is ready to share her top 3 Simple Level Ups to make snack time more satiating and nutritious!

CHECK THEM OUT

Your browser does not support the video tag.

January 15, 2021

FITNESS CHALLENGE

Squat it out. Do the 5x10 challenge with 10 of each:

Basic Squat

Sumo Squat

Froggy Squat

Jump Squat

Narrow Squat

For more RXercise content, follow RXBAR on Instagram

FOLLOW ON IG

January 16, 2021

LEVEL UP

your snack game with RXBAR's most popular flavor Chocolate Sea Salt

Get recipe

Your browser does not support the video tag.

January 17, 2021

IT'S RE-RESOLUTION DAY

Time to reset! Here are 4 ways to restore your motivation.

CHECK THEM OUT

Your browser does not support the video tag.

January 18, 2021

MINI MANTRA

If the plan doesn't work, change the plan, not the goal.

January 19, 2021

FITNESS CHALLENGE

Active rest is key. Take a long walk, do a 10 minute yoga flow, or stretch it out with your favorite tunes on.

Check out RXBAR's IGTV channel for more fitness and meditation content.

GO TO IGTV

January 20, 2021

Shake It Up

Bring more plants to your plate. How many colors of the rainbow can you check off today?

Need some inspo? Try this plant-packed smoothie from RXBAR's recipe hub

Get recipe

Your browser does not support the video tag.

January 21, 2021

MINDFUL MOMENT

Try a little box breathing for calm. 4 counts in, 4 counts out, and repeat.

January 22, 2021

MINI MANTRA

Don't let perfect get in the way of better.

+ If you're looking for perfect, try the RXBAR Mini in Coconut Chocolate

SHOP RXBAR

January 23, 2021

MINDFUL MOMENT

Write down three simple ways you could be a little kinder to the planet this year.

January 25, 2021

MINDFUL MOMENT

Lets start our mornings off right! Find out 6 grounding ways to start your morning with mindfulness pro Brittany Leigh Ball.

LEARN MORE

January 26, 2021

LEVEL UP

It's Toast Tuesday! Level up your slice and make the most of pear season by topping your toast with RX Nut Butter Vanilla Almond, sliced pear, and a sprinkling of hemp hearts.

SHOP RXBAR

Your browser does not support the video tag.

January 27, 2021

FITNESS CHALLENGE

Box it out!

Jab, Jab, Cross, Hook

Shuffle back

Burpee

Shuffle forward

Repeat 10x

For more RXercise content, follow RXBAR on Instagram

FOLLOW ON IG

Your browser does not support the video tag.

January 28, 2021

MINI MANTRA

Whether you think you can, or think you can't, you're right.

January 29, 2021

Shake It Up

Fridays are for FUN. Skip the delivery and test out this Pad Thai recipe from the RXBAR recipe hub

Get recipe

January 30, 2021

SHAKE IT UP

Wellness Expert, Katie Lemons easiest ways to level up this year? To scale back and make sure to always have that emergency snack stockpile (hers include RXBAR Chocolate Raspberry)

SHOP RXBAR

January 31, 2021

FITNESS CHALLENGE

Day 31! You made it!

Let's celebrate with a 31 reps challenge:

Squats

High Knee Runs

31 second plank

Mountain climbers

Bicycle crunches

Share your RXercise Sweaty Selfie on social using #RXBAR and tagging @RXBAR

SHARE ON IG