paid content
 for

Why Your Sleep Hygiene Matters & How I Revamped My Bedroom To Improve It
Registered Yoga Teacher
By Zoe Welch
Registered Yoga Teacher
Zoe Welch is an Austin-based yoga instructor and dancer. She studied under Thomas Taubman and Sean Grey for her 200 Hour Yoga Teacher Certification with YogaWorks in Los Angeles.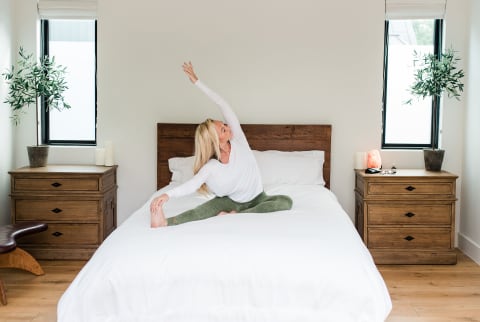 Image by Madeline Harper / Contributor
May 20, 2019
The yogic concept of saucha refers to maintaining the purity or cleanliness of the heart, body, and mind, and as the topic of sleep hygiene (aka healthy sleep habits) permeates the land of wellness, I've been focusing a little extra on how I practice saucha in my nighttime and morning routines.
Swami Sivananda spoke of two types of saucha: external and internal. It's the external saucha that motivates us to wear clean clothes, brush our teeth, shower, and keep a tidy living and work space. Internal saucha is connected to our desires, ego, our mind, and thoughts.
What I've found is that when I make both a priority—at the start and end of my day—everything in between runs MUCH more smoothly. For example, when my bedroom is tidy at the end of the day, I find myself able to fall asleep quicker, without worrying about everything that needs to be done around my home. When I've taken time to meditate in the morning, my mind is clear, and I'm more prepared to handle whatever the day brings.
Below are a few of my favorite essentials that I keep in my bedroom to help me take saucha to the next level, allowing me to experience a shift in the quality of my sleep:
1. The saucha of meditation
Meditation has truly been a game-changer for me. Taking the time to turn inward and find calm by connecting to my breath sets me up for so much in my day—it's like a tidying up of my mind and a way to set the tone for the energy I'll carry with me throughout the day.
First thing I do when I wake up is sit on my Soul Seat Ergonomic Chair from Health by Design and meditate for 20 to 30 minutes. Some days I'll simply focus on the quality and sound of my breath; other days I use a guided meditation or visualization practice. They each have different benefits, so try a few out and see what style lands best for you.
2. The saucha of tidying up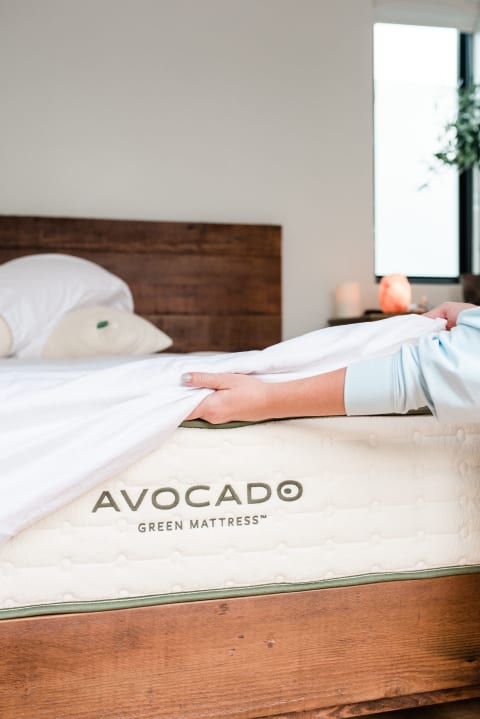 Image by Madeline Harper / Contributor
Right after meditating, the next thing I do is make my bed. I recently moved into a new apartment and was so excited to decorate my bedroom around my beautiful new Natural Wood Bed Frame from Avocado, which is fully made from reclaimed wood here in California. I love its clean, modern aesthetic, which easily tied together the feng shui of my space.
I quickly realized that my pup also appreciates the comfort and support of the Avocado Green Mattress as much as I do! It's handmade with organic materials like GOLS organic–certified latex and GOTS-certified organic cotton and wool. And as much as I wanted to design a space that feels warm and cozy, I also wanted my bed to be free of toxins (harder to find than you'd expect). Avocado is GREENGUARD Gold Certified for low emissions, meaning they meet some of the world's toughest third-party emissions standards for chemical exposure and pollutants.
Keeping this space clean allows me to fully relax and unwind at the end of the day. Starting my day with a made bed feels like a jump-start: I've already tackled one item on a to-do list, so the day is mine to conquer!
3. The saucha of tech
Image by Madeline Harper / Contributor
We spend so much time each day on our computers and cellphones, resulting in serious overstimulation. My nightly rule is that three hours before bed I wear my Blue Light Blocking Glasses from Diff to limit blue light exposure and ensure a better night's rest when using my phone or working on my laptop. One hour before bed, the TV is turned off, the laptop shut down, and my cellphone goes on "Do Not Disturb." My brain and eyes are given the chance to rest, calm down, and start to unwind and prepare for sleep.
4. The saucha of self-care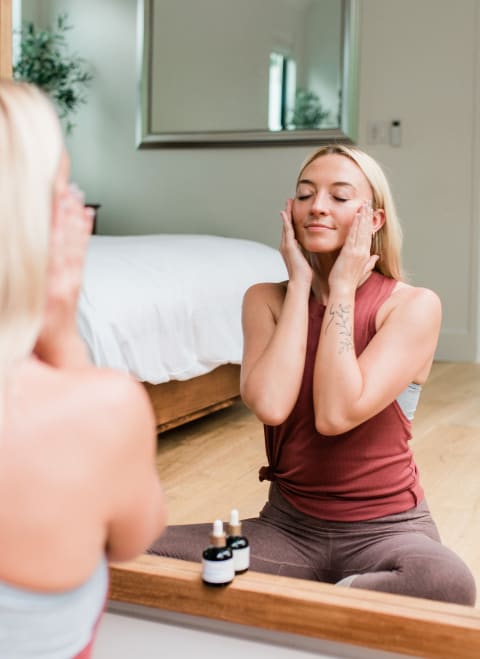 Image by Madeline Harper / Contributor
One of my favorite parts of my nighttime routine to wind down and prepare for bed is washing my face and taking care of my skin. Rinsing and cleansing my face after I brush my teeth is so satisfying: I take my time, visualize any excess or unnecessary energy being cleared away, and then give myself a calming face massage with my favorite Biossance Squalane + Vitamin C Rose Oil. It often feels like a moving meditation, a physical release, and some much-needed self-love all rolled into one.
5. The saucha of sleep
Zoe Welch
Registered Yoga Teacher
Zoe Welch is an Austin-based yoga instructor and dancer. After years of dancing ballet professionally, an injury forced Welch to re-examine how she was caring for her body, and she credits yoga for helping her to regain her strength and confidence. It's this appreciation for movement and health that has motivated her towards a career in teaching and sharing the joy of yoga and dance with others.
Welch studied under Thomas Taubman and Sean Grey for her 200 Hour Yoga Teacher Certification with YogaWorks in Los Angeles. She is a Certified Master Trainer for GROOV3 Dance in LA, and completed her 300 Hour Advanced Teacher Training at Wanderlust Yoga with Leah Cullis and Kate Waitzkin. You can sweat with Welch at Wanderlust, or online through her mindbodygreen movement videos.