You've Gotta Try This Detoxifying Superfood Vegan Green Bowl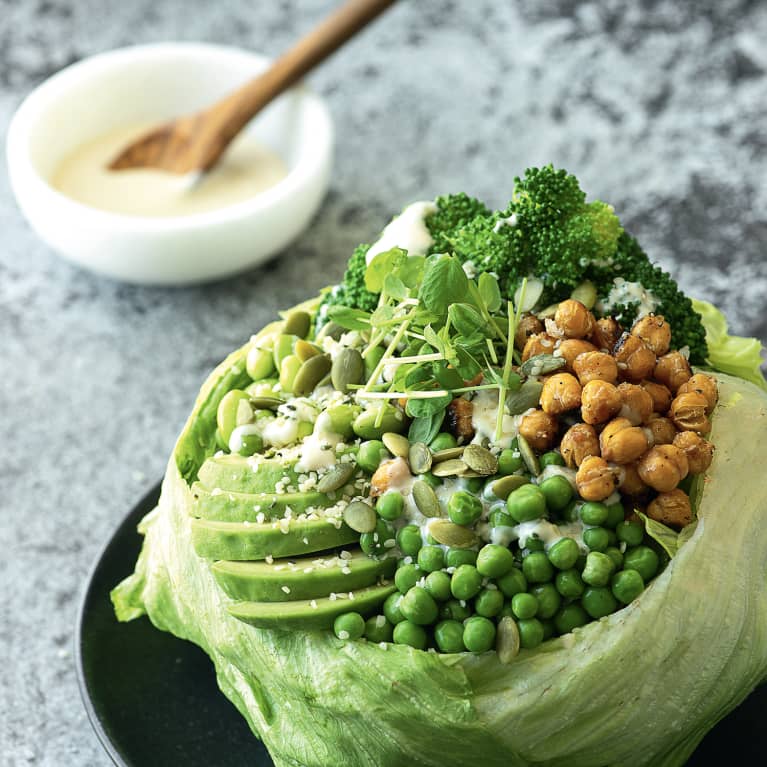 Our editors have independently chosen the products listed on this page. If you purchase something mentioned in this article, we may
earn a small commission
.
If you're a fan of green bowls (who isn't), this is the one to try. The delicious greens, juicy sweet peas, crunchy chickpeas, and creamy avocado fit right into a head of iceberg lettuce, which makes for a picture-perfect dish that takes the meaning of green bowl to the next level.
This salad from Epic Vegan by Dustin Harder packs in tons of healthy greens including spinach, which is high in vitamin A, K, folate, magnesium, and fiber, which may support skin and eye health as well as digestion. Your immune system could also get a boost as this bowl contains broccoli and sprouts, known to be high in antioxidants and anti-inflammatory.
After you're done adding all your greens to the bowl, top it off with a refreshing citrusy sweet dressing made with tahini, lemon, and maple syrup. This is the ideal bowl for lunch with friends or family, and you can get creative with any leftover veggies.
Serves 4
Ingredients
Dressing
¼ cup (60 g) tahini
Juice of 1 lemon
1 tablespoon (15 ml) maple syrup
¼ teaspoon sea salt
2 to 4 tablespoons (28 to 60 ml) water, as needed
4 large heads iceberg lettuce
1 cup (55 g) baby spinach
1 cup (71 g) broccoli florets, steamed
½ cup (75 g) frozen sweet peas, thawed
½ cup (90 g) frozen shelled edamame, thawed
½ cup (17 g) sprouts, pea shoots, or microgreens
1 can (15 ounces/426 g) chickpeas, drained and rinsed
1 avocado, peeled and sliced
4 teaspoons (3 g) pepitas
2 teaspoons (5 g) hemp seeds
In a bowl, whisk together the tahini, lemon juice, maple syrup, and salt until smooth and creamy. Add water, if necessary, as tahini can differ in consistency; the water is helpful to achieve desired creaminess.
Cut the bottom off each head of lettuce, just enough to flatten it so it can sit sturdy in a large bowl or on a plate. Usually, cutting off anything from the size of a quarter to the size of the bottom of a drinking glass works.
Set the head of lettuce flat, and take a sharp knife around the perimeter, cutting halfway down into and all the way around the head of lettuce. Remove anything that will come out on its own at this point; with the remainder, take a large metal spoon or ice cream scoop and gently scoop out the insides. Place the scooped-out lettuce from 1 head on a cutting board; reserve the rest from the other heads to make salads within the next few days.
Put the spinach on a cutting board with the reserved lettuce from 1 head. Chop them together into smaller pieces.
Plate each lettuce bowl and divide the lettuce-spinach mixture among them. Top each with ¼ cup (18 g) broccoli florets, 2 tablespoons (18 g) peas, 2 tablespoons (22 g) edamame, 2 tablespoons (4 g) sprouts, ¼ of the chickpeas, and ¼ of the avocado. Keep the ingredients divided in their own sections; it creates a cleaner and more bountiful-looking presentation.
Drizzle the dressing over each salad bowl and top each with 1 teaspoon pepitas and ½ teaspoon hemp seeds.
And do you want to turn your passion for wellbeing into a fulfilling career? Become a Certified Health Coach! Learn more here.