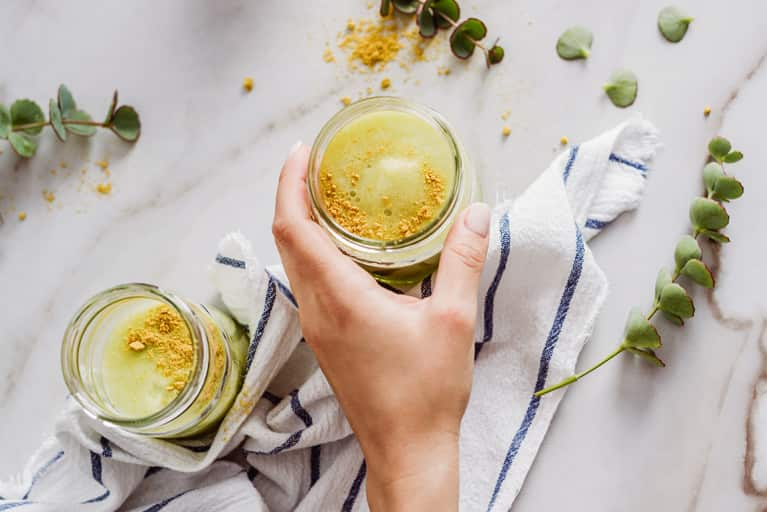 We've all been there: We eat what we think is a nutritious, filling breakfast while sipping on our morning coffee, only to find ourselves hungry for lunch an hour later. The reason this is such a common scenario is because, unfortunately, even the healthiest breakfasts—like smoothies and protein bars—aren't necessarily designed to keep us full.
Sometimes all it takes to make a difference is one ingredient, which is why so many people—especially ketogenic dieters—are going crazy over Nutiva Organic MCT Oil. Here's what you need to know about the outstanding benefits of Nutiva Organic MCT Oil, and how to start incorporating it into your breakfast ASAP.
Why Nutiva Organic MCT Oil is so good for you.
One of the main reasons why we gain unwanted weight or can't shed extra pounds is because eating an unsatisfying breakfast leads us to all-day snacking. Nutiva Organic MCT Oil is the solution to this problem: Its unique fatty acid composition not only helps keep us full, but has fat-burning properties, thus supporting weight management—so you're not endlessly snacking!
And if you eat a plant-based diet or paleo diet, or just love your exercise, Nutiva Organic MCT Oil is an especially helpful ingredient: Its clean, plant-based energy-boosting properties will not only keep you full all day long, but will carry you through even the toughest of workouts. These energy-boosting properties are called medium chain triglycerides, or MCTs, and Nutiva Organic MCT Oil is packed with them; it contains the highest amount of MCTs per serving—13 grams—which is more than any other organic MCT oil, to keep you sustained all day long.
Plus, the light coconut flavor of Nutiva Organic MCT Oil will give your breakfast—or even your coffee, should you so choose—a smooth, creamy, and delicious taste.
How Nutiva Organic MCT Oil is different from other MCT oils.
With Nutiva, you're not just getting any old MCT oil. Nutiva's patented, organic process gently removes the solid fat from virgin coconut oil, leaving behind clean, fat-burning MCTs in liquid form. And while other MCT oils are often made with "filler" oils (like palm oil) and chemicals, Nutiva uses a gentle, natural process that means no chemicals are used (always a good thing!) and there's no harsh aftertaste.
Plus, if you're all about supporting sustainability, Nutiva is the brand for you! They donate a portion of all proceeds to support farmers and sustainable agriculture across the world
Want to start incorporating MCT oil into your breakfast? Here are some ideas.
Nutiva MCT Cashew Almond Nut Butter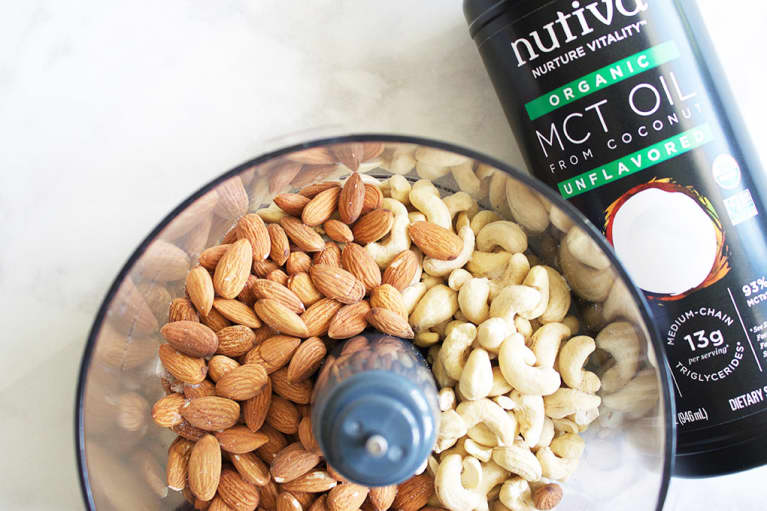 Serves 10-12 ounces
Ingredients
1.5 cups dry, unsalted cashews
1.5 cups dry, unsalted almonds
3 tablespoons Nutiva Organic MCT Oil
1 tablespoon maple syrup
½ teaspoon sea salt
Method
1. Place all ingredients, except the maple syrup and sea salt, in a food processor.
2. Blend for about 8-10 minutes, scraping down the sides as needed.
3. Right at the end, add the maple syrup and sea salt, and blend for another 30 seconds.
4. Remove from blender, and store in a jar.
Go to our site for more.
1.5 cups frozen peach
1 cup yogurt (skip or use coconut yogurt for Vegan-friendly version)
1 cup milk of choice
1 tablespoon maple syrup
½ teaspoon vanilla
1 tablespoon Nutiva Organic MCT Oil
Pinch of cinnamon (to sprinkle on at the end)
Method
1. Place all ingredients except the cinnamon into a blender.
2. Blend on high until a smooth texture is reached.
3. Pour into 1-2 glasses, and sprinkle with cinnamon.
Go to our site for more.