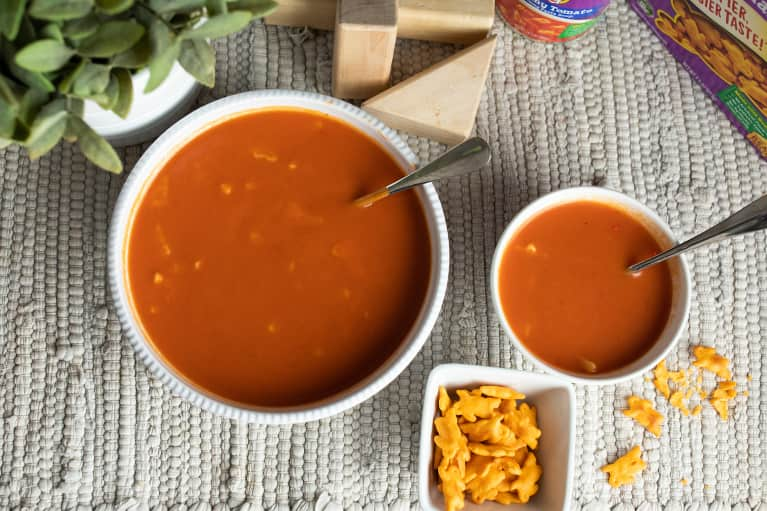 Say what you will about the snacks and food that we gobbled up as kids—even if our favorites weren't always the healthiest, they were arguably some of the best parts of growing up. And luckily, we can still enjoy 'em, thanks to a few simple, wholesome tweaks. Check out three better-for-you versions of your childhood classics that'll get your kids hooked, too:
1.
Zesty nacho cheese tortilla chips
Growing up, a party without a bag of cheesy, crunchy chips wasn't a party at all. Relive those days—without all the artificial additives—by DIYing your own: You and the kids will love the bold flavor, and you'll especially love that this uses much better ingredients (not to mention it's super easy and affordable).
You can make your own chips with a pack of organic corn tortillas by slicing the stack of tortillas into sixths (like a pizza). To get that zesty nacho cheese flavor, mix together about a teaspoon of chili powder, garlic powder, paprika, and the cheddar powder from boxed mac and cheese (our fave is from Annie's, made from real organic cheese). Brush the tortilla slices with oil (try coconut, avocado, or olive oil), and toss them with the seasoning mixture to coat. Spread the pieces out evenly on a baking sheet and bake at 400 degrees Fahrenheit until browned and crispy, about 3 to 4 minutes on each side. You'll never go back to buying the bag.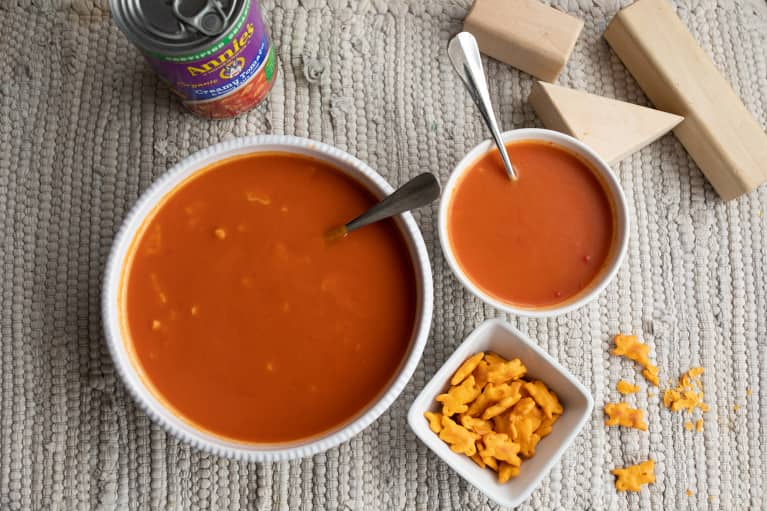 2.
Ready-to-go creamy tomato and bunny pasta soup
Think back to the very first meal you made all by yourself. For many kids, it was a soup—and not just any soup but yummy tomato soup! It's no wonder these days we still get cravings for a bowl of creamy tomato soup. Thankfully, Annie's has reinvented the kid classic in a yummier, cleaner recipe. Annie's Organic Soups are the definition of comfort food but more wholesome in every way. Their Organic Creamy Tomato & Bunny Pasta Soup is not only packed with ½ cup of veggies in every serving, but it's also made without any artificial flavors, synthetic colors, preservatives, or high-fructose corn syrup, and it's guaranteed to hit the spot for both kids and parents.
Instead of a grilled cheese as a side, why not make your own tater tot dippers with seasoned, shredded zucchini shaped into bite-size pieces and baked to crispy perfection? Just don't forget to top off your bowls with a sprinkle of Annie's yummy and adorable Organic Cheddar Bunnies that are even crispier and cheesier-tasting than before! For a yummy dessert swap, our favorite pick is Annie's Organic Berry Patch Fruit Snacks. Don't be surprised if your fam makes this a weeknight tradition.
3.
Three-ingredient chocolate milk syrup
Honestly, as a kid, few things were better than being served a nice, cold glass of chocolate milk. But the syrups we squeezed into our cups back then were loaded with added sugars, GMOs, and artificial ingredients. Good news: In under 10 minutes of work, you can make your own chocolate milk "syrup" without any of the bad stuff. All you need is 1 cup water, ½ cup cacao powder, and ½ cup high-quality maple syrup.
Mix the water and cacao powder in a saucepan over medium-high heat, and once it's boiling, add in the maple syrup and lower the heat. Stir the mixture for a few minutes until the syrup's thickened. Just store it in the fridge (it'll last about a week) and add a few teaspoons to your kids' favorite dairy or nondairy milk for a rich, super satisfying glass of chocolate milk that's as awesome and you remember it.