Your 3-Step Routine For Bright Eyes: A Makeup Artist Explains
Contributing Wellness & Beauty Editor
By Lindsay Kellner
Contributing Wellness & Beauty Editor
Lindsay is a freelance writer and certified yoga instructor based in Brooklyn, NY. She holds a journalism and psychology degree from New York University. Kellner is the co-author of "The Spirit Almanac: A Modern Guide to Ancient Self Care," with mbg Sustainability Editor Emma Loewe.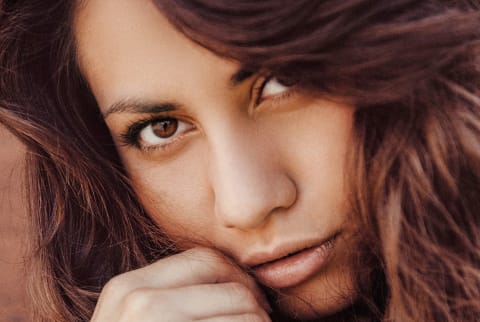 Photo by Dmitriy Ilkevich
November 28, 2017
Our eyes are the windows to our soul, and they don't lie—when we're tired, it shows in the eyes first. December's indulgences of sugar and booze and late night celebrations, can take a toll on your skin. We spoke with natural makeup artist Katey Denno, who has been working with all-natural brands for the last 10 years and knows exactly which products to use and when and about how to fight the fatigue by making our eyes look brighter. Here are her tricks and the natural beauty products she recommends for each:
Advertisement
This ad is displayed using third party content and we do not control its accessibility features.
1. Curl your eyelashes.
Denno recommends the surratt eyelash curler—it fits more eye shapes than other curlers. To curl lashes well, get as close to the root as possible. Here's the trick to getting it right every time: Regardless of which eye you're on, angle the curler down toward your nose so the outer edge of the curler is tilted up—this gets you that "glam" eyes wide open look. Denno's favorite all-natural mascara of the moment is Honest Beauty's mascara and lash primer. Here's evidence of just how pretty it is. One end is a lash conditioner, which has a creamy consistency and isn't too fibrous. Burt's Bee's nourishing mascara is a more affordable, natural drugstore option Denno swears by.
2. Chose shades that are complementary to your eye color.
Choose a shade that complements your eye color. In the last few years, natural makeup companies have really upped the ante with their pigmented options. "You want to smash the color into your lash line," Denno said. You can use these as shadows on all of your lid for a softer look or as eyeliners if you need more definition.
Blue eyes: Use a rich warm brown with copper undertones. Burt's Bees makes a beautiful brown palette with two options that offer a minimal copper shimmer.
Brown eyes: Use a deep mulberry hue. Ilia's eyeliner in my generation is great for a more subtle look. If you want to rock the eye shadow, try their silken stick in the take on me shade.
Straight green: Go for a true purple like RMS Beauty's enchanted moonlight. If you want to try using it as an eyeliner, employ a small angle brush and dip it in water so the tip is slightly dampened. Get it wet to the barrel; otherwise, dried powder can get inside the brush. Then, apply it as close to the lash line as you can, redipping as necessary.
Advertisement
This ad is displayed using third party content and we do not control its accessibility features.
3. Use eye cream morning and night.
Here's the thing about natural eye creams: Many of them are emollient (a fancy word for oil-based), so applying them in the morning sometimes unintentionally removes your eye makeup. No one wants to look like a raccoon at noon! Denno recommends Biossance squalane + peptide eye gel, a weightless gel that has no effect on eye product in her experience working with clients. If you want to use an oil-based eye cream, she says go for it, just do so at night.
A lot of people are applying eye cream incorrectly, Denno added. The skin under our eyes is migratory skin, which means that any product around the eye moves toward it as the day goes on. That's why she recommends applying eye cream on the orbital bone only (at least for daytime). You don't need to go under the lash line unless your skin is very dry. A single pump is enough for both eyes. Using your ring finger, pat eye cream on the outer edge of orbital bone underneath the eyes, and then bring it upward to underneath the edge of your brow.
With these tips, you'll glow through the winter months looking bright-eyed and well-rested.
For more tips to get your skin glowing, check out these four DIY masks.
Advertisement
This ad is displayed using third party content and we do not control its accessibility features.
Heal Your Skin.
Receive your FREE Doctor-Approved Beauty Guide