Close Banner
Advertisement
This ad is displayed using third party content and we do not control its accessibility features.
paid content
 for

Yes, Your Gut Health Routine Should Change With Menopause — Here's How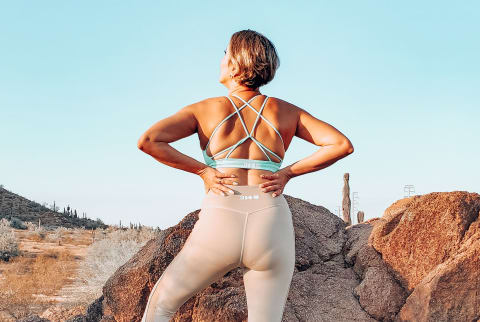 Image by MenoLab / Contributor
Menopause has a way of flipping *everything* on its head. We already know that gut health is central to well-being, and probably already have our probiotics dialed in… But once we reach menopause (or perimenopause), all bets are off. What made our gut happy yesterday may be totally ineffective today, which is why our gut health routine should evolve to support our changing needs throughout menopause.
What's happening to our gut during menopause?
Behind the scenes of perimenopause and menopause, our hormones are switching up their modus operandi. As those of us with ovaries get older, our ovarian follicles diminish—ultimately triggering a decline in estrogen levels1. This creates a not-so-regular menstrual cycle that eventually comes to an end. A shift in estrogen comes with its own effects but also impacts other hormone levels. Add it all up and the body experiences all sorts of new changes, a main one happening in our gut.
Studies have confirmed that menopause directly affects our gut health2, causing the diversity of our gut microbiome to decrease3. Because our gut's microorganisms influence so many aspects of our health, research speculates that this decrease may be connected to many of the not-so-pleasant aspects of menopause. We don't talk about it enough, but with menopause comes a new chapter of gut health. And we need a routine that answers to that. Cue: MenoLabs.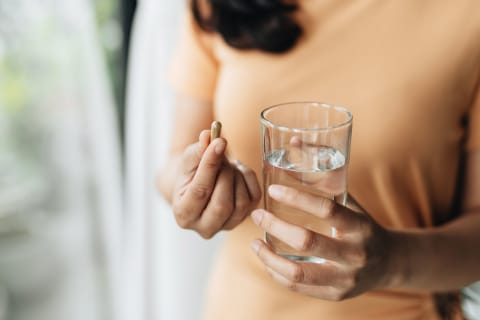 Image by Marc Tran / Stocksy
Own the changes in your body.
As a female-owned and -operated brand, MenoLabs has a message that's easy to get behind: Menopause doesn't have to fulfill its negative reputation. With the right tools—think well researched and scientifically backed solutions—they believe this phase of life can lead a woman right to her inner goddess. But it means owning the changes that are unfolding. It means finding a gut health routine that supports our changing microbiome among other classic changes (yes, we're talking about those 4 a.m. wakeups). So, what should this routine actually look like?
Your gut health routine is due for an update.
At all stages of life, gut health is about supporting the abundance and diversity of unique microbiota that live in our gut and help out with important tasks like digestion but also things like metabolism, immunity, and even brain health4. The goal of a probiotic is to help maintain the gut microbiome5, which as we discovered, could use the extra hand during menopause. The blend of probiotics found in MenoFit® was doctor-formulated to specifically support menopause—including key species like Bifidobacterium animalis ssp. lactis to promote weight management and hormone balance, and Lactobacillus gasseri, reuteri, and plantarum to help support mood, digestion, and immunity.*
Naturally, a menopause-focused probiotic is key to reconfiguring a more relevant gut health routine. But on top of supporting gut health, MenoFit has an array of herbs, nutrients, and other targeted ingredients to help support women in all stages of menopause.* Whether it's bone health, sleep support, or the unpredictable changes in mood—this supplement really does cover the full gamut of changes in our body.*
More than a probiotic.
Consider a probiotic the bedrock of your new gut health routine—but that's not the only way we can support our belly. Probiotics promote a healthy gut microbiome—but it's fiber that helps feed our microbiota6. In fewer words, fiber and probiotics go hand-in-hand. That's why MenoLab's Fit & Happy bundle includes MenoFit but also their fiber supplement, Happy Fiber. Blended with soluble fibers, plus L-tyrosine (an amino acid that supports mood), this prebiotic fiber supplement has been deemed happy for more than a few reasons.*
Rewrite your menopause story.
Menopause is often dreaded—but how much of that comes from not knowing the ways we can help the changes in our body? The reality is different stages of life call for different forms of support. That's why, come perimenopause and menopause, we have to adjust our gut health routine accordingly. When a woman knows how to support her hormonal changes, she's empowered. And when she's empowered, she can rewrite her menopause story. The narrative is in your hands.
*These statements have not been evaluated by the Food and Drug Administration. These products are not intended to diagnose, treat, cure, or prevent any disease.
Devon Barrow
Branded Content Editor
Devon Barrow is a Branded Content Editor at mindbodygreen. She received her degree from the University of Colorado. When she's away from her desk, Devon is teaching yoga, writing poetry, meditating, and traveling the world. She's based in Boulder, Colorado.
Devon's first book, Earth Women, is coming soon. To learn more, join the mailing list, and receive updates, head to www.devonbarrowwriting.com.