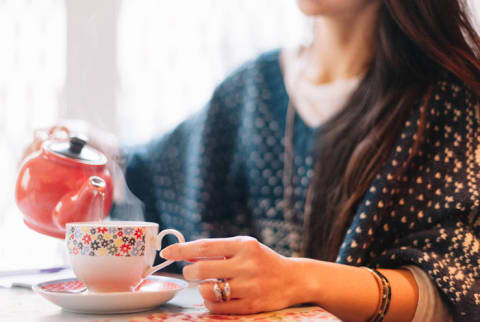 November 24, 2015
Tea offers so much more than warmth and hydration. Steep the right teas and you'll relax, be better equipped to fight off a cold, feel more energetic, and, yes, defend against wrinkles! For the biggest beauty benefits, I always recommend tea rather than coffee.
A few of my favorite teas for healthy vanity:
1. Chamomile tea protects your skin from sun damage, thanks to its high concentration of the phytochemical quercetin, and promotes restful sleep and cramp relief during your period.
2. Dandelion root tea is a gently diuretic brew that supports liver function and digestion, both of which are essential for gorgeous skin!
3. Ginger tea, or an infusion of fresh grated ginger root, chases away colds, helps you digest heavy meals, and works beauty magic as a powerful anti-inflammatory for your body and skin.
4. Green tea has the ability to block wrinkle formation and even reverse UV damage, thanks to its free radical-fighting catechins like EGCG. The catechins in green tea are even more powerful antioxidants than vitamins C and E, and they've demonstrated the amazing ability to restore and revive dying skin cells.
5. Rooibos, or red tea, is brimming with antioxidants, including quercetin, the UVB-protectant pigment that's anti-cancer, anti-aging, and — bonus for allergy sufferers — a natural antihistamine.
6. Tulsi tea helps the body handle stress and balance hormones with its soothing, energizing powers. Some of my favorite tulsi blends combine the herb with ginger, jasmine, and rose.
7. White tea contains anti-inflammatory phytochemicals that prevent the breakdown of collagen and elastin in the skin, which directly contributes to signs of aging. White tea offers anti-aging effects even in small amounts, so you can feel beautiful about sipping just one cup.
Jolene Hart
Jolene Hart, CHC, AADP is a Health Coach certified by the Institute for Integrative Nutrition, a former magazine beauty editor, and the founder of the pioneering beauty coaching practice Beauty Is Wellness. She is the author of Eat Pretty, a seasonal guide to looking and feeling beautiful using nutrition and self care, and the upcoming guided journal Eat Pretty, Live Well (2016 Chronicle Books).
In 2015, Jolene co-founded the Nutritional Aesthetics AllianceTM, an educational organization with a mission to advance an integrative approach to healthy skin, and serves as its Director of Education. Her beauty and health writing has appeared in a wide range of national and international publications, including InStyle, Allure, Organic Spa, Delicious Living, and The Huffington Post. Putting beauty nutrition into practice, she cooks, bakes, ferments, and blends from her kitchen in Philadelphia, PA, where she lives with her husband and son.