Close Banner
Advertisement
This ad is displayed using third party content and we do not control its accessibility features.
paid content
 for

Why Are Entrepreneurs Obsessed With Squarespace? Our Free Workshop Will Show You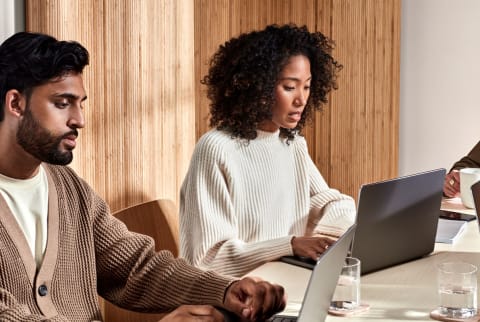 Image by Squarespace / Contributor
It doesn't matter whether you're a health coach, yoga instructor, or seasoned entrepreneur—defining your brand and sharing it with the world is the bread and butter of any venture. And in our recent virtual workshop Make Your Mark, created in partnership with Squarespace, we learned that this can be (dare we say) easy. You don't have to spend thousands on the perfect logo. You don't have to juggle five platforms just to send an email. Just start by pressing play on this free workshop.
Make your mark
Hosted by mindbodygreen's health coaching program director, Callie Miller, and Squarespace expert and owner of 23&9 Creative, Chelsea Pimienta, this workshop was created to answer the one question that every business owner shares: How do I get my brand out there?
Because no matter how you slice it, branding matters. "Branding is going to make you stand out in the sea of your niche," Callie says at the start of our workshop. And Chelsea adds: "Brand is logo and design, but it's also our photos, our words, how we talk about our business, and more." But while branding is essential, it can also be simpler than you think.
Enter: Squarespace. Whether you're just getting started with your very first website or you're ready to take your business to the next level, every entrepreneur should have this all-in-one platform on their radar (hence our workshop). Entrepreneurship comes with plenty of challenges. But Squarespace takes more than a few things off your plate. (Psst… Sign up for Squarespace by the end of the year and save 20% using code: mindbodygreen)
Get started: Launch your website
A website is one of the most basic aspects of any business—but it can also be one of the most intimidating. What Callie and Chelsea prove throughout this workshop is that Squarespace makes this part remarkably easy. "All you have to do is choose a premade website and start editing immediately," shares Chelsea. "It's super intuitive, and lets you have the power to update quickly and easily." (Watch the replay to check out her live examples!)
Get growing: Uplevel your business
With a health coach certification or business plan under your belt, it's only natural to wonder, where to begin? Squarespace can be your literal starting point as you define and build your brand. But it's also the answer once you start asking, what's next?
This workshop walks through the many solutions Squarespace offers to grow your brand—most excitingly, their new launch of Squarespace Courses, which allows users to create and sell their own online courses, upload videos and supplementary materials, and organize their content into lessons and chapters. Both Callie and Chelsea agree that online courses are one of the hardest aspects of a digital business. But Squarespace, as always, has managed to make this accessible. "Not only has Squarespace launched this exciting feature," Callie adds, "they've thought of everything—just like their other tools."
Beyond Courses, our workshop hosts lay out the other essential tools to be found on Squarespace, like scheduling, memberships, and email. From automating your appointments, to exclusive membership content, to emails crafted with gorgeous templates—it's all possible and at your fingertips.
Watch the replay
Callie and Chelsea are the fearless leaders of this inspiring workshop, but they're also longtime fans of Squarespace. As entrepreneurs themselves, they speak from firsthand experience when they say that Squarespace is the "most robust platform out there." As a parting note, they encourage everyone to take advantage of the special promotion Squarespace is extending to the mindbodygreen community through the end of the year: 20% off a Squarespace website or domain using code mindbodygreen.
"Imagine saying yes to this," says Callie. "Having your website done on your own, and being live by the first of the new year." And you're an entrepreneur, so we know you're game for a new goal.
More On This Topic
more Mindfulness
Advertisement
This ad is displayed using third party content and we do not control its accessibility features.
Advertisement
This ad is displayed using third party content and we do not control its accessibility features.