paid content
 for

My Healthy Travel Checklist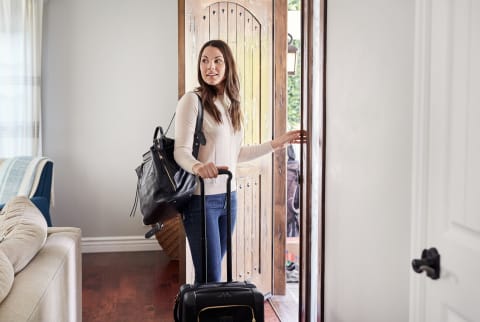 December 18, 2019
I love to travel. Most recently, my family took a trip to Switzerland and spent an incredible 10 days exploring the country's pristine aquamarine lakes, picturesque pastoral hillsides, and jaw-dropping mountains. But even as a nutrition expert, I know how hard it can be to stay healthy when you're on-the-go.
After years of traveling for both work and play, I've developed a few strategies to ensure I'll feel my best when I'm on the road (or in the air). Here's a list of my healthy travel must-haves!
Advertisement
This ad is displayed using third party content and we do not control its accessibility features.
1.
A stainless-steel water bottle.
Hydration is essential for good health. From supporting your normal metabolic functioning to keeping your digestive system moving smoothly, you want to make sure you're staying on top of your water intake while traveling. Plastic water bottles are not only expensive and bad for the environment, but they can also be harmful to your health as plastic1 can leach endocrine-disrupting chemicals into your beverage. I always have my 20-ounce stainless-steel bottle with me, and I make sure to fill it up at the airport's filtered-water station the second I get through security!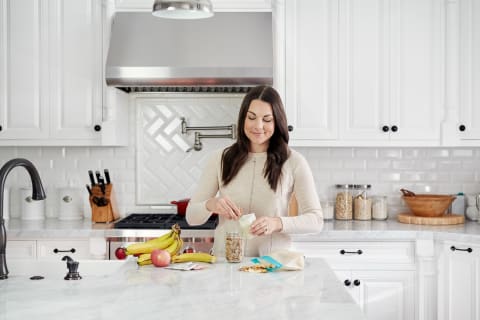 Advertisement
This ad is displayed using third party content and we do not control its accessibility features.
2.
Healthy snacks for the flight, like nut butter packets.
I book my travel accommodations at hotels I know have me covered for healthy eating, like Westin Hotels & Resorts, but eating well en route to my destination is up to me. Many airports are getting better about providing healthy meal options, but one thing you can almost always find—whether in a terminal or at a gas station—is a piece of fruit. I always bring packets of peanut or almond butter with me to squeeze onto apples or bananas for a quick, complete snack if I get hungry in transit. That way, I don't end up having to rely on those stale airline pretzels or not-so-satisfying cookies to hold me over.
Once at your destination, if you've got a touchy digestive system, eating plenty of fiber will ensure that your digestion stays on track. Westin Hotels include fiber-rich oatmeal on their Eat Well menu (top it off with seeds!), making it easy to get a nutritious breakfast from coast to coast.
3.
An eye mask, earplugs, and lavender essential oil.
Losing sleep affects your hunger hormones (making you hangrier and more likely to overindulge) and raises your cortisol levels. I do everything I can to maintain my sleep schedule while traveling by packing my sleep essentials. In addition to making use of hotel blackout curtains, I also wear a silk eye mask to keep light out and earplugs in case of noisy neighbors.
I also bring lavender essential oil, which has been shown to promote relaxation2. (Westin Hotels provides guests with a lavender balm, which you can take home with you after your trip!) I rub a few dabs on my wrists and collarbone right before bed. I also try to stop eating two to three hours before bed as food interferes with sleep by increasing insulin levels and decreasing melatonin production. Finally, I avoid alcohol before bed as well—while a glass of wine may help you fall asleep, it can interfere with REM sleep3, resulting in a less restful, restorative night.
Advertisement
This ad is displayed using third party content and we do not control its accessibility features.
When I'm traveling, I definitely prefer to get my exercise in organically. That means my workout for the day may be hiking through a national park, exploring a new city on foot, or trying a fun, local activity—salsa lesson, anyone? But when I travel for work, that's not always an option.
When I'm strapped for time (and space in my carry-on—shout out to Westin for their Workout Gear Lending program, which lets guests borrow everything from shoes to workout clothes), it's helpful to have a lightweight exercise band on hand to squeeze in a quick workout sesh anywhere, anytime. I also like to check out my hotel's gym—it's a good way to discover new equipment. Westin has fitness studios that are open 24/7, so no matter where I'm traveling, I can find time to fit in a workout.
What are your healthy travel must-haves?
Advertisement
This ad is displayed using third party content and we do not control its accessibility features.

Whitney English, RDN
Whitney English Tabaie is a Registered Dietitian Nutritionist, Certified Personal Trainer, and founder of the website/YouTube channel, Whitney E. RD. Whitney's mission is to help readers make educated decisions about the food they eat by providing evidence-based information on popular nutrition topics and sharing healthy original recipes that fit her "Predominantly Plant-Based" nutrition philosophy. She is also the co-founder of Plant-Based Juniors, a community helping parents raise healthy, conscious children. She has been featured on outlets like Good Day LA, Bon Appetit, People, Today's Dietitian, Buzzfeed, Huff Post, Men's Health, Shape, Reader's Digest, and many more. When she isn't whipping up healthy meals in "Whit's Kitch," she can be found soaking up the Los Angeles sun with her pup, Mr. Chow. Follow Whitney on Instagram @whitneyerd!