paid content
 for

These White-Chocolate Energy Balls Are A Perfect Blood-Sugar-Balancing Snack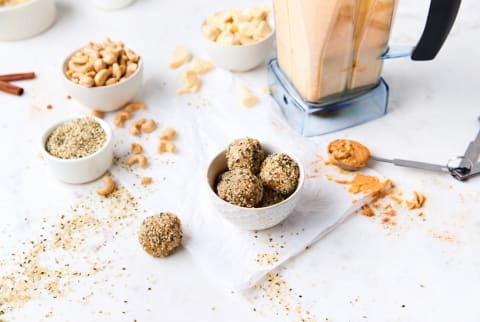 August 31, 2017
These white-chocolate peanut-butter energy balls, created by Breakfast Criminals founder Ksenia Avdulova, taste like dessert—but unlike that chocolate-chip cookie you've been eyeing at your local bakery, these are completely good for you. With cashews and hemp seeds to make your skin glow, healthy fats to keep you full, and a metabolism-boosting dose of cinnamon, these energy balls come together in less than 5 minutes flat with the help of a Vitamix, the high-powered blender beloved in the wellness world.
"White Chocolate" Peanut Butter Energy Balls (Vegan, GF)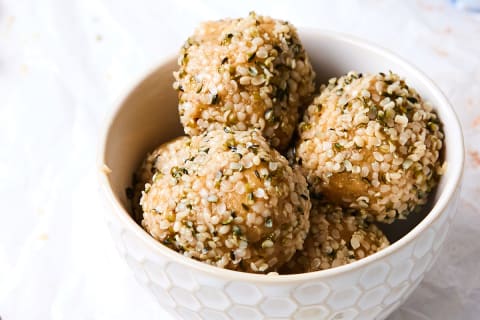 Makes approximately 25 one-inch balls
1½ cups raw cashews
½ cup hemp seeds
½ cup unsalted crunchy peanut butter
½ cup cacao butter
½ cup coconut butter
4 tablespoons maple syrup
1 teaspoon cinnamon
½ teaspoon Himalayan sea salt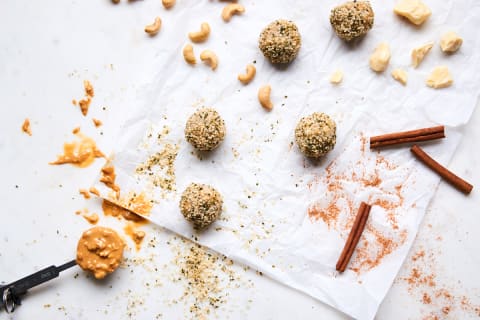 Melt cacao butter and coconut butter in a saucepan on low heat until the mixture turns into liquid.
Load all ingredients into a Vitamix.
Blend on medium speed until the dough is consistent, approximately 45 seconds.
Move dough into a large bowl and chill in the refrigerator for 20 to 30 minutes, until it thickens.
Take out the dough and form 1-inch balls. Place in an airtight container and store in the fridge.