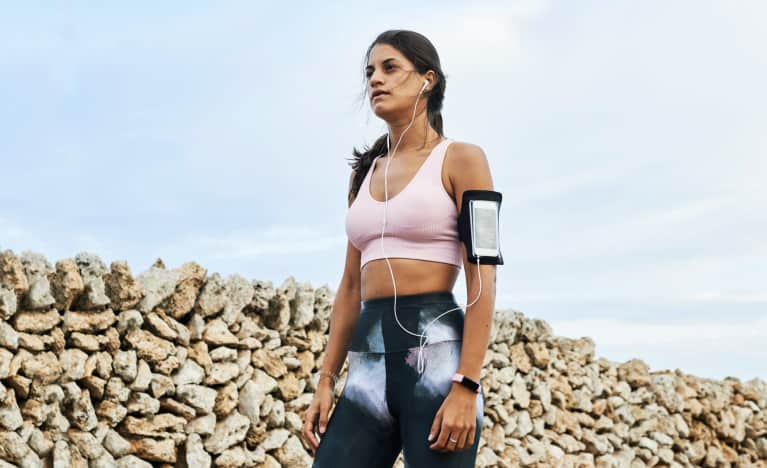 We love podcasts as much as the next person, but audiobooks have their merits, too—particularly memoirs read by their authors. Consuming someone's unique stories in their own voice and the way they intended it (nothing's more cringe-y than a punch line that doesn't land) has the kind of personal touch we miss out on when it's text on a page.
Specifically, we've got a soft spot for celebrity memoirs, in which the author reveals their own meditations and insights into the realities of working in Hollywood and living life as a public figure. And some memoirs are just downright made to be read aloud and heard. So the next time you're solo at the gym or don't have a running buddy, get through the workout with one of these captivating celebs who released audiobooks this year.
Parker Posey, the '90s independent film darling, would like to re-introduce herself with, as she calls it, "a self-mythologizing memoir." Her stories—sprinkled with early-life anecdotes, ayurvedic wisdom, and cocktail recipes, plus her laments on aging in Hollywood—are, like the inimitable actress herself, proudly eccentric, extremely down-to-earth, and just purely enjoyable. The entire narrative is intended to feel as though Posey is in the seat next to you on a long flight, and she strikes up a conversation. You should definitely listen.
Mark and Jay Duplass are brothers who make movies together, have starred as holistic midwifing specialists on network television together (and nailed it), and this year wrote a memoir together. If you've ever wanted to learn what it actually takes to get things done in the weird world of Hollywood outside the status quo—and make it happen successfully, with your sibling to boot—this hilarious storytelling duo will literally speak to you.
When bestselling memoirist and stand-up comic Maeve Higgins left her native Ireland at thirty-one in search of new adventure, well, she found it—and herself—in New York City. The stories in her poignant, playful memoir, subtitled "Essays by a Girl from Somewhere Else," are a heartfelt, self-aware, and honest narrative about questioning the path you chose, learning how to love yourself, and growing into the person you aspire to be—truly relatable for any millennial 30-something women listening in. And it's all enhanced by Higgins' thoroughly charming Irish accent.
Even if you've never heard of H. Jon Benjamin, chances are you've already heard him. The comedian is best known for lending his distinctive baritone voice to popular characters on TV, and this year you can also hear it on his "attempted" memoir's audiobook, named so to reference our society's aversion to failure—a close-to-home topic for someone who's made a career out of acting. Benjamin's philosophy? More acceptance of failure can go a long way in making this world a different place—"a kinder, gentler place, where gardens are overgrown and most people stay home with their pets." Let's just say it makes for amusing listening.
For more celebrity-read titles, fitness listens, and to download a free audiobook, visit this link.