What A 24-Hour Solo Mountain Bike Race Taught Me About Life
A couple of years ago, I competed in my very first 24-hour solo mountain bike race.
Along with 80 other solo riders, I biked for a day straight across a mountainous, technical course just outside Zion National Park in Utah. I stopped as little as possible and ended up covering 241 miles by the race's end.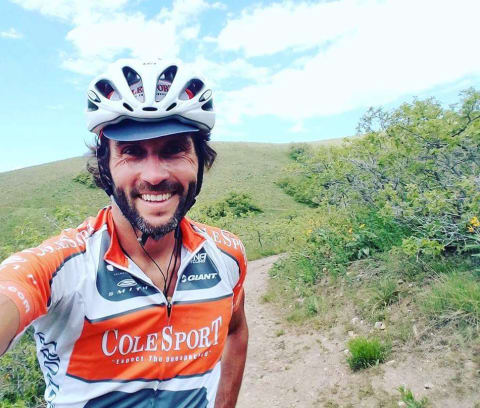 I'd always enjoyed mountain biking growing up, but it wasn't until I saw 24 Solo, a documentary about former professional rider Chris Eatough, that I became obsessed with long-distance racing. I got chills as I watched these guys strap on lights and battle all night out on the trail. I saw them push themselves so hard they hallucinated, fell asleep while riding, and sometimes sent themselves to the hospital.
They inspired me to test my limits and start training for an ultra-distance race of my own.
To train, I completed many two-a-day biking sessions and spent long hours out in the mountains of Utah rolling slowly on the dirt trails. Race day proved to be one of the most grueling experiences of my life—the human biology simply isn't set up to race a mountain bike for 24 hours straight. You've heard about "the wall" that marathon runners commonly describe? In 24-hour races, you hit 5 to 10 walls. You can be elated one minute and crying tears of pain the next.
It was a transformational day that taught me valuable lessons I've carried off the bike. Here are some that anyone can learn from:
1. Pick your line.
There was one steep downhill section of the course where photographers would gather to capture scenes of riders crashing. And for good reason: If you chose the wrong path, you'd be tumbling down a 15- to 25-foot drop into a desert ditch.
To pick my line, I had to concentrate on the section ahead. I needed to decide which rocks to navigate around, which ruts to avoid, and which curves to approach at high speeds. My first instinct was to freeze when I first hit this section during training, but I had to learn to think fast so I wouldn't lose momentum and crash.
Decision-making is an essential part of life, but it's one that many of us have trouble with. People who make steadfast decisions have a greater sense of control and peace whereas people who aren't skilled at making decisions are at the mercy of others to make choices for them. You always have to pick "a line"—an option that you think proves best—and roll with it. Start practicing by making small decisions quicker, like ordering faster off restaurant menus, and work your way up to larger ones.
2. Be OK with crashing.
With over 17 years of mountain biking under my belt, I have the scars on my body to prove it. When I was a teenager, I broke my collarbone coming down a canyon at 50 miles per hour. I nearly tore my ear off in another crash. I'd be scared to get back on my bike after falls like these, but I needed to push past the fear to keep up with my passion.
Sometimes you are going to crash in life, but the wounds always heal. The billionaires of the world have lost companies; the Olympic champions have suffered injuries. It's through our mistakes that we learn.
3. It's about how you finish.
In 24-hour racing, it's not uncommon to see the individuals who push themselves early in the race burn out and not even finish.
In my early races, I used to pass this friend of mine named Gabe. I always thought he was going too slow—that the rest of the field was going to put huge time margins on him and there was no way he'd catch up. Yet, the more I raced with him, the more I'd notice him making these magnificent, superhuman pushes in the last hour of the race and crushing everyone. Now, I try to stay on pace with Gabe when I'm racing.
We can all benefit from this sort of strategic patience. It's all about taking small, gradual, consistent steps over time. You don't have to lose that 50 pounds by next month, but you do have to start making lifestyle changes. You don't have to be financially free by next year, but you do have to begin the process of making smarter decisions with your money.
Start by taking what I call "stupid small" steps, and just keep plugging away. Be patient with yourself, and will yourself to go slow.
I Cycled 7,000 Miles On A Vegan Diet. Here's What It Taught Me
54 Truths I've Learned From Competing In 54 Ironmans

Brock Cannon
Brock Cannon is the Amazon No. 1 best-selling author of the book The Switchback Approach, a vegan ultra-endurance athlete, ski bum, dad, and lover of the mountains, people, and personal development. Brock's life coaching practice helps people transform their lives through his unique approach, which he calls "gratitude therapy." He is passionate about helping people connect to their best and highest self through optimal health and wellness, spending time in nature, and helping others to find careers that they genuinely enjoy. He splits his time between New York City and Salt Lake City, Utah.