I'm A Hormone Expert. Here's What I Eat In A Typical Day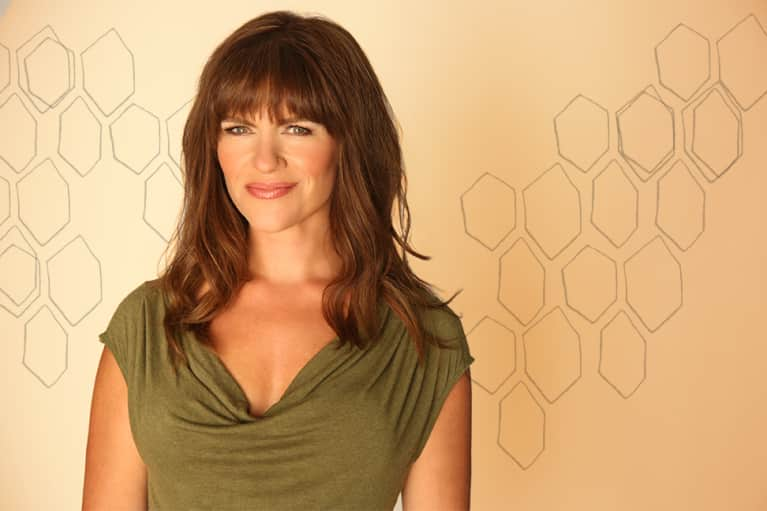 Dr. Sara Gottfried is a Harvard-trained MD, bestselling author, and leading expert on hormones. That's why were thrilled to team up with her for a new series this week on balancing your hormones for better health. If you're inspired to learn more, check out her class, How To Balance Your Hormones For Glowing Skin, Deeper Sleep & Better Digestion.
I'm a board-certified gynecologist who practices functional medicine, but I'm also a regular gal—a busy working mom, constant chauffeur for my daughters, devoted wife, and spiritual seeker.
In my practice, I help women balance their hormones naturally—starting with their fork. I have a "food first" philosophy and passionately believe that food is the small hinge that swings the biggest doors when it comes to your health.
I know that good food needs to be easy and convenient, or it's unlikely to happen. Making wise food choices used to be a daily challenge for me—but it got easier with practice and once I started to see food preparation as a sadhana, or spiritual practice.
My Food Philosophy: Eat for Hormonal Balance
I gain weight way too easily—diabetes runs in my family, as does poor stress resilience—so I'm strategic with my food plan. I eat foods that stabilize my blood sugar and don't cause high cortisol, including lots of fiber and no gluten.
I also choose a diverse range of foods and drinks that are high in nutrient density, so that my microbiome is happy. I have hypothyroidism, or a slow thyroid, so I try my best to avoid raw goitrogens like cruciferous vegetables and soy. I still eat broccoli, kale, collards, cauliflower, etc., but I lightly steam them to inactivate most of the goitrogens. You'll find a lot of fermented vegetables on my meal plan because they are nature's probiotic and help you reset your insulin so that you don't store fat around your belly.
I also eat low-mercury, wild-caught fish almost daily because it keeps my fatty acids in balance. I have a gene called PPARG that keeps my weight down if I eat more fish than meat, so you'll find a lot of salmon, halibut, cod, and steelhead trout on the menu.
Most of all, I eat portions that are right for my body, because I'm a recovering food addict who gains weight if I eat unmeasured food. In the spirit of transparency, I've included the measurements of all of my food.
I avoid eating at restaurants as much as possible because of "Restaurant Syndrome," the phenomenon of overeating in response to the convivial atmosphere, drinking alcohol and less inhibition, and large serving sizes, all of which can increase the risk of blood sugar problems and weight gain. So when I'm on the road, I take my food with me in a cute glass container.
What A Typical Day On My Food Plan Looks Like
I like to keep my routine as regular as possible, so that there's time for the love and grace to seep in. My day begins at 6 a.m. and ends at 10 p.m., and I pay attention to natural rhythms like my circadian clock and Ayurvedic dosha tendencies (I'm pitta-kapha).
I start my day with a steamy mug of green tea. My current favorite is genmaicha, a combination of green tea and brown rice. I steep organic loose tea for four minutes and then add a fresh squeeze of Meyer lemon. I encourage my patients to replace their coffee with tea to decrease their intake of caffeine, which can make you feel stressed and disrupt your sleep if you metabolize caffeine slowly.
While my tea is brewing, I drink a full glass of filtered water and take my supplements.
I eat around 7 a.m. with my husband and two daughters. I take three deep breaths before I eat because my old habit was to skip breakfast or shovel it in while speed-reading The New York Times. I find that distracted eating raises cortisol, your main stress hormone.
Here's the menu (all organic):
1 ounce of gluten-free steel-cut oats, which I bring to a boil with sea salt the night before and let steam overnight. I place the cooked oats in a huge bowl. Then I add:
1 ounce freshly ground flax, organic cinnamon, and a little more sea salt (my blood pressure tends to be low, and I need sea salt to help support my adrenal glands)
6 ounces raspberries or other fruit in season
Finally, I eat two pastured eggs, either poached or cooked over easy in coconut oil. Occasionally, I'll eat sheep or goat yogurt instead of the eggs.
Every quarter, I run my online detox for 21-days and start my day with a shake.
At 12:30 p.m., I assemble lunch. It's the same framework each day: 4 ounces of protein, 6 ounces of cooked vegetables, and 6 ounces of a finger salad, all usually leftover from the day before. Here's an example of a daily menu:
4 ounces of Steelhead trout
6 ounces of mixed fermented vegetables (red cabbage, beets, carrots, red onion, fennel, garlic)
Finger salad: 6 ounces of thick-sliced carrots
We eat a family dinner around 6:30 p.m. Here's an example of what my family might eat for dinner on an average night:
4 ounces of pastured chicken
4 ounces cauliflower rice (a great swap for grain)
2 ounces of fermented vegetables (carrots, red beets, daikon, turnip, rutabaga, yellow onion, ginger, orange zest)
8 ounces salad
2 tablespoons dressing
For the salad, a combination like arugula, chopped pea greens, rainbow carrots, sliced hearts of palm, and sliced black radish, topped with arugula pesto is a good example. Eating most of the colors of the rainbow each day helps to fill your micronutrient gaps.
Eating for hormone balance is now second nature to me. I follow my food code—my personal code for eating congruent with my values and bodily needs, while honoring the fact that I'm a recovering addict who always wants more. It keeps me on the path of hormonal balance and helps me fit into my skinny jeans. If you don't eat this way, consider trying my food plan for a few days and see how you feel.