Weekly Horoscope: A Busy Week Leads Into A Creativity-Packed Weekend
mbg Contributors
By The AstroTwins
mbg Contributors
Ophira and Tali Edut, known as the AstroTwins, are professional astrologers based out of New York and Seattle. Their work has been featured in The New York Times, Elle Magazine, Vogue and Good Morning America and they are the authors AstroStyle, Love Zodiac, Shoestrology, and Momstrology.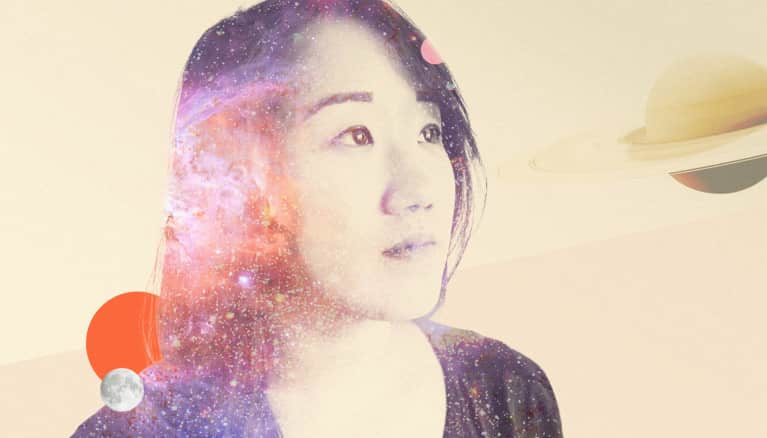 On Monday, Mercury lends some serendipity to our lives.
Some secrets aren't meant to be kept in the vault forever. If you've been agonizing over the right time to reveal your feelings, this Monday, October 15, may green-light dialogue. That day, messenger Mercury meets up with heart-centered Venus at the same degree of Scorpio, and a "coeur-a-coeur" could spontaneously erupt! Should you bump into "that person" on the street—and dive right into a deep conversation—you may decide to move your sidewalk talk to a coffee shop...or a more private location.
One caveat: While Mercury loves to be "in the moment," this CAN be a slippery slope, given Venus' backspin. With both planets tangoing through erotically charged (and vengeful) Scorpio, it might be better to cut things short if you encounter someone surreptitious, like a shady client who owes you money or a ghosting Tinder date who you've been obsessing over privately. Power struggles may arise, or you might get swept right back into an old dynamic that leaves you feeling frustrated and out of control. But if you're dealing with a beautiful soul, this could be the day to lay it all on the line and see what emerges!
On Tuesday, a quarter moon in Capricorn brings on the sensible.
Matters turn in a more professional direction on Tuesday, when the quarter moon shines its balance beams into ambitious Capricorn's domain. Success—the kind that's earned with sweat on the brow—is the Sea Goat's objective, and we can all benefit from this lunar nudge. Take time to map out your Q4 goals. What would be the most awesome things to accomplish by the end of 2018? Since this is a sensible quarter moon, don't list anything that's SO "pie in the sky" that you'll only wind up with a half-baked attempt come January. Instead, choose two to three milestones that are both challenging and doable. Don't stop there: Creating a fail-safe plan is the way to win. Map out a list of associated tasks, then start assigning them to anyone who wants to be a part of this mission. It's time to be the CEO of your own life.
This weekend is all about tapping into soulful Piscean energy.
After an industrious and emotional week, we'll all get a restorative time-out as the moon spends the entire weekend in dreamy, esoteric Pisces. Is it still warm enough to walk along the beach—or take a photo safari through a part of town with slightly crumbling but beautifully patinaed architecture? Zooming in on beauty will stimulate the right side of your brain, the hemisphere that governs creative expression. This fantasy-fueled energy can make strict boundaries blurrier than Monet's water lilies, so opt to spend time with people you trust implicitly and don't feel guarded around. With this soulfully sensitive Pisces energy in the air, this is a fine weekend for getting cozy at home. Pick up that crafting project, invite friends over to can the last bounty of tomatoes from your garden or to make vision boards at your kitchen table. But don't rush or be too mission-oriented. Move at a slower pace so you can tune into your intuition and leave room for the muse as you go.
The AstroTwins' 6-week course, Design Your Dream Relationship, begins October 22. Discover the romantic blueprint that's written in your birth chart and move from mystery to mastery in love. The course covers everything from self-love to compatibility to divine timing, guided by The AstroTwins in a supportive community with live interactions and lessons. Learn more here!