Weekly Horoscope: Why Now Is A Great Time To Plan Your Dream Staycation
mbg Contributors
By The AstroTwins
mbg Contributors
Ophira and Tali Edut, known as the AstroTwins, are professional astrologers based out of New York and Seattle. Their work has been featured in The New York Times, Elle Magazine, Vogue and Good Morning America and they are the authors AstroStyle, Love Zodiac, Shoestrology, and Momstrology.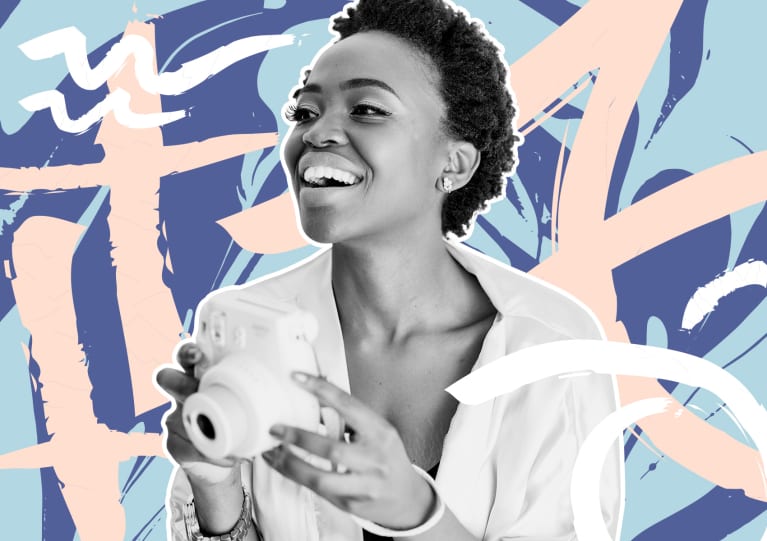 This week, the AstroTwins break down why it's a great time to plan your next staycation and solidify summer plans with close friends.
On Monday, a full moon in Sagittarius will evoke some serious wanderlust.
Hitch your wagon to a vintage VW bus! (Then go and hitch THAT baby to a star.) The week will be one long, fantastic voyage, and it begins this Monday, June 17, as the year's only full moon in Sagittarius lights up the skies. If you could go anywhere on the planet, where would you drop your next pin? Search a few new hashtags on Insta and follow new travel bloggers. Over the coming two weeks, you could gather enough compelling evidence to reserve a room—or a whole damn villa! (The Sagittarius full moon likes to live large.)
If traveling isn't an immediate option, become a "staycationer" in your own ZIP code. Mingle multiculturally; check out the cultural activities that only tourists usually frequent. Hey, you might even score a discount for being a local resident. If crowds aren't your thing, you can always journey in the figurative sense near Monday. Get tickets to a mind-blowing lecture, sign up for an online workshop, or meet friends for a kundalini yoga class and sound bath. This full moon also blesses teachers and entrepreneurs. Time to launch that workshop or beta-test your latest product! You may get those genius ideas to market sooner than you think. Just temper impulsivity on Wednesday, June 19, when feisty Mars in Cancer faces off with volcanic Pluto in Capricorn. Things won't be what they seem that day, and you don't want to end up with a nonrefundable ticket to a place you don't REALLY want to go.
On Friday, Neptune goes retrograde, and it's a great time to dust off those crystals.
On Friday, June 21, numinous Neptune spins into its annual retrograde. This year (and from 2012 to 2025, the celestial soothsayer is backstroking through its native waters of Pisces, which plunges the world into an introspective groove until November 27. If you're still ruminating on travel plans, think "retreat." This is the perfect window for slipping off for a long weekend of yoga and meditation; or maybe for an artist's retreat in a far-flung vineyard. (Just go easy on those vintage bottles with escapist Neptune off course.) Both Neptune and Pisces are associated with fantasy and the subconscious. Any trips down the rabbit hole will be more mystifying, which is worthy of a caution flag. Choose your "healers" wisely, be they therapists or plant medicine shamans. With Neptune in reverse, we're all more susceptible to the power of suggestion—not to mention the energy of a room. If you're already a psychic sponge on the average day, be extra vigilant about shielding your field. (Hello, crystal jewelry and wands of sage!) Implement firm boundaries and trust your intuition when it tells you that it's time to leave…or turn down that not-so-random street. Since Neptune is the god of the seas, refillable water bottles are the must-have summer accessory for vibrant health. More filtered H2O, please!
Since Friday is the longest, lightest day of the year, consider it a powerful moment of personal illumination.
Also on Friday, the summer solstice beams in to herald the first day of Cancer season. With these solar flares shooting into the softest, most sentimental parts of our hearts until July 22, get cozy with your innermost circle. There's no better time of year to (re)connect with relatives and BFFs. Meet for a family-reunion picnic in the park; enjoy long beach days. Take "home" wherever you go, soften up workspaces with cozy touches. Who says an office can't be designed to look like a vintage parlor or plant-filled sun porch? Since Friday is the longest, lightest day of the year, consider it a powerful moment of personal illumination. Have a sit-down with your journal, and dedicate the solstice to tracking the wisdom of your heart. Creative bursts might evoke transcendent works of art, especially on Sunday when creatrix Venus faces off with broad-minded Jupiter. Plant yourself somewhere that inspires you, making that a vessel for the muse!