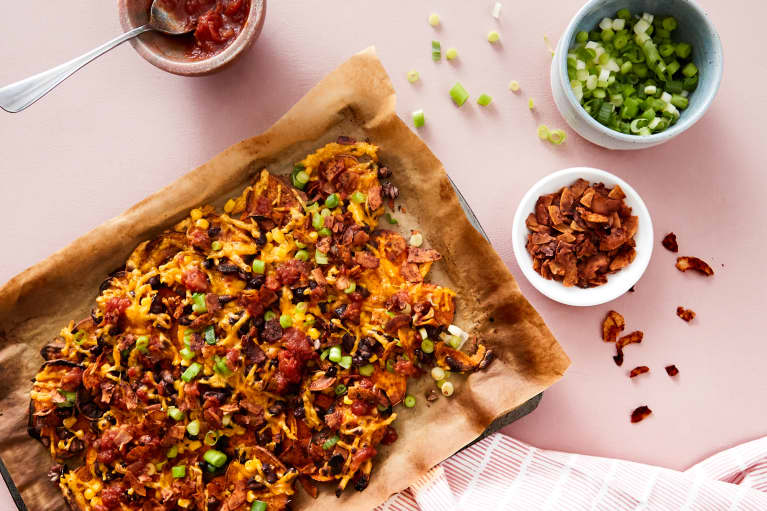 With nachos, more is always better—more cheese, more toppings, more friends to share them with. Unfortunately, all of that can add up to more discomfort, with the bellyache that often follows eating the greasy, dairy-filled traditional versions that have become a comfort food staple. Now, you can have your nachos and eat them too, with a plant-based version that uses vitamin A and C (read: skin glow-inducing!) filled sweet potatoes as the perfectly crispy base. They're topped with Daiya's dairy-free melts-like-real-cheddar Cutting Board Shreds, protein-packed black beans, and coconut bacon. Yes, we said coconut bacon. Want to find out how to make it? You'll have to watch the video, below.
In this episode of our mindbodygreen cooking show, A Little Bit Healthier, I'll show you exactly how to make them. I'll also teach you:
The secret to getting sweet potatoes crispy in the oven
The magic umami ingredient that makes coconut taste "bacon-y"
The easy way to cut vegetables perfectly, no knife skills needed
Vegan Loaded Sweet Potato Nachos
3 medium sweet potatoes
2 tablespoons avocado oil
¼ teaspoon fine-grain sea salt
½ teaspoon chipotle powder
1 cup flaked unsweetened coconut
1 tablespoon tamari
1 teaspoon smoked paprika
2 teaspoons maple syrup
¼ teaspoon liquid smoke (optional, but recommended)
½ teaspoon black pepper
1 can black beans, rinsed and drained
½ cup frozen corn kernels, thawed
4 green onions, chopped
Salsa of choice, to taste
Heat oven to 425°F. Wash sweet potatoes well, then slice width-wise into ¼-inch rounds. Lay on parchment paper, then toss with avocado oil, sea salt, and chipotle to coat. Spread into an even layer where they aren't touching each other.
Bake for 15 to 20 minutes, or until browned on bottom, then flip and bake for another 10 minutes, until browned evenly but not burned.
When potatoes are cooked through, remove from oven and reduce heat to 325°F. On a parchment-lined pan, toss together coconut flakes, tamari, smoked paprika, maple syrup, liquid smoke, and black pepper until the coconut is well-coated. Lay in a single layer on a parchment-lined baking sheet. Bake for 10 minutes, tossing halfway through. When it's golden brown, remove from oven.
Set oven to broil. Top potatoes with Daiya Cheddar Style Cutting Board shreds, black beans, and corn kernels. Broil until "cheese" melts, about 10 minutes.
Remove from oven and sprinkle generously with coconut bacon and green onions, adding salsa to taste. Serve immediately.